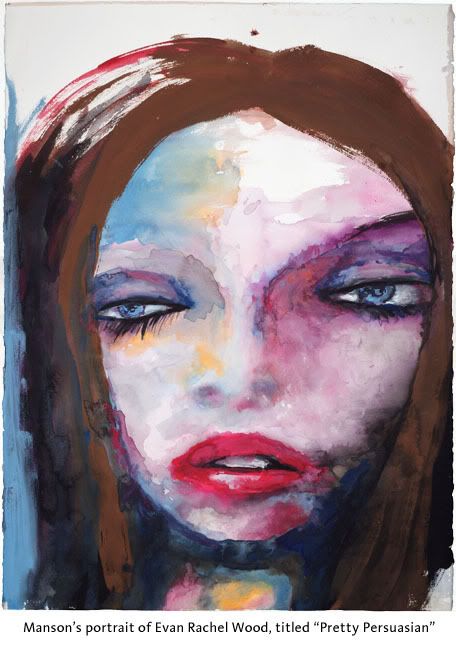 I really don't know much about Evan Rachel Wood apart from the fact that she was supposedly dating Ed Norton this spring, but the 19 year-old actress is said to be dating recently separated 38 year-old shock rocker Marilyn Manson. Ed Norton is 36, so she must go for older weird guys: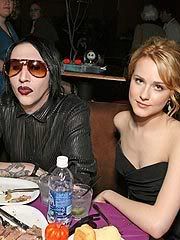 Rocker Marilyn Manson is romantically involved with 19-year-old actress Evan Rachel Wood, sources close to the situation tell PEOPLE.

The sources say his relationship with the Thirteen actress was a factor in the Dec. 29 divorce filing by Von Teese, 34, Manson's wife of one year.

"Dita is heartbroken, she didn't see this coming," says a source close to the burlesque dancer and MAC cosmetics model. "His partying contributed to the split as well."

Manson, 38, and Wood have been friends for some time. According to his official website, Manson first met Wood when he asked her to be in his upcoming horror film, Phantasmagoria: The Visions of Lewis Carroll.
If Manson was cheating with a 19 year-old that's cold. Still, I have such inexplicable contempt for Dita that I suspect that this just isn't true and that someone in her camp leaked the story to make Manson look bad. It seems like all the news that's come out about their divorce has been strictly in her favor. Maybe she is the one getting shafted in this relationship, but since she's the person that filed the papers yet all the gossip rags paint Manson as the guilty party it seems that there's something quite calculated about the way she's handling it.
There may be something to this story, though. Manson opened a Hollywood art gallery on Halloween of last year. Among the art by Manson displayed was a huge watercolor of a close-up portrait of Evan Rachel Wood. Wood and Manson met when he asked her to be in his planned horror film Phantasmagoria: The Visions of Lewis Carroll.