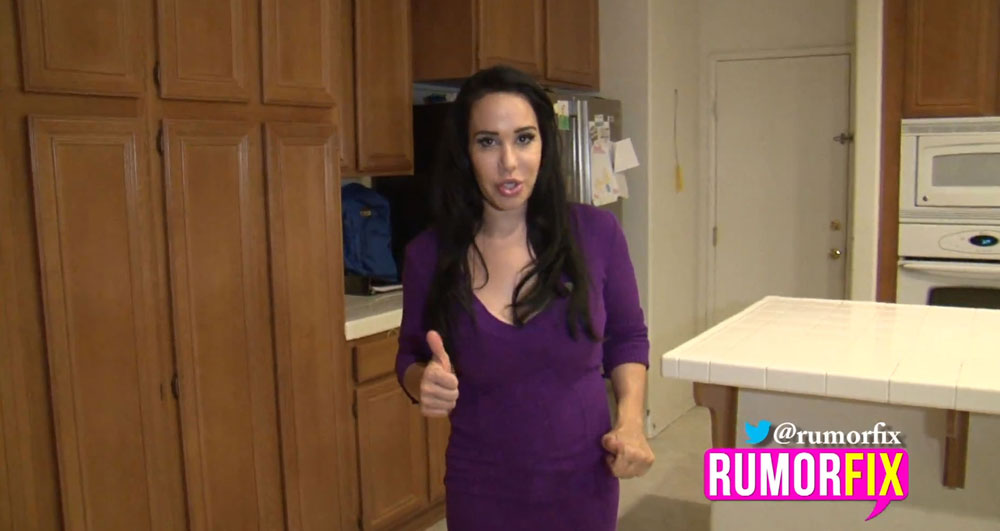 First of all, is it a surprise for anyone to hear that Octomom Nadya Suleman has a prescription drug abuse and drinking problem? She talks a mile a minute and seems manic in interviews. Her eyes are popping out of her head most of the time, and that's not just due to all the Botox, fillers and likely eye lift she's had. So Suleman has checked into a rehab facility for 30 days, which was comped of course because she never pays for anything. She just moved into a new home after never bothering to pay rent on her last place and trashing it beyond belief, and was showing it off in a video recorded by Rumorfix. (You can watch that video on this link. Her house is really bare.)
According to TMZ and her rep, Octo's problem is Xanax, although Radar has a story claiming that she's been regularly drinking and driving – with her kids in the car of course. Despicable. (Remember this tragic story?) I'm wondering if that Radar report is why Octo decided to go to rehab. They also have a short video of Suleman slurring her words and talking about how she shouldn't drive, and a voicemail from her dad expressing concern that she's been drinking and driving. Radar's source is a former nanny to Suleman, who also alleged that one of her older boys was sexually abusing his younger female sister. (Another former nanny corroborated that story.) In response to that story, which came out a couple of weeks ago, Suleman claimed that the nannies were jealous and wanted to take her kids away from her basically.
Here's more about Octo's alcohol abuse and rehab stint, from Radar and TMZ:
On July 18, 2012, Gina [the former nanny] claims she had the eight youngest children at a friend's house so they could swim and when Nadya came by to pick them up she showed up late, asked for a glass of wine, and then got so intoxicated she was unable to drive the children home.

RadarOnline.com has obtained exclusive video footage of that night in which Nadya admits she's been drinking and Gina is heard telling her that she cannot drive, as well as a photo of Nadya allegedly passed out on a chair in the house.

"I had the eight kids and she was meeting me with the older six. She was over three hours late and barely in the door when she asked me for wine," Gina said.

"Nadya finally got some champagne as the host had no wine, but it turns out she was already drinking vodka cranberry from a water bottle while driving to the house.

"Eventually she was packing the car to drive home but of course I would not allow her to take the kids so I asked an acquaintance of hers to pick her and the older six up. I took the eight babies back to my house." – From Radar

---

Nadya Suleman has checked herself into rehab for a prescription drug problem … leaving her 14 kids without a mother for 30 straight days … TMZ has learned.

A rep for Octomom tells us … Nadya admitted herself into the Chapman House Drug Rehabilitation Center in Southern California over the weekend after acknowledging she's become dependent on Xanax … an anti-anxiety drug … which she began taking to "deal with stress."

Suleman's rep tells us, "Nadya wanted to get off the Xanax she was prescribed by her doctor and learn to deal with her stress, exhaustion and anxiety with professional help with a team of doctors. Nadya wanted to deal with her issues and make sure she is the best mother she can be."

TMZ has obtained photos of Nadya on her way to the treatment center (above).

As for the kids … we're told Nadya is using 3 nannies and 2 friends to divvy up the child care duties. She also has a driver to take the kids to and from school. – From TMZ
Now she's in rehab and her kids are being cared for by other people. It's probably the best outcome at this point. As to whether she'll eventually have to relinquish custody of her children, I doubt it. She wasn't pulled over driving drunk, she's never had a DUI, and all we have is a video where she admits she shouldn't drive, and allegations. I don't doubt that they're true, sadly, but she's skated through life on lies and justifications up until now, that's how she has 14 children in the first place. I do hope that her kids are being well cared for and supervised, and that there is no abuse going on in the home. She was cleared of abuse charges stemming from the nanny's claims due to "insufficient evidence," not that that's convincing. I just feel for those kids.