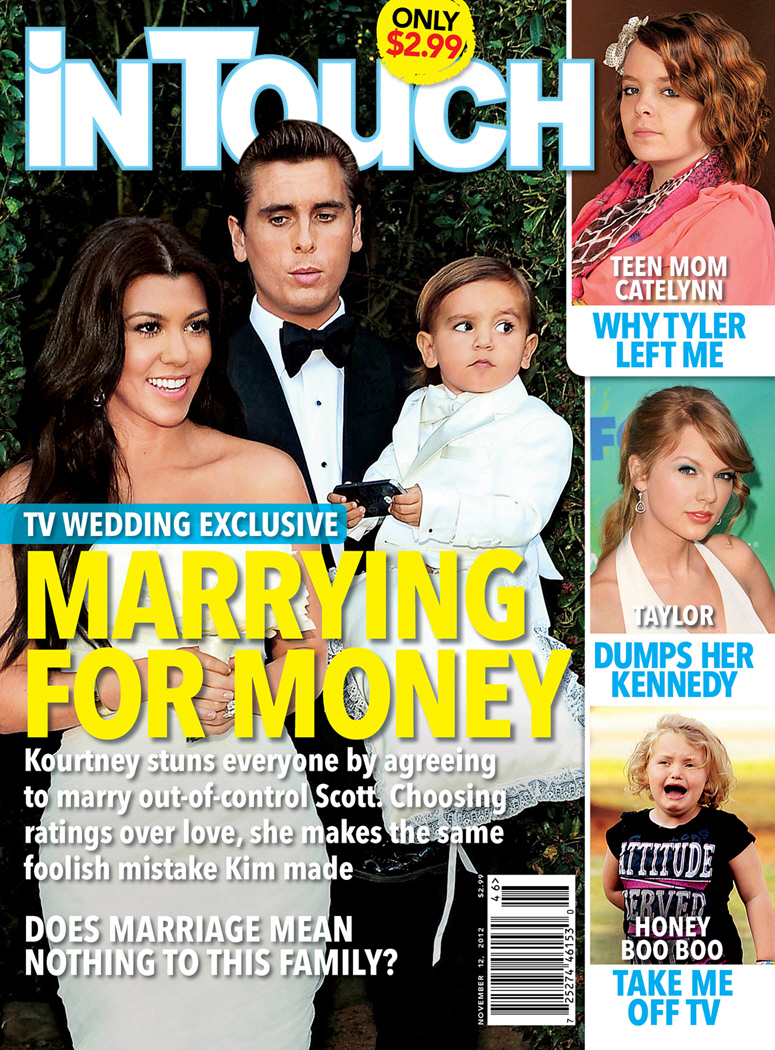 I've mentioned before that my mom watches the Kardashian shows, right? Well, she's started to really like Scott Disick. Apparently, the Kardashian writers are making an effort to make Scott seem like less of a "villain" and more like a loving family man. I'm not sure if he pulls it off. Anyway, while Kim Kardashian's divorce from Kris Humphries is dragging on endlessly, thus forcing Kim's pimp mother to wait on the giant "KIM & KANYE WEDDING!" plans, Kris Jenner is digging up an old chestnut. Apparently, the next big Kardashian wedding is going to be Scott and Kourtney. And they kind of hate each other so they're just doing it for the money:
Another Kardashian TV wedding? In Touch has exclusively learned that longtime couple Kourtney Kardashain and Scott Disick "are planning to get engaged when they tape the end of the season of Kourtney & Kim Take Miami in December," a friend of the family confirms in the new issue of In Touch, on newsstands now.

And Scott is already shopping for a ring. "He was at Levinson Jewelers in Fort Lauderdale on Oct. 25," says an eyewitness, noting that the cameras were rolling. "He was looking at really big, expensive diamond rings."

Sources reveal to In Touch that they've already begun the planning and she's even given the green-light to televise their nuptials.

"She and Scott have met with a wedding planner," another friend confirms to In Touch. "And they've narrowed down the date — the wedding is scheduled to take place after Christmas but before Easter."

But friends fear that if they marry, it may not be for the right reasons.

"It's definitely just for TV ratings," says an insider close to the couple. (A rep denies the wedding is happening.) "Kourtney is getting caught up in the show, and he, of course, just wants the payday. Sadly, she's flirting with disaster — and everyone knows it."

As In Touch previously reported, Scott has left Kourtney and their two children for all-night partying and drunken binges at clubs in Las Vegas and New York multiple times in recent months.
The problem with the "it's just for ratings/money" explanation is that Kourtney and Scott aren't the big names of the Kardashian Empire. No one really gives a crap about them, if we're being honest. Sure, we cared a little bit about Kourtney during her two pregnancies, but now that the baby's out, do we really give a crap? No. Not really. That being said, I do think most people would enjoy seeing photos, and the trademarked Kardashian Spectacle. I would look at photos of Kourtney in a wedding dress. I would "aw" at photos of Mason as the ring bearer. And I would laugh at the horrendous, trashy-looking bridesmaids dresses that Kourtney would choose for her sisters. So… maybe it's not the worst idea, I guess.
Here are some photos of Scott dressed up as Patrick Bateman from American Psycho. Well, at least he gets the "joke" I guess.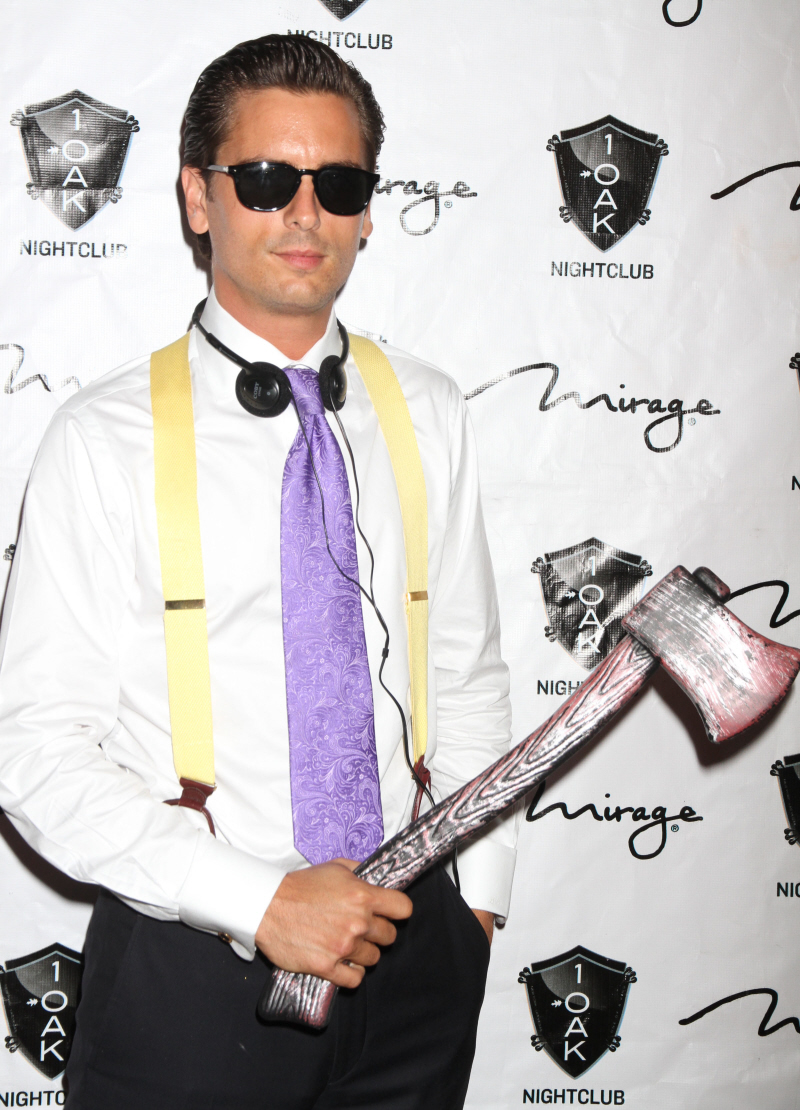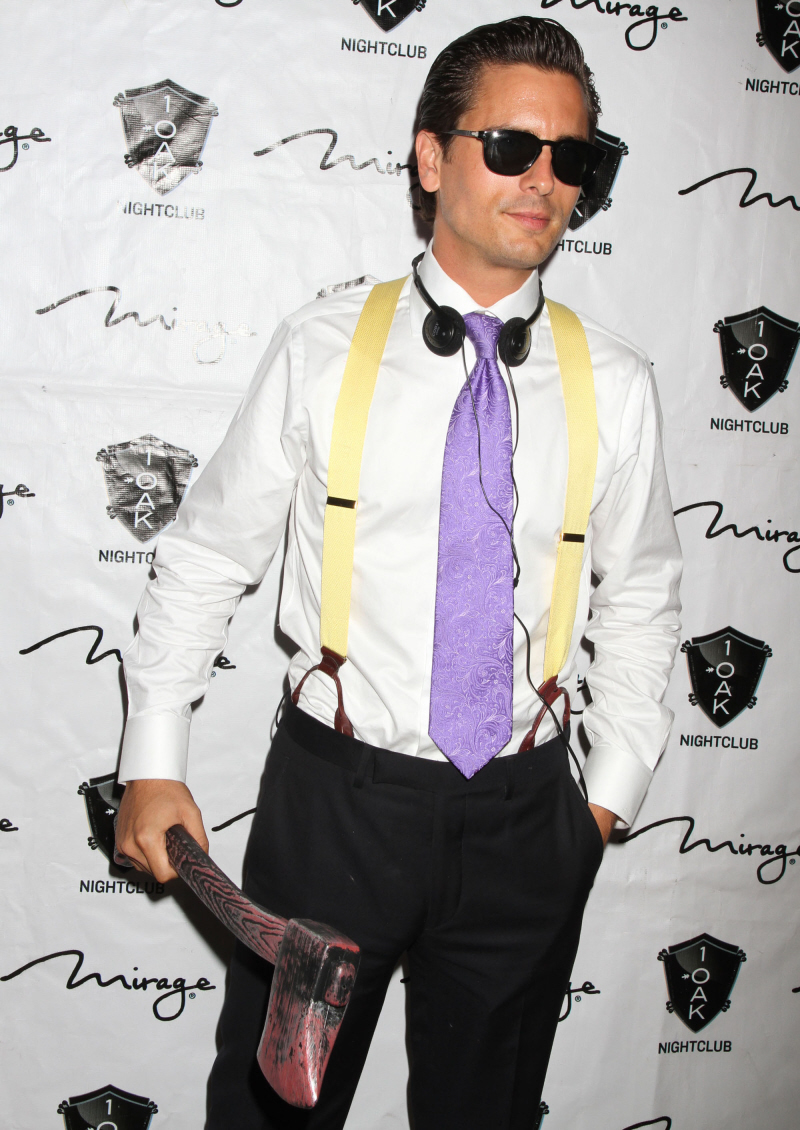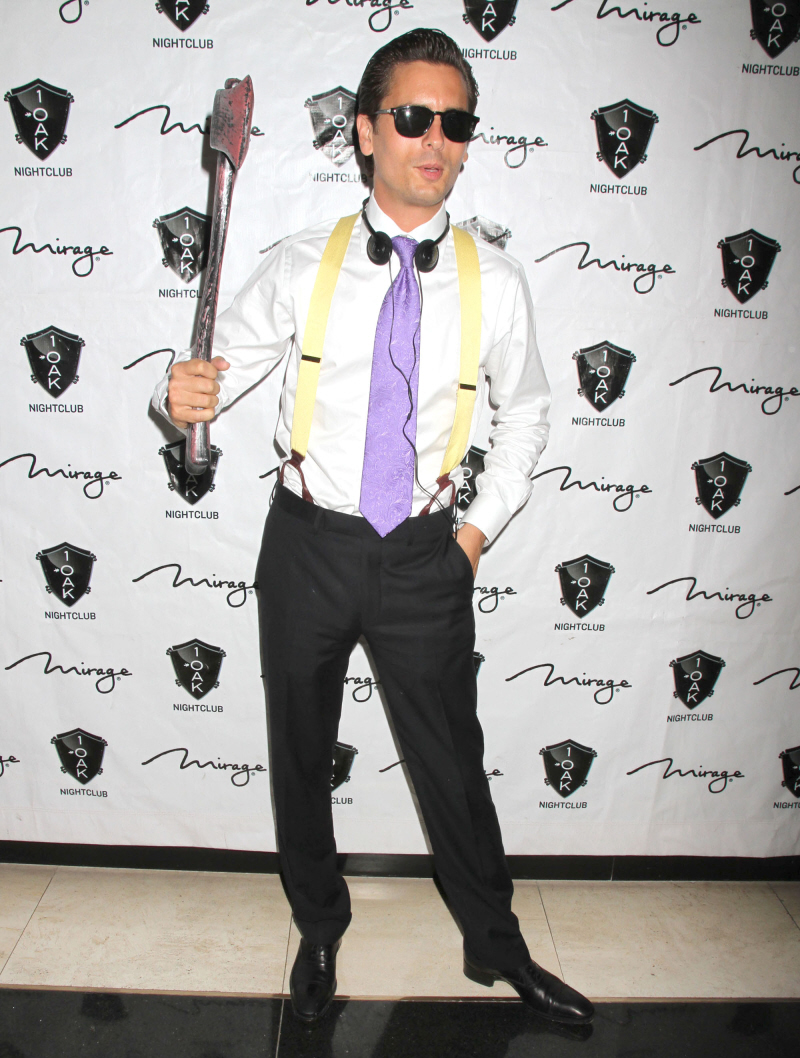 Photos courtesy of WENN, cover courtesy of In Touch.