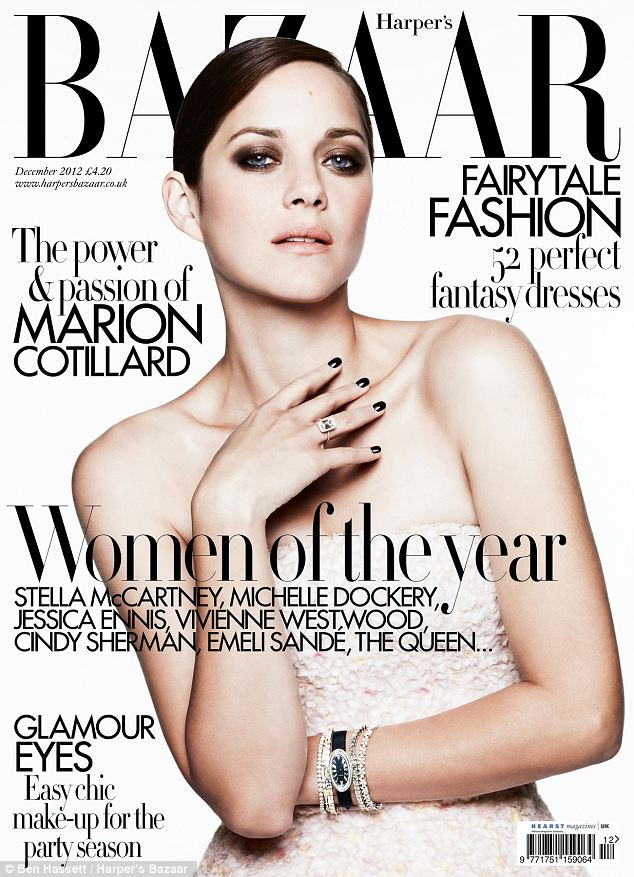 Marion Cotillard covers the December issue of Harper's Bazaar UK. I know some of you find her boring, but I really do think this is probably one of the best, most striking pictorials I've seen of Marion and she even shows some personality during the interview. You know what this pictorial reminds me of? How most magazines style Cate Blanchett – with simplicity and elegance, like they want to make it all about her extraordinary face. Marion is definitely giving me some Blanchett-vibes. As for the interview… well, Marion can often come across as too spacey and flighty, like she permanently stoned. In this piece, she's complimenting Britain on their music and culture. As it turns out, she's a huge fan of Absolutely Fabulous. SWEETIE DARLING LET ME IN.
She smoulders while dressed in Dior and jewellery by Tiffany & Co. in the issue dedicated to the winner of Harper's Bazaar Women of the Year Awards. The interview with the 37-year-old features images of her in luxurious gowns by Alexis Mabille, Marchesa and Armani Prive, while her her hair is worn sleeked back off her face.

Despite being from France, Marion reveals she is in love with British culture. She says: 'I think of England as music with fashion. You mix rock 'n' roll with everything, from royalty to punk to the bourgeoisie. Music-wise, you're the best. David Bowie, the Rolling Stones, Radiohead, the Beatles….'

It's not just the music she loves though, she also admitted that her highlight of 2012 was the return of Absolutely Fabulous, saying: 'I'm a huge fan.'

The Inception star who has found huge success with her career has also found happiness in her private life. She and her husband, French director, writer and actor Guillaume Canet became parents to a son, Marcel, 18-months-ago.

Speaking about becoming a mother, she said: 'Since having Marcel, every day of my life has been alight with him.'

She continued: 'One of the things I have learned recently is that I have the ability to be happy. I have found that in my family. And that is a new thing. And that hasn't always been the case for me – so I know how lucky I am.'

Marion's latest role is in Rust and Bone, in which she plays a whale trainer, Stéphanie, who loses her legs in an accident and must battle to embrace love, life and sex. Discussing her role in the film, which is directed by Oscar-nominated French Director, Jacques Audiard, she said: 'Well, I mean, I love my job, but I'm not going to cut my legs off. Stéphanie loses her legs. It's a shock. If she'd been without them for years, I would have worked differently. But I had to learn with her how it felt – that loss. How it changes her.'

With everything that's going on in the actress's life, she's admitted she doesn't know where it's going from here: 'I don't know what's next because I don't want to know.'
British music is pretty awesome. But now that she's talked about being an AbFab fan, I like her so much more! Now I'm picturing her sitting at home with her baby, laughing at Eddy and Patsy and how fabulous and horrible they are. "Lacroix!" "Fabulous!"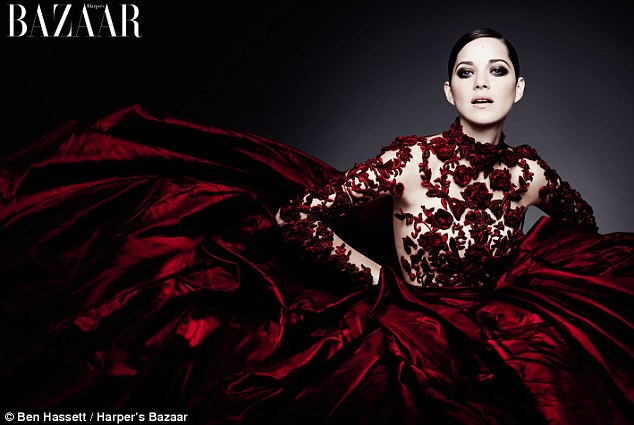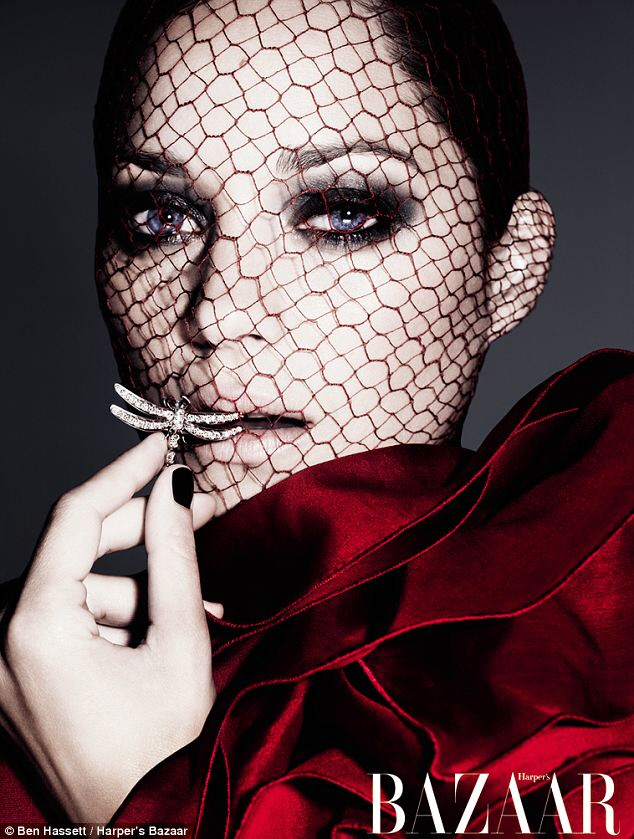 Photos courtesy of Harper's Bazaar UK.