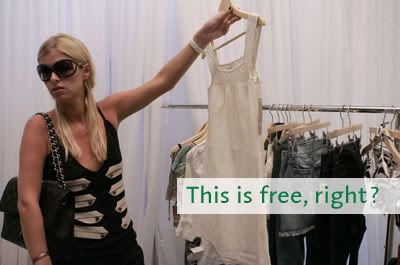 Younger members of the in crowd picked up lots of swag at the "Desert Oasis" Coachella invite-only party held in La Quinta, California on Saturday at Frank Sinatra's Twin Palms estate:
DKNY Jeans and Motorola have teamed up for an invite-only weekend house party in La Quinta featuring Paul Thomson of Franz Ferdinand on Sunday.
Andreas Herr, co-publisher of music publication Anthem Magazine, is hosting his second pool party Saturday afternoon at Frank Sinatra's Twin Palms estate. The magazine brought in Reebok, Amp'd Mobile and InSound to sponsor the event, and invited music label executives, fashion-industry types and musicians.
"It's an influential audience. It's something that our sponsors like to reach," Herr said.
Hopefully Nicole Richie got some free sunglasses. The ones she wore to the party look like they came from a joke shop.
Pictured attendees include Taryn Manning, Nicole Richie, Nicky Hilton, Kevin Connelly, Scott Speedman, Busy Phillipps, Alex Nesic, and Melissa Sagemiller.