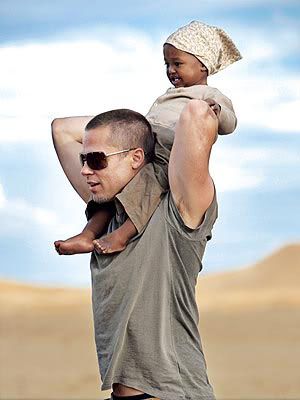 16 month-old Zahara Jolie-Pitt suffers from rickets, a bone disorder that she developed while in an Ethopian orphanage. When she came down with a cold, Brad learned that rickets makes her more susceptible to all sorts of diseases that are common in Africa, including malaria and yellow fever. He became concerned for her health and brought her back to the states for medical care. Babies get sick a lot and Zahara will probably be fine, but this reopens the conflict between Angelina and Brad as to where Angelina will give birth:
Brad flew back to Los Angeles on a private jet to have a meeting with one-year-old Zahara's main doctor about a possible recurrence of the condition [rickets]
And 30-year-old Jolie will be following hot on his heels with Zahara and four-year-old Maddox if her medical team recommend the move.
A source told us: "Angie wants to have her child in Africa but Brad has had doubts all along and there's a delivery room on standby at Cedars-Sinai.
"When he mentioned Zahara had a cold he was shocked to be told that in Namibia she was more susceptible to diseases like malaria and yellow fever as her immune system would have been weakened by the rickets.
"A private flight was booked for Brad to have a consultation and he told Angie he is sick of worrying about them all.
"He wants them to be perfectly safe and for his first biological child to be born in the safety of LA's top hospital."
You know Angelina will do whatever she decides, and won't let someone else tell her where to have her baby. She is said to be planning to use a birthing tub in a Namibian hospital for a water birth. I had most of my labor in a birthing tub and found it to be very relaxing. It's a nice alternative to medication and is said to be as effective as an epidural.
Update: Angelina Jolie's Dateline interview:
Here are pictures from People Magazine online of the world's most beautiful family. You may have seen most of them already, but some are new.