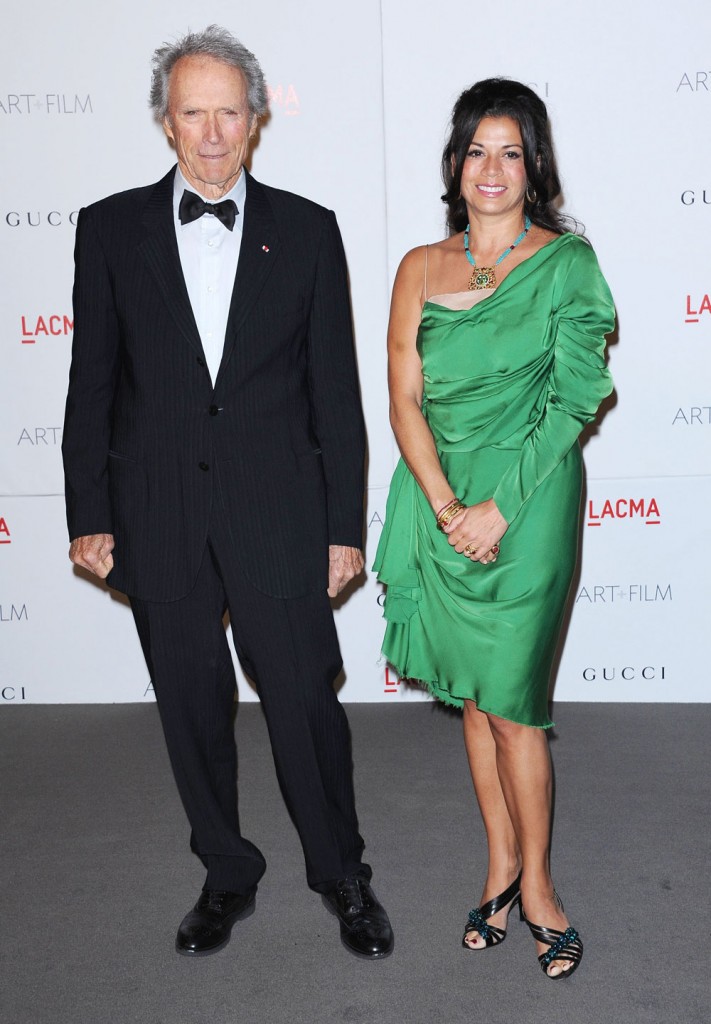 When Dina Ruiz-Eastwood (I swear I accidentally wrote "Dina Lohan" at first) announced her plan to star on a reality show on E!, everyone assumed that it would drive a wedge in her marriage with Hollywood legend Clint Eastwood. People speculated, even before that ridiculous show premiered, that Dina and Clint would succumb to the reality show curse and split up as a result. It looks like all those predictions are coming true. We've heard that Clint wasn't on board with his wife's reality show, but even now that it's been cancelled, according to the Enquirer, he's living apart from her and their adult kids. What's more is that the chair-yelling curmudgeon hasn't been wearing his wedding ring, (he didn't wear it during the RNC) and he hasn't been spotted with his wife for over a year. If these two do take the next step and get a divorce, it's thought that Clint has a pretty ironclad prenup to protect his assets. Maybe they were already on the rocks and that's why Dina hatched this reality show plan – to carve some sort of career for herself as a backup plan. Here's some of the report, with more in the print edition of this week's Enquirer:
Clint Eastwood is secretly living apart from his much-younger wife Dina Ruiz, The Enquirer has learned exclusively.

The new living arrangements come after the 82 year-old Oscar winner and his wife of 16 years have been arguing over her reality TV show, sources say – and any potential breakup could ignite a battle over his $375 million fortune.

"I think trouble has been brewing between Clint and Dina for some time, but her TV show was definitely the icing on the cake," said a source in Carmel, Calif., where the couple shared a sprawling home.

And a close family source told The Enquirer: "Everyone involved with Dina's show was well aware that she and Clint appear to be having problems. It was common knowledge they were no longer always living together.

"I think she may have faked that they always lived together for the sake of the show.."

"I think Clint was deeply embarrassed that Dina was dragging his private life into a sleazy reality TV show, and they started fighting over it…"

The two haven't been photographed together since November 2011, and on Sept. 22, sources spotted Clint with a mystery woman at the Monterey Jazz Festival, where he'd gone to watch his son Kyle play bass with his band.

Eastwood didn't wear his wedding ring in several recent public appearances..

The Enquirer has also learned that E! has cancelled "Mrs. Eastwood and Company," and the network will be filming a pilot for a spinoff starring Francesca and her boyfriend. Neither Dina nor Eastwood would be involved
[From The National Enquirer, print edition, November 12, 2012]
Well it's not surprising at all. I bet Clint values his privacy so much that he'll delay filing for divorce as long as possible. As for that story that he was spotted with a "mystery woman" at the Monterey Jazz festival, it sounds weak or The Enquirer would have pushed the "Clint has a jumpoff" angle. I see him more as a loner just doing his thing and bitching at the air/inanimate objects, but maybe I'm confusing him with the characters he plays on tv.
That's interesting that Francesca and Tyler Shields are getting a spinoff while her mom's show has been cancelled. I wonder how Dina feels about her daughter Clint's daughter stealing the spotlight somewhat? That's got to sting, but that's show business.
The last time Dina and Clint were photographed together, on 11-5-11. Her dress is awful!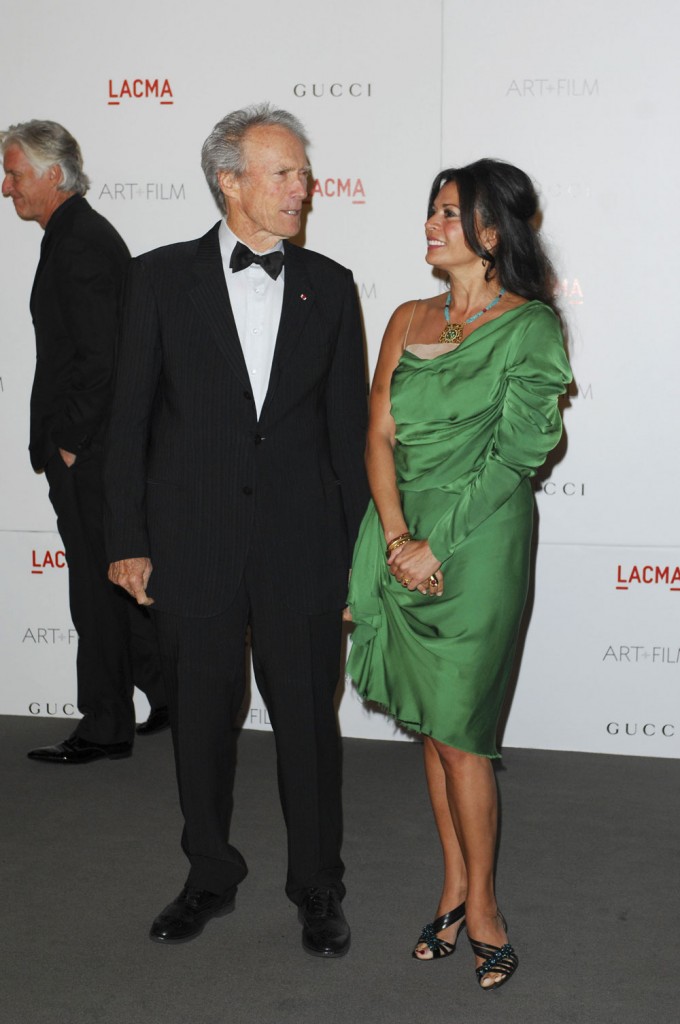 It's hard to see in this photo from 9-19-12, but he wasn't wearing his ring. He often puts his left hand in his pocket when he's on the red carpet.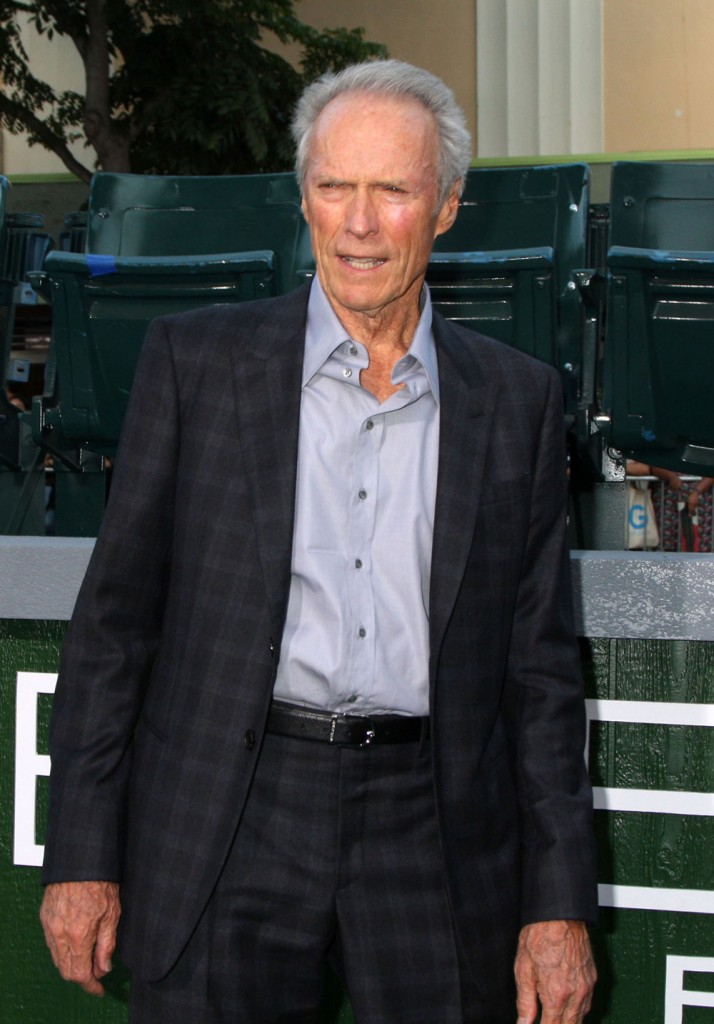 With his ring, on 11-3-11.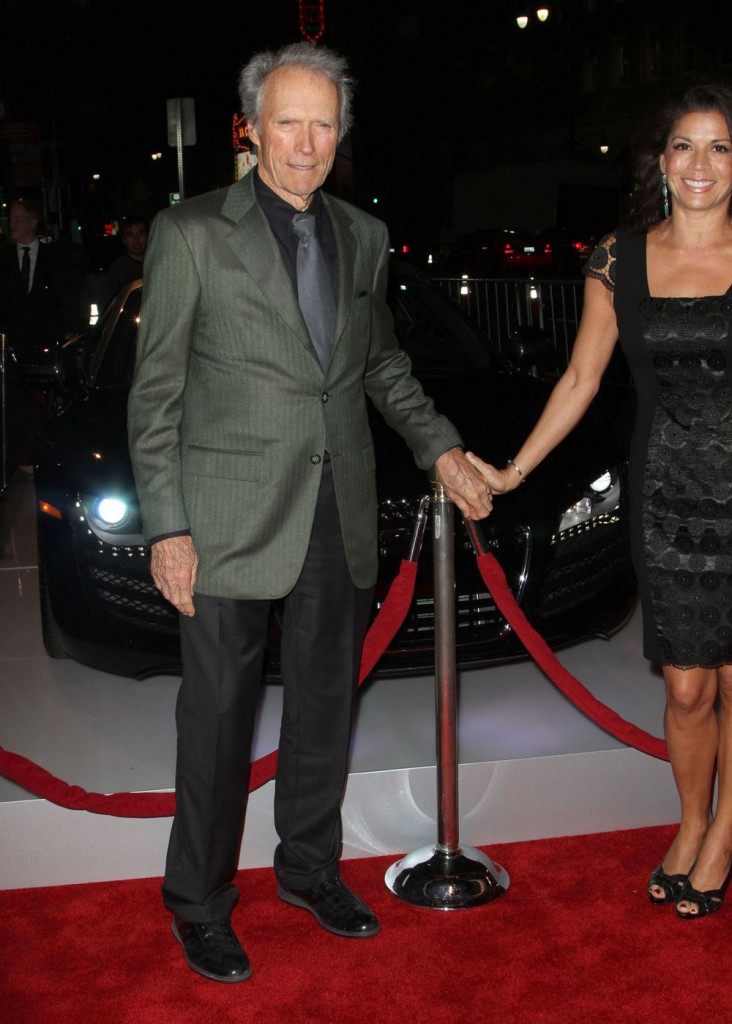 On 9-2-11.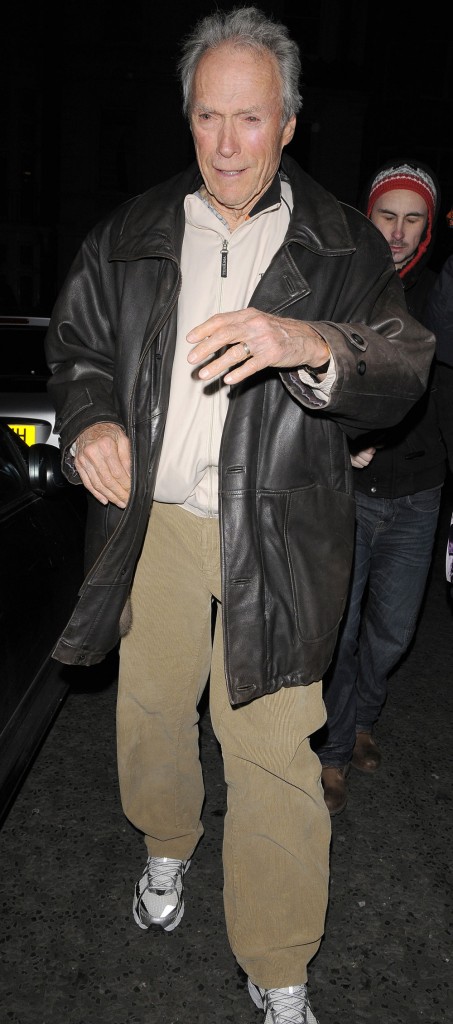 photo credit: WENN.com