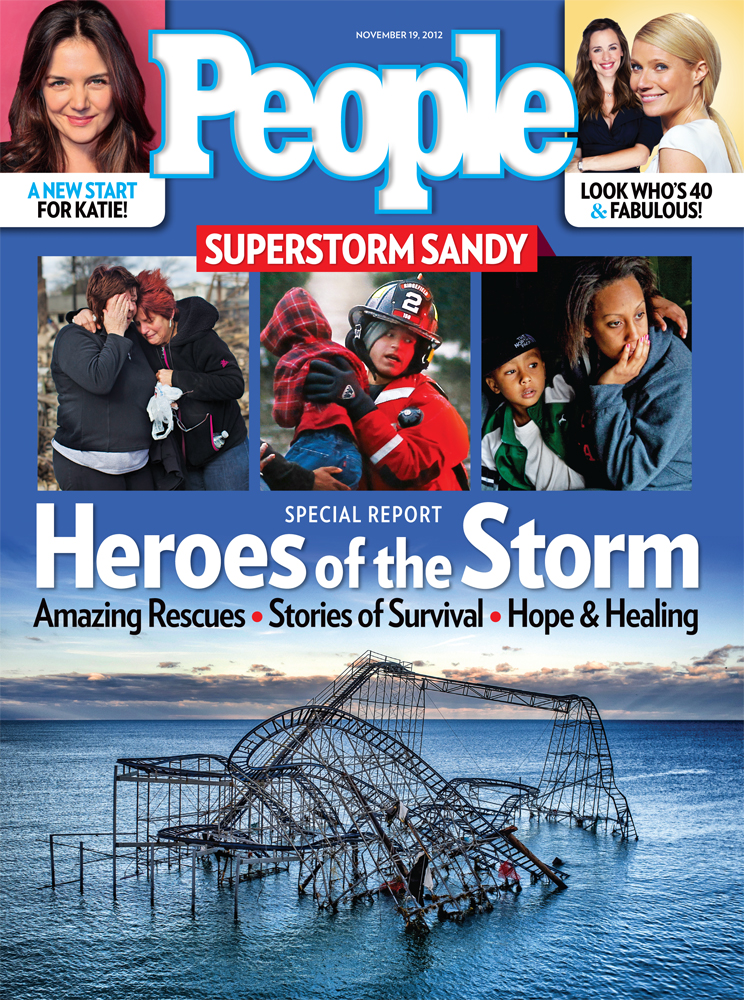 People Magazine's latest cover is a special report telling the stories of the people who risked their lives to help others during Hurricane Sandy. It's a very topical cover and gives recognition to both the people who suffered immensely and those who went out of their way to help during one of the worst natural disasters our country has faced in recent history. The preparation and quick response to this tragedy surely spared countless lives. This issue of People will be on newsstands Friday. Here's a little more, from People:
When Sandy slammed into the East Coast, strangers became family and dozens of heroes emerged to save their neighbors, friends and people they'd never met.

In Seaside Heights, N.J., mother of three Vickie Rietheimer, 33, heard screams for help after water surged through her neighborhood and saw her neighbors barely clinging onto a fence in the swirling water.

"We opened the door," she says, "and got them inside our apartment."

Unwilling to give up even when generators flooded at New York University's Langone Medical Center, Lori Touchette, 30, the charge nurse at the Congenital Cardio-Vascular Care Unit safely evacuated critically-ill children down 15 flights of wet stairs, manually pushing air into their tiny lungs each step of the way.

"It was a harrowing experience," she says. "Everybody in the hospital came together."

Says grateful mother Carlene Joseph, 40, whose daughter, Naomi, 2, was a heart surgery patient saved by Touchette: "To see all that night was amazing. I was praying that the angels would be there to make everyone feel calm. And my prayers were answered."
It's been over a week since Sandy hit and there are still people on Staten Island and Long Island without power. (And also in NJ and other areas! I didn't mean to forget them.) The power companies say they've restored most of the power and are working tirelessly to restore it. There are also countless organizations and people on the ground trying to help those affected.
As a personal note, my mom grew up in Long Island, and we've visited the area all throughout our lives. The last I heard about my mom's cousin's family, they don't have power and have been cooking outside on the grill. They're using an extension cord to borrow power from the neighbors to operate a space heater for my elderly great aunt. I also have been looking up the situation on Long Island and have found some nice stories and photos of people holding food and clothing drives, of free cookouts being given by concerned neighbors, and of local restaurants and business distributing free food. The National Guard is also on hand to prevent looting and help with the cleanup. A guy named Kurt Christensen has been documenting, via Flickr, the damage and recovery efforts in his neighborhood of Lindenhurst, NY. That was my mom's hometown but thankfully my mom's cousin now lives in another area.
Our thoughts go out to all of those affected by Sandy, and we are so grateful to the people who are helping in that area. You can donate to the American Red Cross by texting REDCROSS to 90999 to give $10 to their disaster relief fund. You can also donate here.
There's a storm coming to that area soon and we hope that everyone is ok. They've gone through so much.
All photos credit Timothy Krause/Flickr