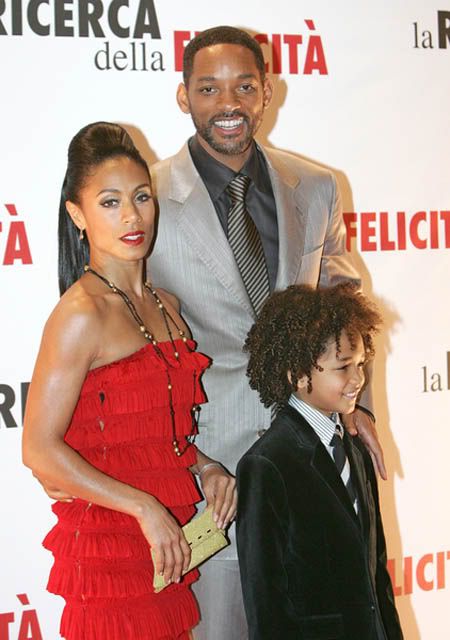 Will Smith, Jada Pinkett Smith and their son Jaden were on the red carpet at the Rome premier of Will and Jaden's film The Pursuit of Happyness. Will and Jada have son Jaden, 8, and a daughter, Willow Camille Reign, 6. Will has another son from his first marriage with Sharee Zampino, Willard Christopher III, 14, who goes by Trey.
The Pursuit of Happyness is the story of a down on his luck single father working against the odds to build a life for his son. I have not seen it yet, but Pajiba critic Dustin Rowles says that it tears at your heartstrings even though it's so obviously hoaky. It sounds like you should bring some tissues to the theater.
Here's the trailer:

Will was seen kissing both Jada and Jaden at the Paris premiere of the film. I thought it was pretty cute, but over-the-top gossip site Media Take Out says it's "borderline criminal." If kissing your kid is borderline criminal I would be wearing an ankle bracelet now.
I'm not digging Jada's bubble hairdo but her dress looks decent. She's got such a good figure she can pull off all those fringes, which might not be flattering on a bigger woman.