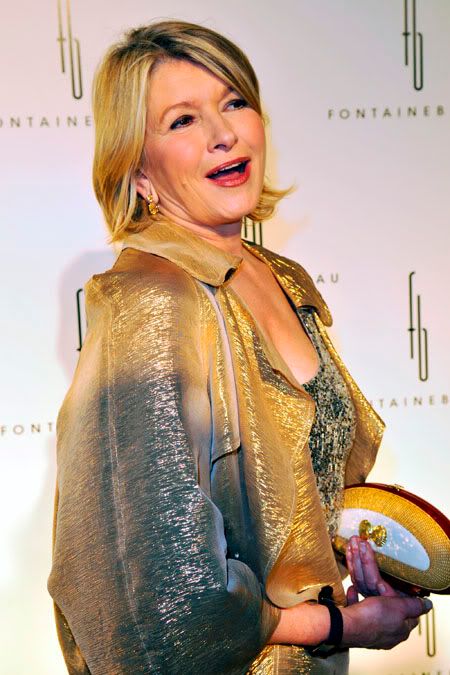 The National Enquirer's cover story about Martha Stewart is hardly as damning as they make it sound. There's a new tell-all book coming out about the homemaking mogul and the advance details in the Enquirer are pretty tame. Martha Stewart is said to have gone into a depression before she was jailed for insider trading in 2004 and to have hit the fine wine hard. When Martha drinks, she doesn't eat bars of chocolate or bags of chips like the rest of us, she makes gourmet desserts and pigs out in style. Stewart's binging is classy:
"Martha worked as a model as a young woman, and in public she's always meticulously groomed. But family members will reveal that booze and eating binges left her bloated and disheveled before she went to jail," said the publishing source.

"When she's upset, she whips up fattening desserts and gourmet treats and washes them down with pricey fine wines. The authors will reveal that this behavior played out for days in Martha's Connecticut home before she went off to prison in West Virginia.

"Martha also cried almost nonstop, and there were times when family members couldn't get her to come out of her bedroom."
[From The National Enquirer, print edition, December 22, 2008]
According to this new book, Martha Steward had to go to jail for five months so she cried a lot, drank for a few days and made herself tasty desserts. I would be doing much worse in that situation and my house wouldn't be as spotless and ribboned as Stewart's surely was at the time.
Stewart is said to "loathe" the competition Rachael Ray and feel that "Rachael is too common and does cooking a disservice by dumbing down the art of fine cuisine and food preparation." She also hates Donald Trump for dissing her "Apprentice" spin off.
Meanwhile Martha's "special friend" as mentioned on the Enquirer cover is just that. There's no lesbian relationship even implied, and Martha never got down with the ladies in jail. I was hoping for some more scandal and maybe a gay romp or two, but Martha's personal life seems to be as in order and wrapped up as her surroundings. She can even get wasted and make exquisite desserts that would put Rachel Ray to shame. I want to hang out with Martha Stewart and get some organizing advice and treats.
Martha Stewart is shown on 11/14/08 at the Grand Opening of the Fontainebleau Miami Beach. Credit: WENN