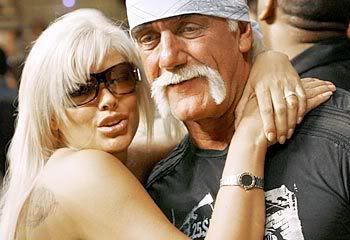 Anna Nicole ran into Hulk Hogan at a boxing match in Florida recently. She attended the match with her parasitic partner, Howard K. Stern
Anna Nicole Smith is selling lots of pictures of little Dannielynn to the tabloids, angering the baby's self-proclaimed biological father, Larry Birkhead. She's using the money she's earned by pimping out the baby to buy a house in the bahamas.
It's not surprising she's doing this, considering that she held a fake wedding with her lawyer before she could be bothered to bury her 19 year-old son, who died of a drug overdose shortly after the baby was born:
"After she sold footage and photos of the birth to a TV show, she starting seeing that child as a cash cow," says the insider. "Howard K. Stern [Smith's lawyer and the man whom she claims is the father of the baby] takes the pictures and they sell them to the highest bidder." The house in the Bahamas could help Smith maintain residency there, since she's reportedly being booted from her current house in the island nation, where she's been living — some say to avoid paternity testing.

The situation has Larry Birkhead — the photographer who says that he, not Stern, is the baby's father — "outraged" and "disgusted."

"I'm outraged that they're trying to pimp my daughter," Birkhead tells The Scoop. "If Anna wants to sell pictures of herself, that's one thing, but to conveniently put my daughter in every single photo to up the ante is sick and disgusting. And what's even more disgusting is that someone would buy them because they are financially assisting someone who's stockpiling money in an attempt to keep my child from me."
Anna is legally required to undergo paternity testing for the baby by January 23rd, but it is thought that she will go to any means necessary to avoid the tests. She claims that Howard K. Stern is the baby's father, and if Birkhead is proved to have fathered Dannielynn she stands to lose some of her ill-gotten gains.
Anna Nicole sported two new tattoos on her back, featuring her pictures of her posing with her deceased son on one shoulder and her baby daughter on the other.