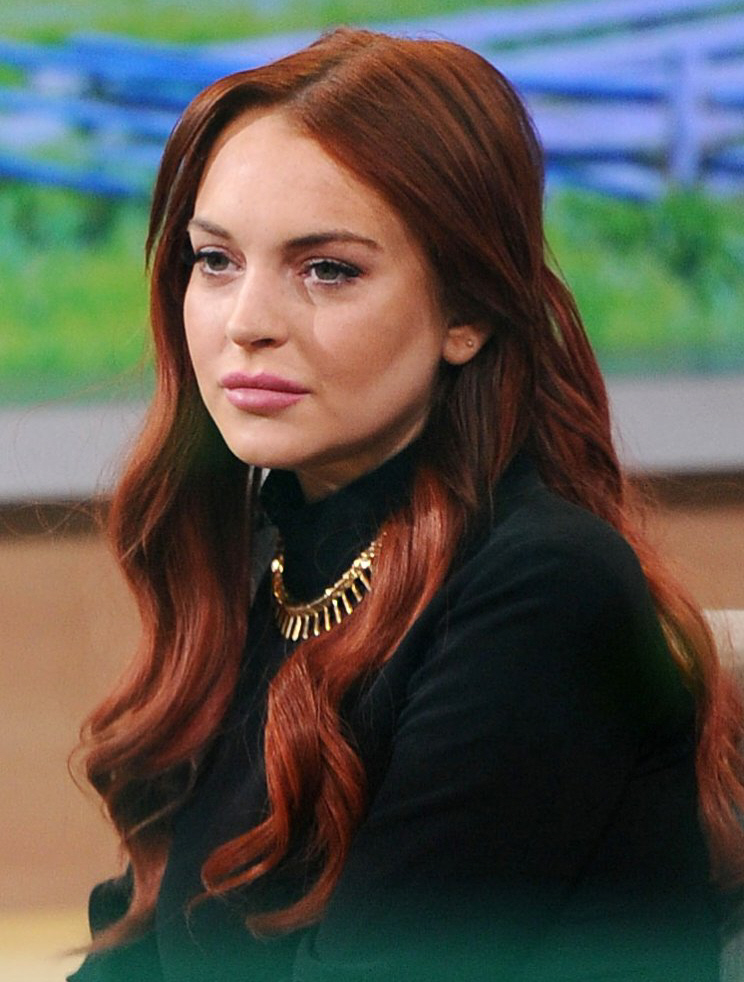 These are some photos from Lindsay Lohan's appearance on Good Morning America last Friday. I'm sorry I never got around to covering her appearance on the show, but in all honesty, I'm in kind of a "I don't even care enough to joke about the crackhead" phase. It happens sometimes – I hit a Lohan wall and her crack shenanigans are of no interest. But don't worry, it will pass. It will probably pass when she does something majorly crackie, like when she gets arrested again for some new and unknown charge, or when she does another Terry Richardson photo shoot or something. Or maybe it will be when I finally sit down and watch Liz & Dick, which I'm sure will make me so sad/angry that I won't be able to function for days. Anyway, here's some budget video of Lohan's GMA interview (Note: the volume is really loud in this clip).
If you watched the whole thing (I didn't), you'll see that Lohan was asked about her new half-sister – Michael Lohan just found out for sure that he is the father of 17-year-old Ashley Horn. When Lindsay was asked about it, she crack-lied. Of course. Not only is she a crack-liar, but she also thinks she's important enough to pull diva-rank on media outlets… and they let her get away with it.
Not only did Lindsay Lohan lie on Good Morning America Friday when she said she didn't know she had a secret half-sister, but prior to her appearance, LiLo's powerhouse public relations team at Rogers & Cowan gave producers of GMA a list of questions the actress could NOT be asked by Amy Robach, including anything relating to her ongoing criminal legal issues – and the top rated morning news program agreed, RadarOnline.com is exclusively reporting.

"Lindsay's reps gave the executive producer of Good Morning America a LENGTHY list of subject matters that she absolutely wouldn't be asked by Amy Robach. GMA had to agree in writing before the interview that Lindsay wouldn't be asked ANY questions about the many criminal legal issues she was facing, including the looming lying to cops charge after her car accident last summer," a source close to the situation tells us.

"The primary focus of the interview was for Lindsay to talk about her role in the Liz & Dick television movie. Lindsay's new p.r. team is working to craft a new image of her, and this includes only having her do print and television interviews that they can control. Lindsay's team hand-picked Amy Robach to do the interview because they thought she would be comfortable with her. GMA agreed to the conditions because they thought the audience would want to see what Lindsay had to say. If GMA hadn't agreed, they were prepared to go elsewhere. One option for Lindsay's television morning interview wasn't the TODAY show because they NEVER would agree to any pre-conditions of any interview, it's just not what they have ever done," the insider added.

As RadarOnline.com previously reported, Lindsay acted surprised when asked on GMA about this week's widely reported news that she has a secret half-sister. When GMA's Amy Robach broached the topic that her dad Michael Lohan had recently been given DNA proof that he had fathered a child, now 17-years-old, out of wedlock with a former mistress, LiLo replied: "I didn't even hear that, so thanks for the news!"

However, a source tells us Linds, who has been known to have a problem telling the truth, "absolutely knew she had a half-sister for a very long time. Lindsay has Google news alerts set up for every member of her family, including her dad, so when it made news yesterday, she absolutely read about it. However, Lindsay found out long before that she has a half-sister. Lindsay is embarrassed by it and doesn't have a desire to meet her sibling."

Lohan's appearance on GMA came days after she canceled an in-depth interview with ABC's Barbara Walters, only to make a surprise comedic appearance on Late Night with Jimmy Fallon. She's also scheduled to appear on The Tonight Show with Jay Leno next Tuesday.

A spokesperson for GMA says, "there were no conditions on the interview and if there were, we wouldn't do the interview….We asked the questions we wanted to ask."

When reached for comment, a representative from Rogers & Cowan denied that there were any restrictions placed on the GMA interview. "GMA graciously booked Lindsay on the show to promote Liz & Dick and we were all very happy with the result," the rep told Radar.
Bulls—t. OK, that pisses me off. LL's publicists clearly came in with a list of stuff LL would not be asked, and GMA bent over. Which is really f—ked up. If the journalists of GMA can't be bothered to show journalistic ethics over a GD Lohan interview, how can they be believed on real news stories?
Meanwhile, TMZ has a story about how Lindsay really feels about her half-sister too. Team Lohan tells TMZ that Lindsay has no plans to meet Ashley Horn and LL is "100% done with the 'circus' that is her father Michael Lohan." LL was "aware" of the paternity issue for a while, but she didn't know that Michael had actually taken a DNA test until last week, and she finds the whole situation "disgusting". Michael Lohan told TMZ, "I am sorry to hear Lindsay feels that way. I met Ashley and she is a good kid. But we all have our choices to make in life, as well as our own prerogatives. Who knows, maybe someday things will change. Regardless, I want the best for all my kids." Blah.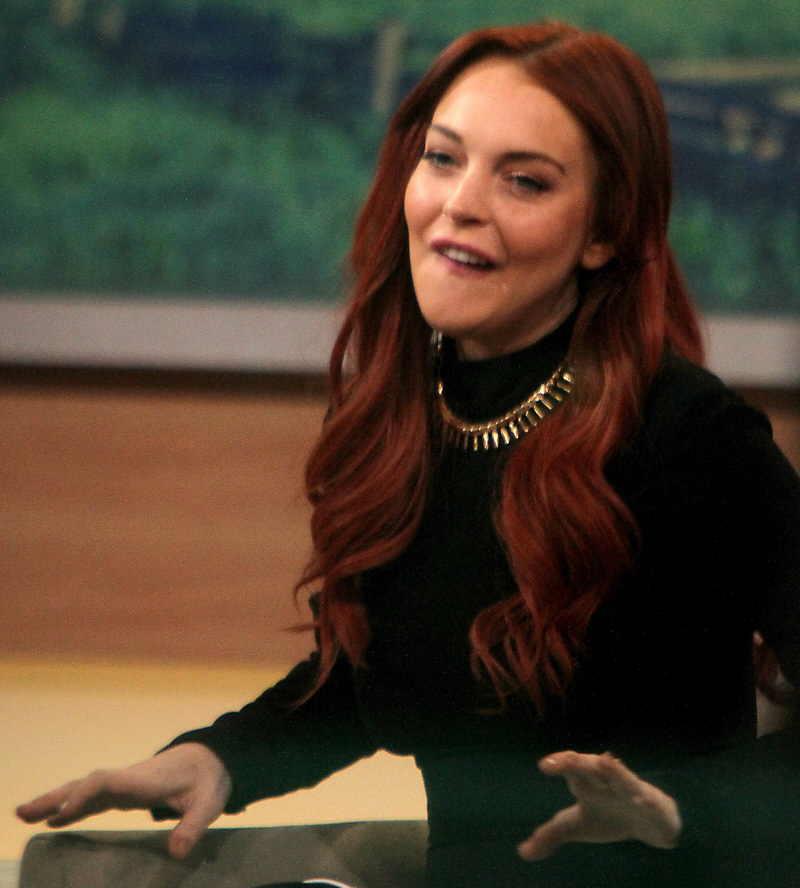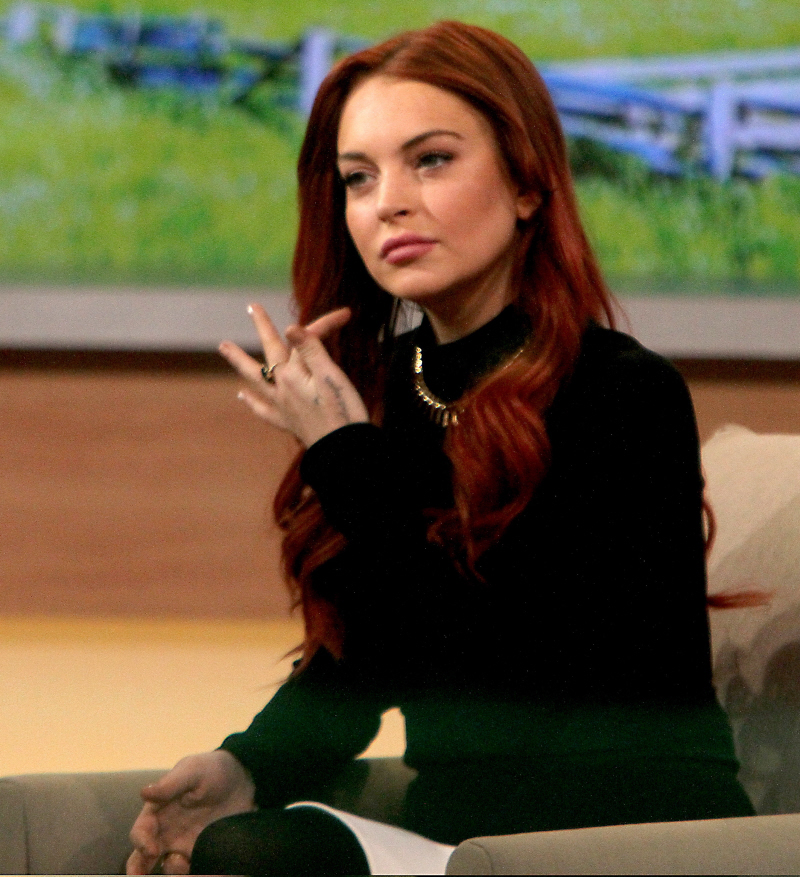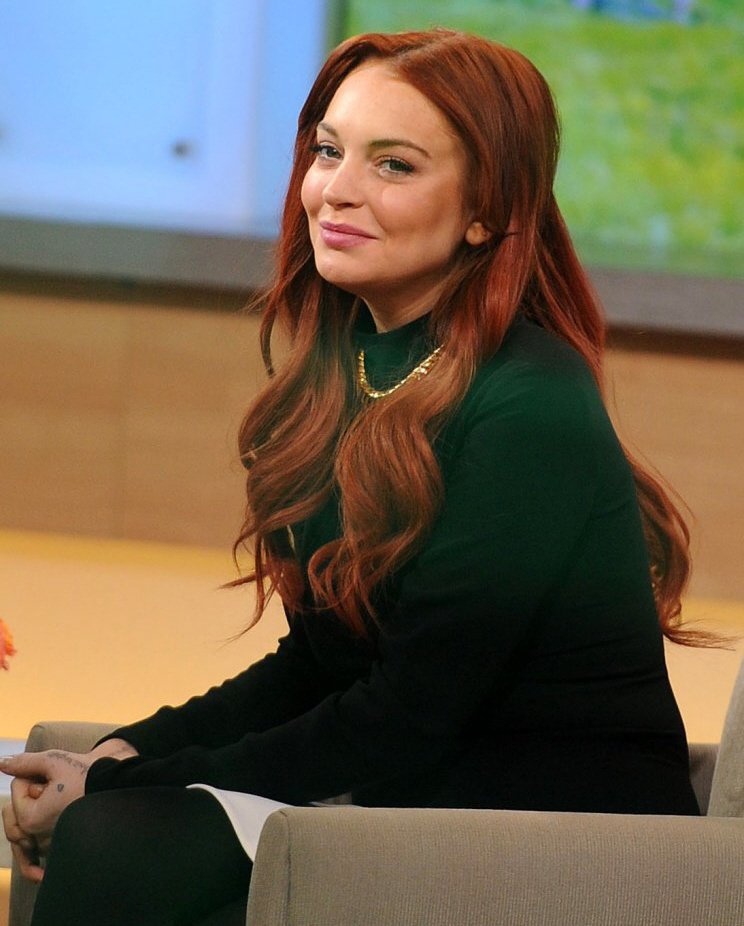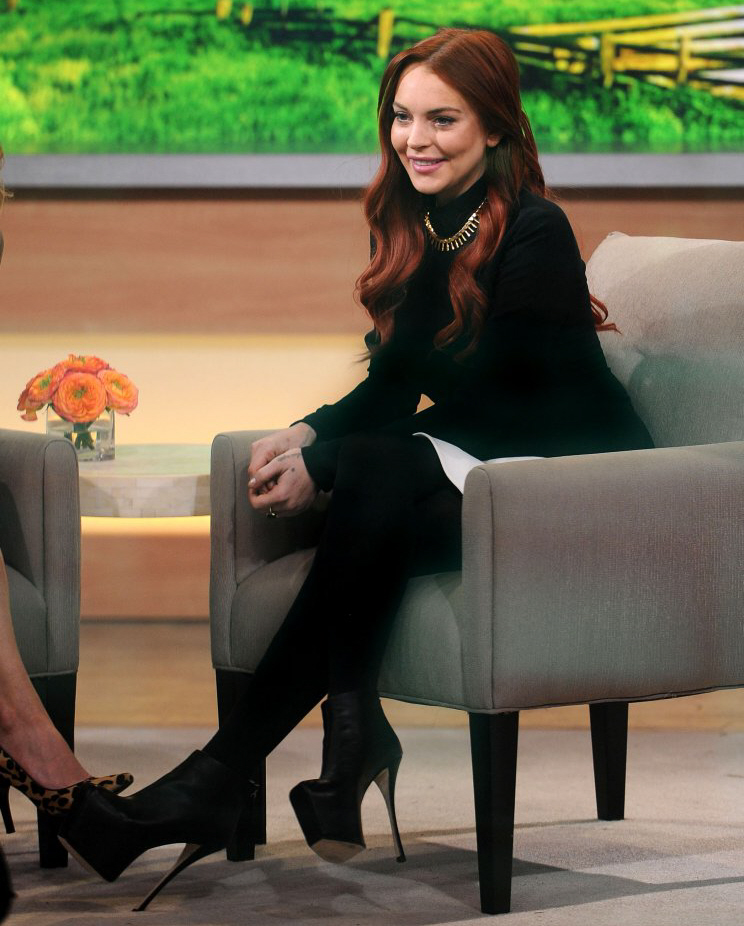 Photos courtesy of Fame/Flynet and WENN.