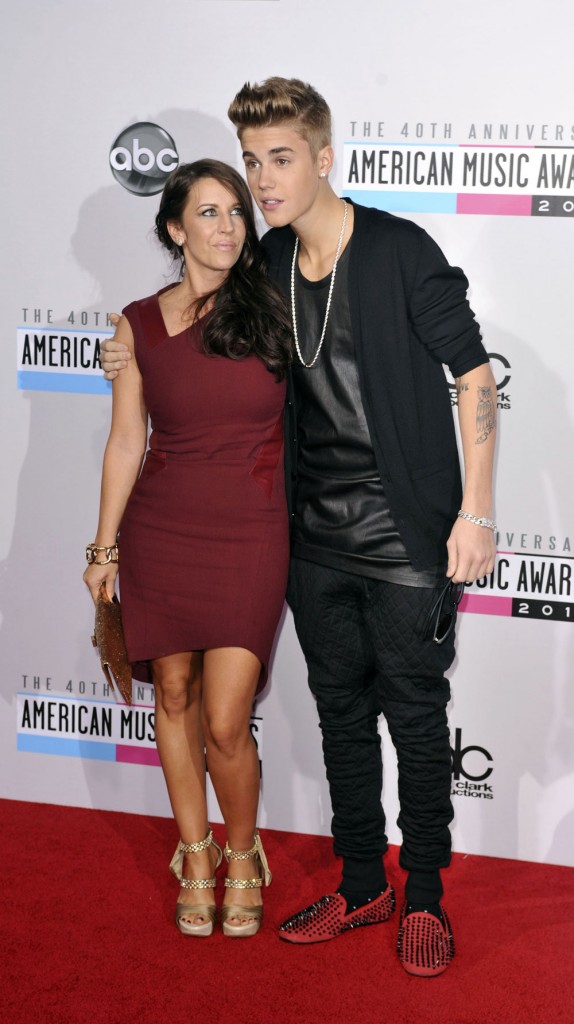 I have to admit that I didn't watch the AMAs other than clips online. Like Kaiser, I don't really care for all the endless music awards shows. A newly-single Justin Bieber dominated the show, which we'll get to in a moment. He smartly took his mom with him as his date, since things have gone south in his on-off relationship with Selena Gomez. Justin gave his mom a kiss on the red carpet and thanked her profusely during his speeches. It was all rather sweet and cute. Not cute: his really awful quilted(!) Hammer pants, long pleather top and sweater cardigan combo, paired with red loafers with spikes on them. This kid can't dress himself, but he keeps trying.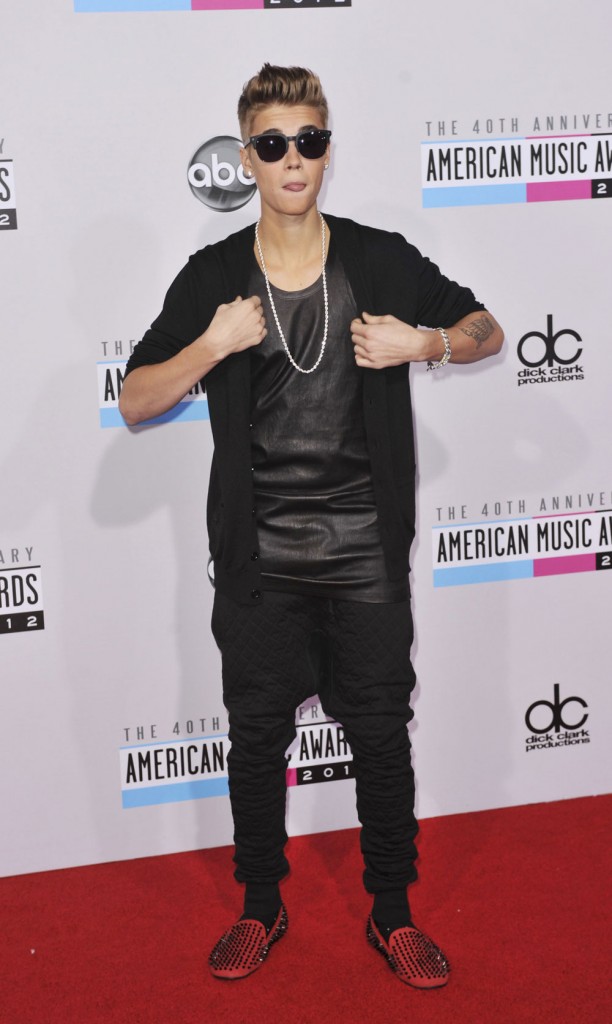 Bieber won three big awards last night: Artist of The Year, Favorite Male Artist and Favorite Pop/Rock Album, for Believe. He also performed two songs: an acoustic version of "As Long as You Love Me," and "Beauty and The Beat," which is his new single featuring Nicki Minaj. You can see those performances on Hollywood Life if you're interested. The NY Daily News had a nice recap of the night, so I'll quote them here:
Bieber won favorite pop/rock male artist in the first award handed out at Sunday's show and gave a shout-out to those who didn't think he would last on the music scene.

"I want to say this is for all the haters who thought I was just here for one or two years. I feel like I'm going to be here for a very long time," he said.

He also won favorite pop/rock album for his platinum-selling third album, "Believe." He gave a stripped down, acoustic performance of "As Long As You Love Me," then transitioned to the dance-heavy "Beauty and a Beat," where Minaj joined him onstage, grinding with the teen for a few seconds.

Minaj, who wore three different wigs and four outfits throughout the night, repeated her AMAs wins from last year, picking up trophies for favorite rap/hip-hop artist and album for "Pink Friday: Roman Reloaded." She was in an all-white get-up, including fur coat and pink hair when she performed her new song "Freedom." The scene was ghostly and snowy, as a choir — also in white — joined her onstage. One background singer stole the performance, belting semi-high notes as Minaj looked on.

As Bieber won his second award, he was kissed on the neck by Jenny McCarthy, who presented the award.

"Wow. I feel violated right now," he said, laughing.

"I did grab his butt," McCarthy said backstage. "I couldn't help it. He was just so delicious. So little. I wanted to tear his head off and eat it."
Bieber's red and black outfit seemed to be the night's theme, as Taylor Swift and Usher wore similar ensembles.
Jenny McCarthy was ridiculous grabbing and macking all over Bieber. Imagine a 40 year-old male star doing that to an 18 year-old female singer and then saying he "couldn't help it," she "was just so delicious." Why are they letting McCarthy give out awards in the first place? She just drags the whole ceremony down.
Here's a video of Justin winning the Male Artist of the Year for the Pop/Rock category. He talks about his haters at :55. This was his first award, so you know he practiced this haters speech ahead of time. (Here are links to YouTube videos of Justin winning artist of the year and favorite album. The Jenny McCarthy debacle is in the favorite album video.)

I have to mention this performance that's getting a lot of buzz, it's Psy doing Gangnam Style with a Too Legit to Quit mashup with MC Hammer. (Hammer comes in at 3:00) Kaiser loves Psy and she clued me in to this. Words cannot express how awesome this performance and mashup are. I hope that Psy is way more than a one hit wonder in the US, he's incredible. It's also nice to see Hammer back on stage.

The Bieb's signature pose: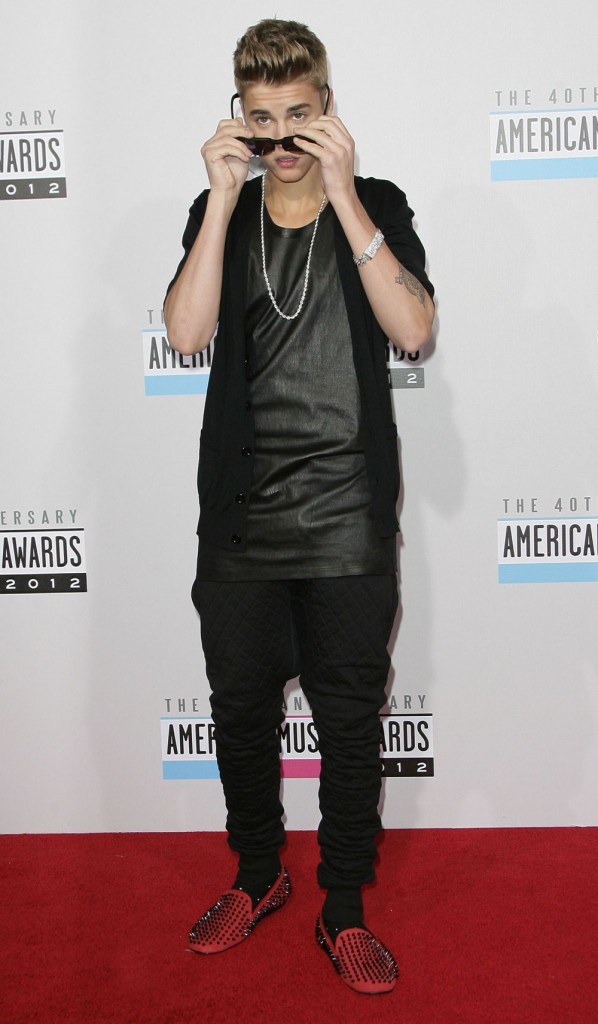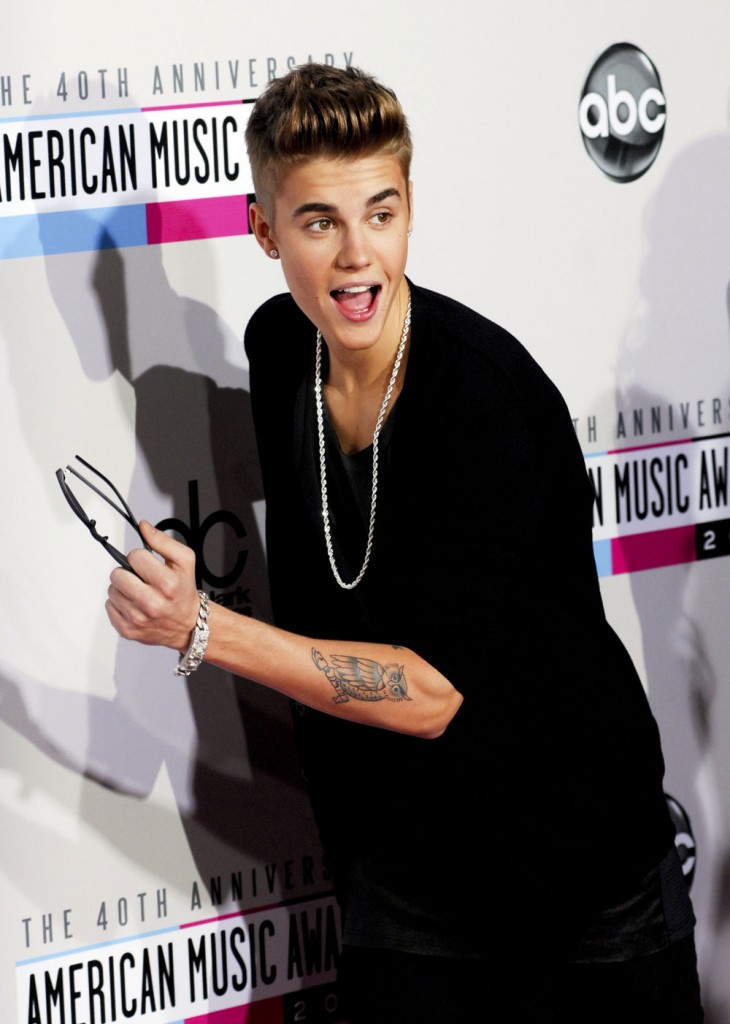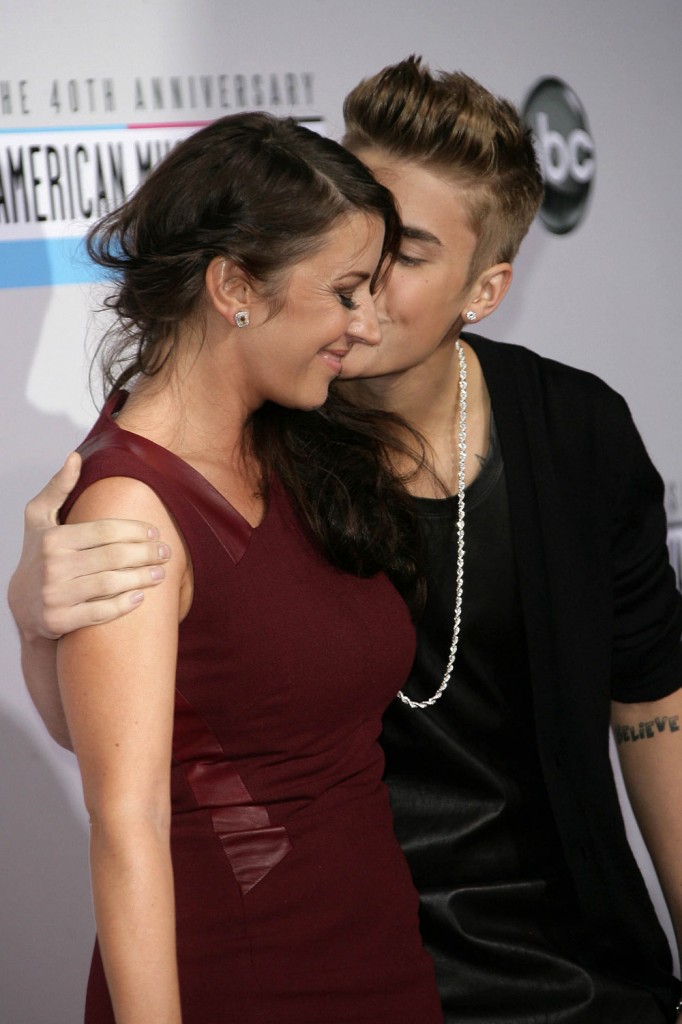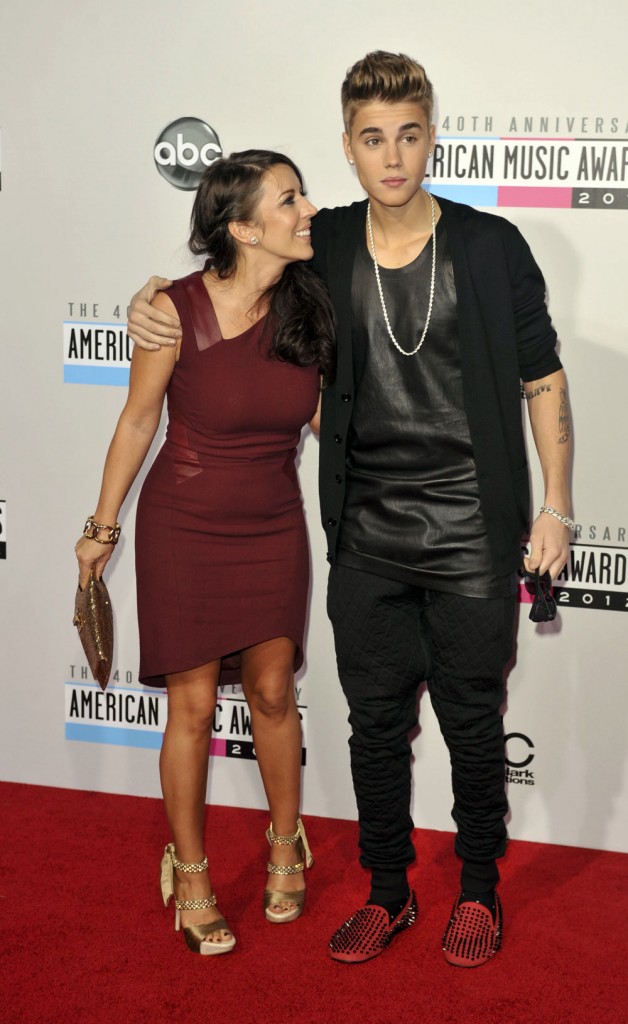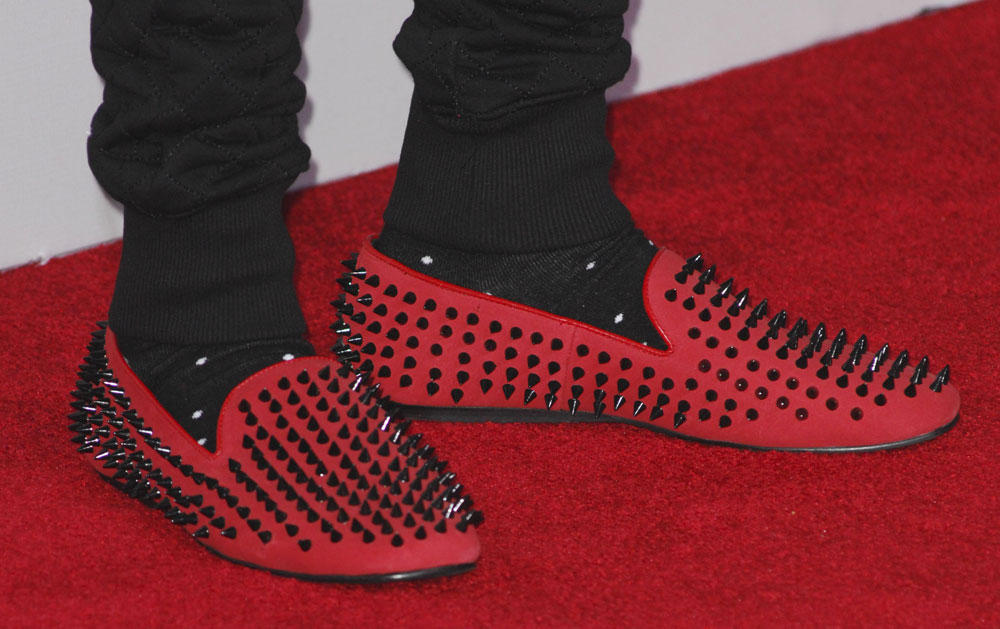 Photo credit: WENN.com