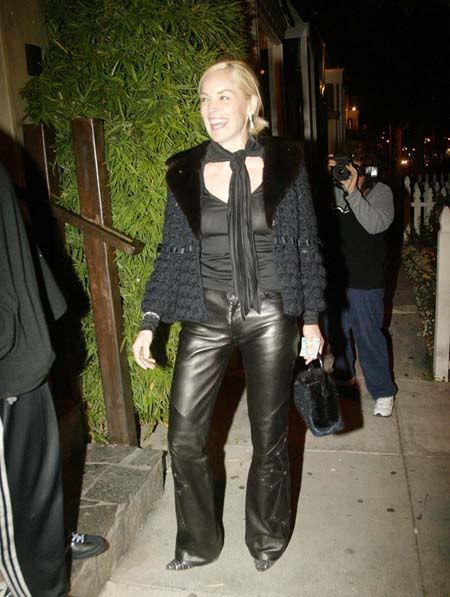 In an awesome quote, Russell Crowe lets loose on Sharon Stone, saying that she's had a lot of bad work done and looks like a orangutan:
Hollywood hardman RUSSELL CROWE is convinced his former co-star SHARON STONE has undergone cosmetic surgery to maintain her stunning features. The Oscar-winner, who starred alongside Stone in the 1995 western THE QUICK AND THE DEAD, suggests the BASIC INSTINCT actress should change her name because she looks "like an orang-utan". He says, "A lot seems to have changed. When are you not you any more? At what point do you have to get a name change too? "You can end up looking like a startled chimpanzee. The eyes are gone, the lips are like rubber tyres – or more like an orang-utan that has been kicked in the a**e." Stone, 48, has always denied having cosmetic surgery and she sued leading Los Angeles surgeon RENATO CALABRIA in 2004 after he appeared to tell an American magazine he had given her a face-lift. The case was settled out of court last year (05) when Dr Calabria agreed to provide free surgery for a charity working with children with facial abnormalities. His lawyer KEVIN LEICHTER said, "Dr Calabria did not perform plastic surgery on Ms Stone."
That's hysterical and we can't wait to see what Stone says back!
Sharon Stone just doesn't look bad because of plastic surgery. She has a bad personality of course, but she also doesn't know how to dress. She was photographed at Koi restaurant in Beverly Hills on April 25th. WTF is she wearing here? She's tied a scarf around her neck like a tie and she's wearing all black with ill-fitting leather pants and a crocheted jacket with a fur collar over a see through top. That's just wrong.
Pictures [via]