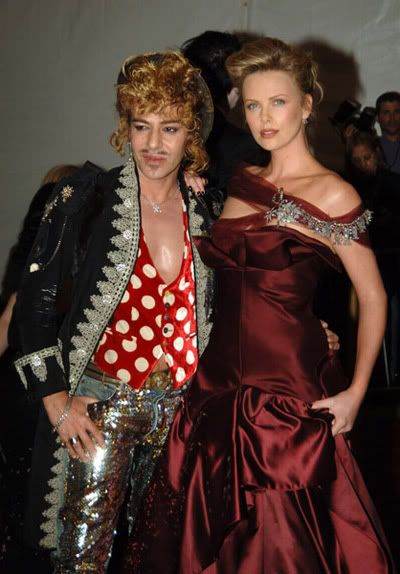 The Costume Institute Gala at the Metropolitan Museum of Art held a ball last night to celebrate the opening of an exhibit on British design. Sienna Miller, wearing an awful gold sequined minidress and black tights, served as co-chair for the event.
The star-studded Costume Institute Gala was the opening event for a new exhibition celebrating British design at New York's prestigious Metropolitan Museum of Art.
The flamboyant show, made up of themed rooms including a Hunt Ball and a Gentleman's Club, is the latest example of the city's growing obsession with all things from across the pond.
Celebrities from the UK including Liz Hurley, Kate Moss and Naomi Campbell put on their glad rags for the lavish event.
The Americans were represented by A-listers including Jennifer Lopez, Sarah Jessica Parker and Richard Gere.
The British-born editor of American Vogue, Anna Wintour, swept in first.
Miller, who teamed her glittering frock with opaque black tights and wore her hair tied back in a simple ponytail, shared the limelight with Christopher Bailey, the creative director of Burberry.
He and Wintour were the starlet's fellow co-chairs. The fashion house and Vogue publisher Condé Nast have sponsored the exhibition.
The guy dressed like a cabaret pirate posing with Charlize Theron is Dior designer John Galiano. He's responsible for her monstrosity of an Oscar gown with the giant shoulder bow. Sienna Miller is shown with Christopher Bailey, Burberry's creative director.
We have over 100 pictures from the event. Stars and designers attending include Alexander McQueen, Sarah Jessica Parker, Jennifer Lopez, Marc Anthony, John Galliano, Charlize Theron, Lindsay Lohan, Victoria Beckham, Emmy Rossum, Eva Mendes, Gisele Bundchen, Gretchen Mol, Jessica Alba, Josh Hartnett, Lenny Kravitz, Donatella Versace, Rupert Everett, Linda Evangelista and Amber Valetta, Jessica Alba, Marcia Gay Harden, Mary-Kate Olsen, Ashley Olsen, Melania Trump, Donald Trump, Molly Sims, Rosario Dawson, Scarlett Johansson, Stella McCartney, Amanda Peet, Andre Leon Talley, Naomi Campbell, Angela Lindvall, Angie Harmon, Billie Joe Armstrong of Green Day, Bridget Moynahan, Tom Brady, Chloe Sevigny, Ciara, Dita Von Teese and Marliyn Manson, Drew Barrymore, Elizabeth Hurley, Erin O'Connor, Matthew Williamson, Eve, Gina Gershon, Ginnifer Goodwin, Ivana Trump, Jacquetta Wheeler, Jason Lewis, Jessica Stam, John Legend, Johnny Rotten, Josh Lucas, Joy Bryant, Julia Stegner, Iselin Steiro, Karolina Kurkova, Lily Cole, Lauren Bush, Lily Donaldson, Gemma Ward, Liv Tyler, Francisco Costa, Lydia Hearst, Mandy Moore, Minnie Driver, Nick Cannon, Petra Nemcova, Rachel Roy, Damon Dash, Ralph Fiennes, Richard Gere, Cary Lowell, Thandie Newton, Selma Blair, Shalom Harlow, Sienna Miller, Christopher Bailey, designer for Burberry, Zooey Deschanel, Sophie Dahl, Ivanka Trump, Mark Ruffalo, Taye Diggs, Idima Menzel, and Sarah Wynter.