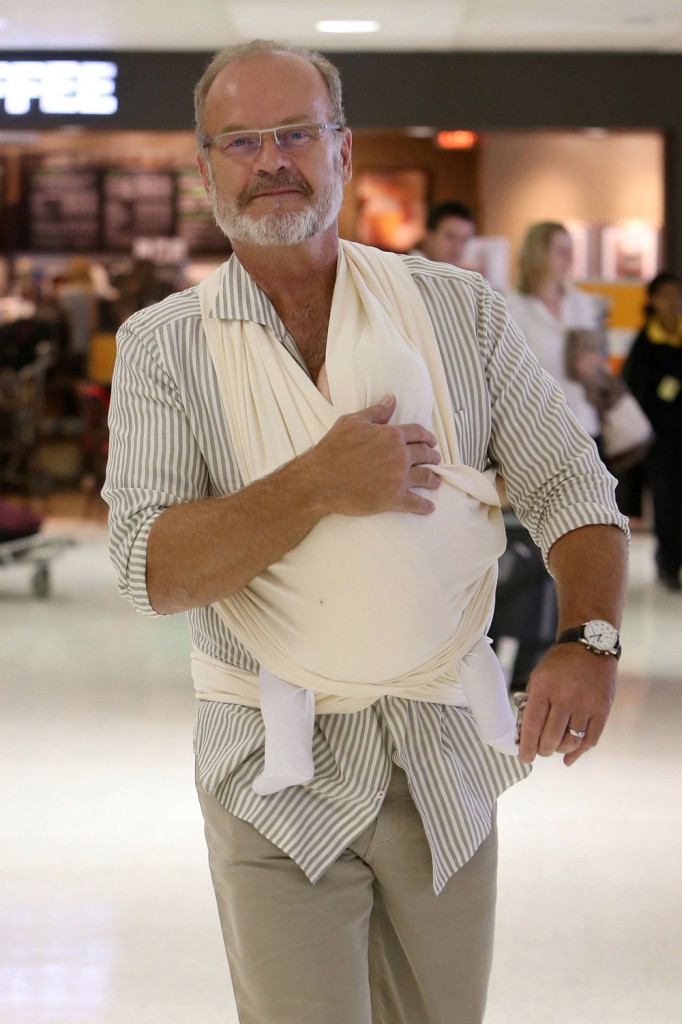 Kelsey at the airport in October. Credit: WENN.com
Remember when Kelsey Grammer and his wife Kayte were widely criticized for taking their then three-month old infant to a loud party at night at the Playboy Mansion, the annual Halloween party? Kelsey issued this long defensive denial including some seemingly unnecessary details about Kate's custom being a witch or something without a hat. Well it turns out that Kate was actually dressed as Kelsey's ex wife, Camille Grammer of RHOBH, and Kelsey was trying to deny it.
This is all a long-winded preface to this story that Kelsey Grammer and his wife, Kayte, were photographed getting into a chauffeured car without using a carseat for their infant. (You can see those photos here) Kelsey's denial, issued through his mouthpiece, sounds just as full of unnecessary details as his last one. He says that he did get a carseat, but that he used evasive measures so the paparazzi wouldn't see him transport the baby safely. That makes no sense. He didn't want them to catch him putting the baby in a seat? Since when does Kelsey avoid the paparazzi?
While leaving LAX airport with wife Kayte Grammer and 4-month-old daughter Faith on Tuesday, the family appeared to be videotaped and photographed driving off without their baby girl riding in a car seat. Kayte, 31, was snapped holding Faith on her lap in the vehicle, which would be a violation of California law.

But a rep for the actor, 57, tells E! News that baby Faith was belted in a car seat before the family left the airport.

"I am not an attorney, so I cannot [comment] on any legal aspect. I just know that the original footage that aired strongly implied that they left the airport without a car seat, which was not the case," Grammer's rep, Stan Rosenfield, said.

"In an attempt to avoid the paparazzi, they exited through the upper level," he explained. "Kelsey went back in and got the car seat and met them at the car. Did the car drive a few yards without the car seat? Yes. At no time does the video show them leaving the airport with the baby not in the car seat."
This is more BS from Kelsey as usual. When my son was little like that and we were at the airport we used to bring his carseat with us. It's possible Kelsey had the carseat in checked luggage and they had to pick it up later, but if that was the case they would have said it like that instead of giving this complicated "avoid the paparazzi" excuse. Plus I saw photos of the driver loading the back, so they probably had luggage with them at that time, which would make sense with curbside pickup.
In related news, Kelsey's Starz show, "Boss," has been canceled. He probably thinks it's because he's a Republican, right? Also, Kelsey wants to move back into one of the mansions he and Camille are selling, which she disagrees with because she thinks she won't be able to offload it if it's occupied. He may be having cashflow problems now, and it's no wonder with all the estates he owns.