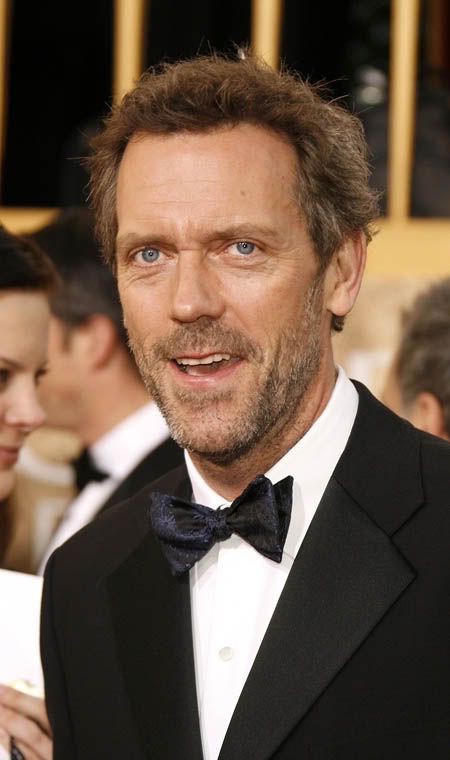 House is my husband's favorite show, perhaps with the exception of The BBC's fine car porn series, Top Gear. He told me that I absolutely had to watch Hugh Laurie's Golden Globes acceptance speech, and he was right: It was quite entertaining and spontaneously humorous for an acceptance speech. I was also surprised to hear Laurie's British accent, because I stupidly assumed he was a self-righteous American guy like his character on House.
In his acceptance speech, Laurie quipped that he should have received his acceptance speech from a sponsor, and that he had to thank his crew, but that not all crews must be as admirable as his.

Hugh Laurie is clearly different from his character on House, but he's obviously thoughtful and thinks fast on his feet, much like his character on House. I'm all confused now.
Laurie is a well known comedic actor in his native England. He has been married to his wife, Jo, a theatre administrator, since 1989. They have three children: Charlie, 17, Bill, 15, and Rebecca, 12. (His children may technically be one year younger, as it was hard to find their exact birthdates.)
Laurie wrote a well-reviewed book in the late 90s about a goofy James Bond-type character called The Gun Seller
.
Five years ago he spoke candidly to the British press about his battle with depression following a brief extramarital affair. Laurie recommended therapy as a means to work through depression, and said it helped him immensely. He seems down to earth and grateful for his success.
In terms of the other nominees in the category of best actor in a TV drama, let me say that my husband and I watched all 13 episodes of Dexter on demand through Time Warner while we were in the states this holiday. We got addicted to it and could not stop until we saw every episode. I also watched four episodes of Big Love on demand last summer until it was pulled from the digital cable offerings, probably to entice people to buy the DVD. That show is also excellent, and Bill Paxton deserved the nomination. I really miss American TV. (There is a remote TV viewing option called Slingbox that we wanted to try, but it would have required a too-long wire in my parent's house, despite being easy to install.)
Pictures of Hugh at the Golden Globes found at Gossip Rocks.