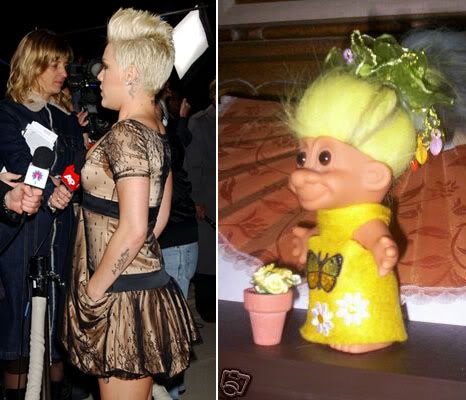 I thought of those wild-haired troll dolls that were popular in my youth when I saw these pictures of Pink at the E! Golden Globes after party. It's her hair, of course, but the dress is also too short for her and has the effect of making her look like a toy. It's even got pockets on the side where you can stash little barrettes and a comb for her hair.
Pink has recanted her statement that people should boycott Australian wool, saying that she appeared in a PETA video without doing research on the issue. She said she was not aware that the Australian wool industry has promised to phase out the practice of mulesing, where strips of skin are stripped from around the sheep's tail. Mulesing is different from just removing the wool, and is initially painful to the sheep. The wool industry argues that without mulesing, sheep can get maggot eggs in that area, which is arguably more painful for them and can result in death.
The troll in the header image can be purchased on eBay, and its owner even lovingly weaved a lot of mohair together to give it two-toned hair. Maybe Pink should get some extensions.