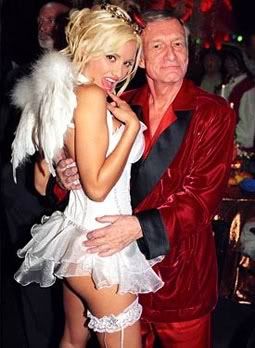 Playboy founder Hugh Hefner is pushing 81 and has just announced his plan to get one of his girlfriends, Holly Madison, pregnant. He already has four grown children and his oldest daughter is 54 and CEO of Playboy. Madison is 26, nearly half his daughter's age, and is one of the stars of the reality show The Girls Next Door. I've only seen it once but there's the sporty one, the sweet one, and the psychology grad student who comes off as doofy. Madison is the sweet one.
The wealthy 80-year-old says he's considering giving one of his three live-in girlfriends, 26-year-old Holly Madison, the baby she desperately wants.

Speaking at the legendary Playboy Mansion in LA, he revealed: "I don't know if at this age it is physically possible but we've certainly talked about it and it's certainly a possibility."

Hef, who has four children from previous relationships, added of blonde Holly: "She certainly has my heart, so maybe she'll have my sperm too!"
[via Socialite's Life]
That's uh, sweet, and all and I don't question his motives or anything.
Hefner also credits Viagra for his fabulously debaucherous sex life, saying "In reality I don't think I could be living this life without it."
We published a story on Monday about an ex-Playmate's tell-all book detailing Hugh's scripted orgies. She said he never wore a condom, liked to watch gay porn, and had scheduled sex nights on Wednesday and Friday that everyone was required to attend. I wonder if a baby in the mansion will mess up his whole routine.