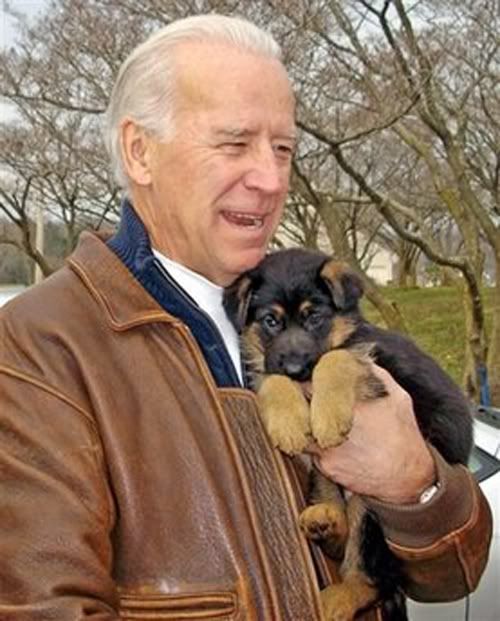 While the mainstream media fixated on the soon-to-be Obama puppy, Biden had a secret. Jill Biden had promised her husband that if they got elected, a new puppy would be moving into the Naval Observatory (the official Veep residence) with them.
All puppies are, as a rule, adorable. But a sleepy-looking German Shepherd sweetheart puppy? I actually squealed. The world is too complicated and horrible right now – we need more puppies. This little baby comes from a breeder's kennel in Pennsylvania. Yeah, it's not a rescue, and yeah, animal rights groups are already jumping on that. But apparently Joe Biden already knew what kind of dog he wanted.
"I've always had a big dog my whole life, even the time I was a kid. I've had German Shepherds and Great Danes and Labs and Golden Retrievers," Biden said on November 4. "So with Barack inquiring about would I be willing to get vetted, Jill said, 'I'll make you a deal: if you get the vice presidency and get elected, you can get a dog.'

"I know what kind I want, I don't know what kind I'm going to get yet," he added before reiterating that the ticket hadn't won yet.

Biden spokeswoman Elizabeth Alexander said the vice president-elect had owned three German shepherds in his life, "so he's familiar with the breed and its personality."

"He's excited to bring it home when it gets a little older and has promised that his grandchildren can name it after the New Year," Alexander said.
[From CNN]
Joe Biden's also taking precautions – the puppy is being sent to some kind of Veep puppy boot camp. In reality, it's just a "six week training period" which I assume will involve learning how to not gnaw on the Resolute Desk. Also, I'd like to throw out a name for the puppy! How about "Literally" – it's Biden's favorite word.
photos via Huffington Post.