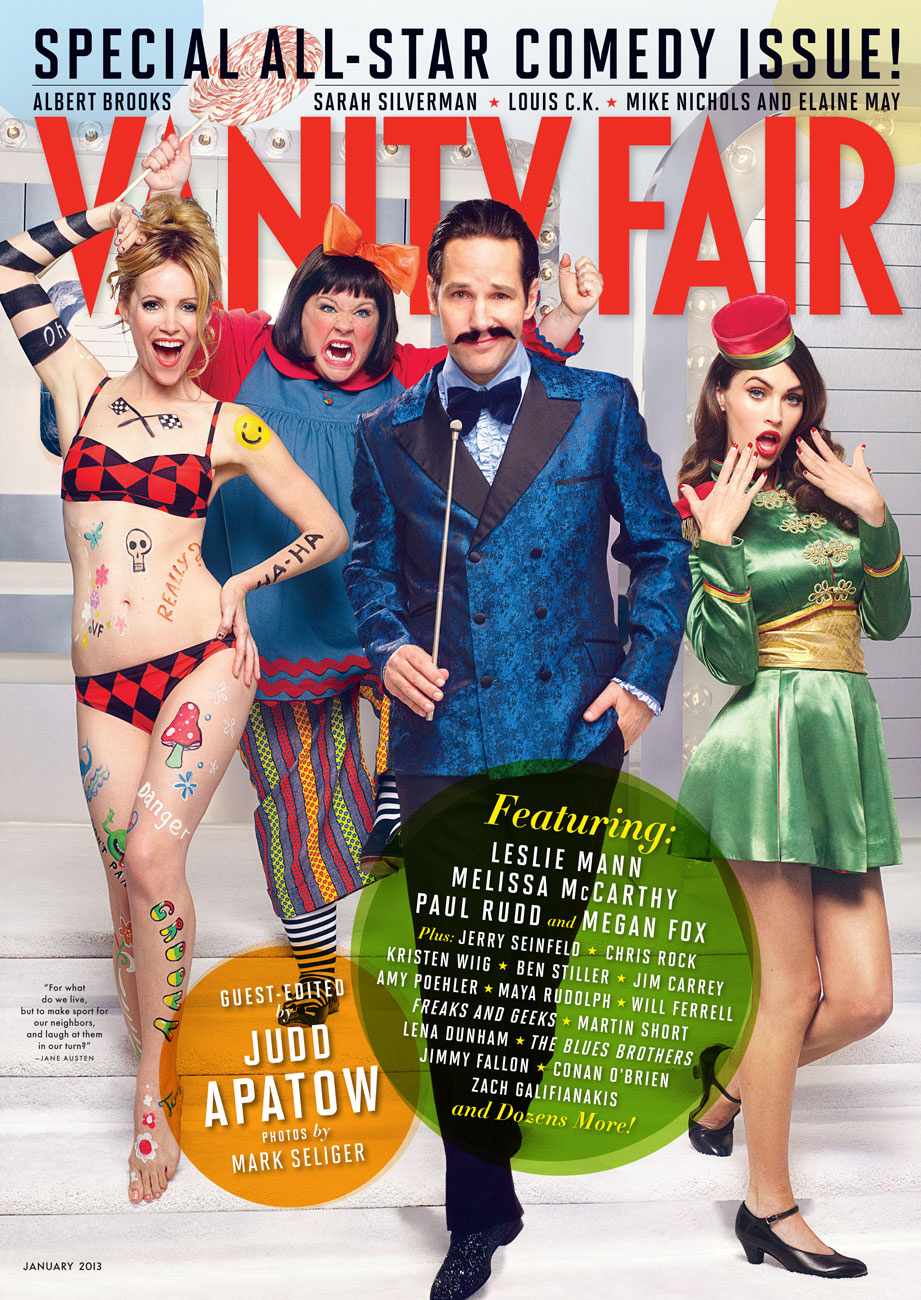 The January issue of Vanity Fair is a theme issue, and thankfully, the cover isn't featuring some dead celebrity or politician. The covers – there are three in all – feature current comedians and comedic actors dressed up as (some) dead celebrities. HUZZAH. Vanity Fair's Comedy Issue was guest-edited by Judd Apatow, the writer-director-super-producer of such films as The 40-Year-Old Virgin, Knocked Up and the soon-to-be-released This is 40. Meaning that one of the covers is devoted to the stars of This is 40, which is how Megan Fox landed her first Vanity Fair cover (she's in This is 40). Yes, one of these things is not like the others. You can read Judd's "Note from the Guest Editor" here, and here are some highlights from the issue:
In Vanity Fair's first-ever comedy issue, writer, director, and producer Judd Apatow convened his most talented friends and idols to contribute, write, and pose for a 19-page Mark Seliger portfolio—as well as act incredibly dignified and businesslike in costume for three different covers. Included are the stars of Apatow's This Is 40, dressed as famous figures of 60s- and 70s-era variety shows like Rowan & Martin's Laugh-In, with Leslie Mann in a bikini and body paint à la Goldie Hawn and Melissa McCarthy dressed as Lily Tomlin's Edith Ann; Paul Rudd plays your oily show host, and Megan Fox is an alluring bellhop.

A second cover features Jim Carrey dressed up as Evel Knievel, Maya Rudolph doing an ancient Egyptian like Steve Martin in his King Tut days, Will Ferrell as a corny cowboy, and Amy Poehler as a 60s go-go girl. Finally, Kristen Wiig plays Cher to Ben Stiller's Sonny on a final cover alongside Chris Rock, doing a Nipsey Russell thing, and Jerry Seinfeld, decked out in a Nehru jacket.

Apatow is only the third guest editor—after Bono, who guest-edited the Africa issue in July 2007, and Tom Ford, who guest-edited the Hollywood Portfolio in March 2006—since Graydon Carter became editor of the magazine 20 years ago. Says Carter in his editor's letter this month, "It can reasonably be said that the comedy industry is booming these days, in movies, on television, and onstage. And who better to oversee an entire issue on the subject than one of the great impresarios of the business? . . . Judd was a terrific collaborator, brimming with suggestions and infectious energy—precisely the sort of high-wattage, Hollywood-style enthusiasm that can alternately excite you and drive you a bit crazy."

Conan O'Brien, Lena Dunham, Zach Galifianakis, Steve Martin, Mel Brooks, and Carl Reiner are just some of the legends past, present, and future that Apatow corralled for the Comedy Portfolio. Louis C.K. answers the Proust Questionnaire, and Jimmy Fallon stars in our Out to Lunch column.
I can't wait to read Louis CK's Proust Questionnaire. You know that's going to be good. And I am a big Steve Martin fan too (although I'd be willing to be he's a bastard in real life). So… this will probably be a good issue. I think it was also a good choice by Judd to include so many funny women on the covers – but seriously, Megan Fox?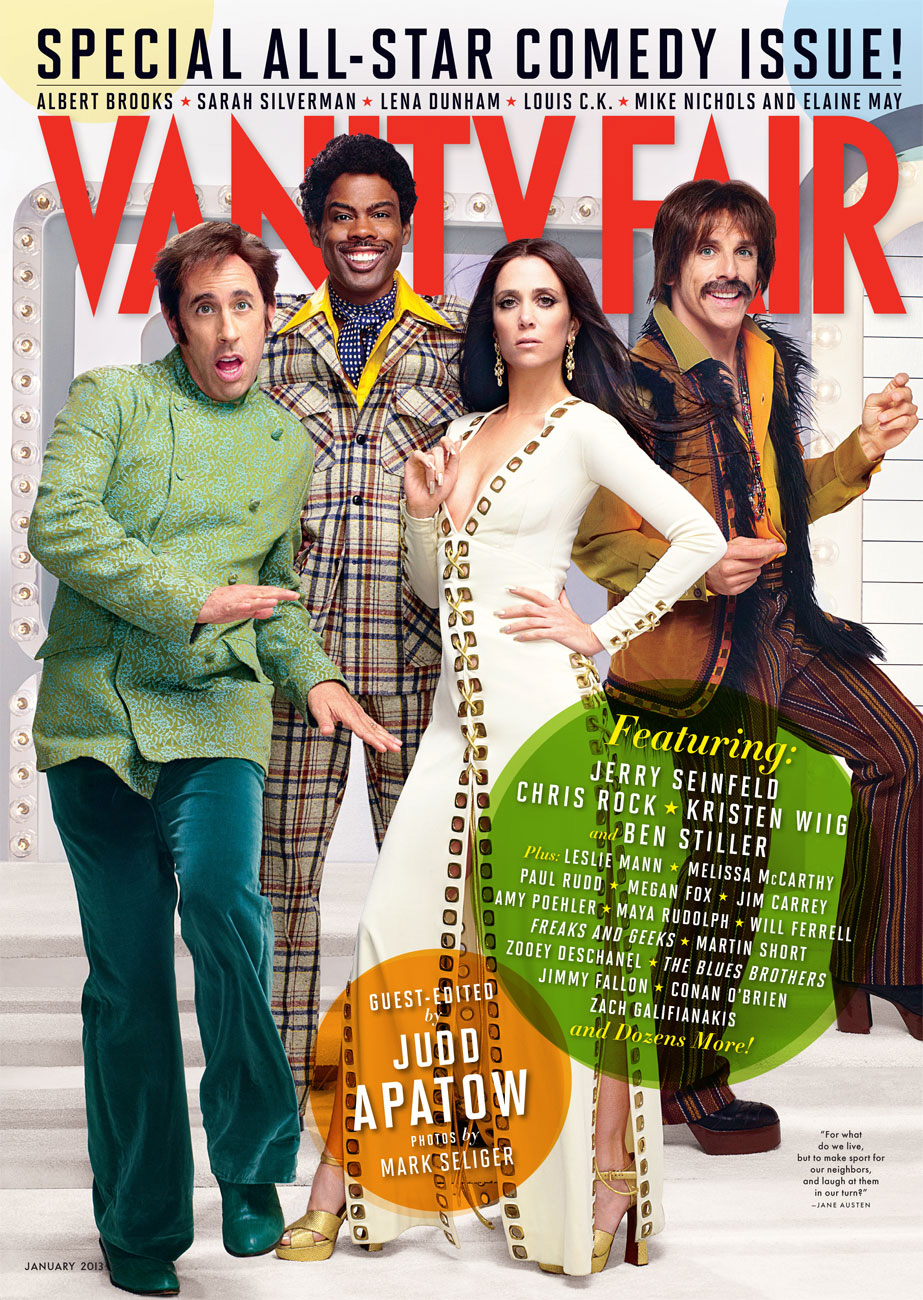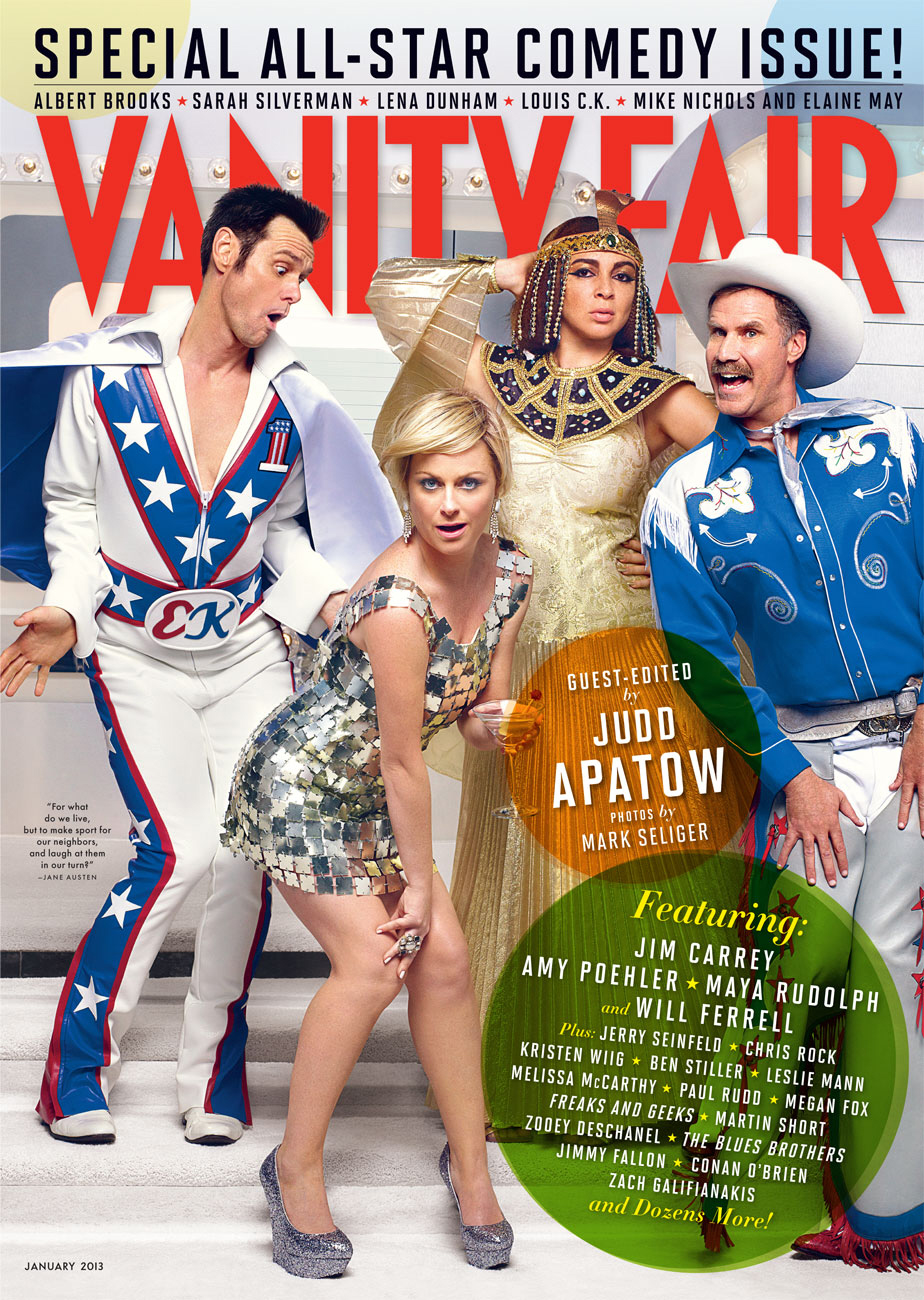 Covers courtesy of Vanity Fair.