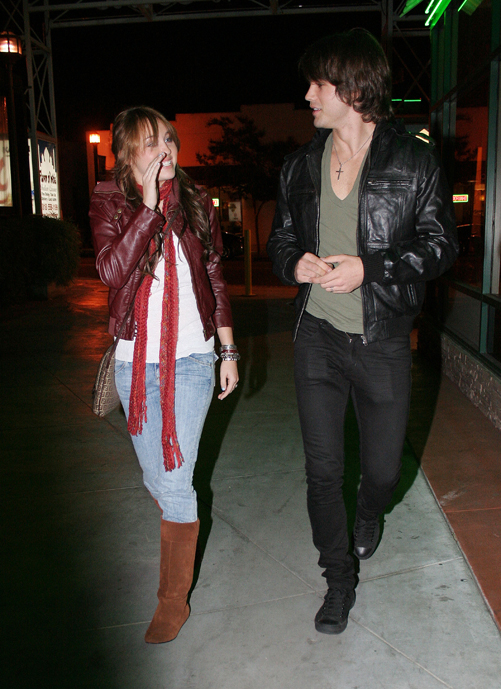 Part of being a teenager is making both good and bad decisions. Most kids make a lot of mistakes, and it's part of the learning and maturing process. But for celebrity teenagers, there's the added complication that someone may be using you. And that's just the accusation that's floating around about 16-year-old Miley Cyrus' 20-year-old boyfriend, model Justin Gaston.
Miley Cyrus' underwear model boyfriend, Justin Gaston may just be using her for her fame, a source has claimed. The 16-year-old Disney star met her hunky 20-year-old boyfriend in Nashville earlier this year after Justin appeared on country music talent show hosted by Miley's dad Billy Ray Cyrus. Since then the pair have been spotted hanging out (in a completely non-physical and totally innocent kind of way) on numerous occasions. But the question on everyone's lips is: is it a genuine relationship? A source close to Justin revealed:

"He's got more modeling jobs since he's been with Miley and is telling people they're writing songs together so her fans will get interested in his music. You start to think he's in this for fame."

But apparently, says the source, it's not a one way thing: "After her photo leaks, she needed someone discreet and Billy Ray thought this was perfect for her image. They talk up how he is a good Christian like her and he won't overshadow her like someone like Nick Jonas might."

Not that we mean to state the obvious, but asking whether Justin Gaston is using his relationship with Miley Cyrus for publicity, is a bit like asking someone whether Dolly Parton sleeps on her back. Of course he is! Or are we just being cynical?
[From Mr Paparazzi via Gossip Rocks]
I agree that it seems sort of like a "duh" question. It never occurred to me that Justin wasn't using Miley in some way or another. She was 15 when they started dating, and there is a big difference between 15-year-olds and 20-year-olds. Why would he want to be with her if there wasn't something in it for him? Whether he's using her for fame or money or just a good story to tell later on in life, I've never seen any reason to think Justin cares about Miley. He's also often been reported flirting with other girls.
What I find creepiest about this article is the thought that Billy Ray Cyrus thought Justin was perfect for Miley – just because he's not as famous as her. You'd think any rational father would have a problem with their big age difference. But considering all the complimentary things Billy Ray has said about Justin, clearly he's daddy-approved. This is just one of those lessons Miley is going to have to learn the hard way.
Here's Miley and Justin at the movies in Burbank, CA on November 7, 2008. Images thanks to Fame.