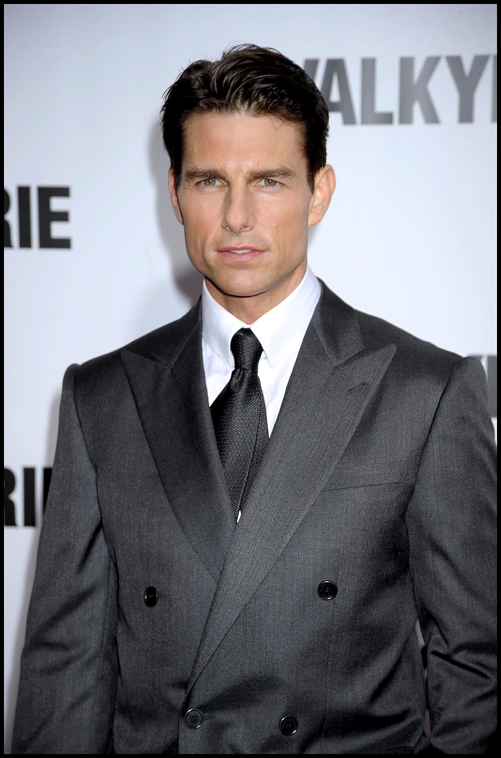 I love a boastful father. Few things are as cute, even when it is Tom Cruise. Interestingly, Tom has been on his apology tour for the last few months. You know, saying sorry for jumping on Oprah's couch, chiding Brooke Shields for taking antidepressants, and calling Matt Lauer glib. At one point, Tom admitted it would have been better to talk about the movies he was promoting instead of prattling on incessantly about his family. And though he's doing major "Valkyrie" promotion now, Tom's still finding it hard to focus on the task at hand, and is slipping back into his old habits. Though I will admit the stories are kind of cute.
Watch out, Harvard. She's not even three years old, but little Suri Cruise is a bona fide brainiac, boasts her proud papa. "Her vocabulary is incredible," Tom Cruise told PEOPLE Monday night at the New York premiere of Valkyrie.

Still, his favorite words are some of the most simple. "I love hearing 'I love you, dada,' or, 'I love you, mama.'"

While his wife, Katie Holmes is busy starring in Broadway's All My Sons, the 46-year-old mega movie star is relishing playing Mr. Mom. "I just love every moment," he gushed. "We've got the teenagers and I've got the two-and-half year old and to have that I feel lucky."

In Valkyrie – his World War II thriller out Christmas Day – Cruise stars as Col. Claus von Stauffenberg and dons an eye patch over his left eye. But his youngest fan did not approve of the accessory at first.

"Suri would come up to me and take it off," he said. "So the girls in the makeup trailer got a little teddy bear with a patch on it and gave it to her and so she would play with it. That she would get used to the fact it was on me."
[From People]
I can understand how seeing your dad in an eye patch would be rather disconcerting. Especially when it's there for a few hours at a time, and then he's back to regular again. I can't help but wonder how the topic of Suri's vocabulary came up with People magazine. What question could they possibly have asked that led to that? All I can guess is that Tom somehow found an excuse. At least the eye patch story was relevant to the movie promotion.
Tom also noted that he'd be more than happy if Suri became an actress. "I would love that," he said. "Acting, that's what I love. It's a great life." I actually appreciated that comment, because it shows he's appreciative of what he has. Most actors seem to say they don't want their kids to go into show business. Which I absolutely understand. But I think the way Tom phrased his answer shows gratitude, which is also nice to hear. Though if Suri does go into acting, she'll have to stop crying whenever she sees the paparazzi.
Here's Tom at the New York premiere of 'Valkyrie' yesterday. Images thanks to WENN.