If you like your man older, with a temper and lots of baby momma drama, Alec Baldwin may be the guy for you. The 48 year-old Golden Globe winner is looking for love, and has let a journalist at Glamour help him screen candidates. He's also open to looking for love online.
Page Six makes it seem as if Baldwin is running a search for a new girlfriend through Glamour, and he sort-of is, but if you read the interview, he's just open to the journalist's suggestion that she help him find someone: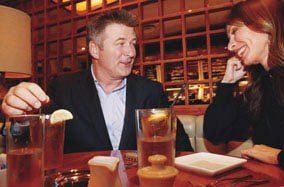 CR: You have a lot of charm on screen. And in person. Where did you learn that, charm school?
AB: What I have you can't learn in charm school.
CR: Spoken like a leading man.
AB: Well, I might've stayed in the leading man world had those movies made money.
CR: No money, but I bet more dates.
AB: You get dates with women who then very quickly move on to the next leading man.
CR: Would you like to get married again?
AB: I would love to marry. I want to be in love again.
CR: Dating sucks, doesn't it?
AB: You meet people who are great, but they're not who you want to turn the lights out with. I was in love when I was married [to actress Kim Basinger], I'm not ashamed to say. I used to wake up in the morning and just look at her and say, "What do you want for breakfast, baby? Special K with blueberries? Let me go get some."
CR: Sweet. Would you like to have more children?
AB: Yes. The only time I'm truly happy is with my daughter. I can't think that this is my only shot at fatherhood…
CR: What about online dating?
AB: I'm thinking about it. I could post my picture and say, "People tell me I look like Alec Baldwin." They'll go, "Oh, I hate him" or "Who the hell is he?"…
CR: In the meantime, you're looking for a First Lady?
AB: Yes.
CR: Well, Glamour has more than 12 million readers.
AB: OK, give them your e-mail address, and if there's anyone who wants to contact Alec….
Oh, and he's liberal, smart and a vegetarian. Line up ladies!
Carol Radziwill writes the column "Lunch Date" for Glamour. You can e-mail her with a pitch for why you would be perfect for Baldwin through a form on the Glamour website.