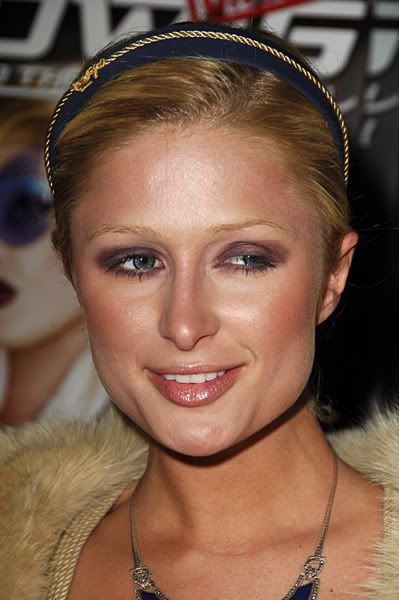 Paris Hilton's wonky left eye, which she is adept at hiding through a combination of hairstyles and sideways glances on the red carpet, may be the result of botched eye lift surgery. What's more, the colored contact lenses she wears are said to be making the condition worse:
WHEN Paris Hilton decided to turn her brown eyes blue with tinted contacts, she might have hurt her already suffering eye lids. According to a Beverly Hills source, Hilton stopped by a plastic surgeon's office with sis ter Nicky earlier this week, seeking to "fix her drooping left eyelid." Our insider says Paris had hush- hush surgery six years ago to lift her lids. The muscles of her left eye were supposedly damaged as a result, "causing it to droop more than the right" – a look that was once parodied on "South Park." Hilton, who is filming "The Hot tie and the Nottie," has made things worse by wearing blue- tinted contact lenses over her naturally brown irises. "They have been drying out lately," dished the tipster. "She is ignor ing doctors' orders to not wear her tinted contacts." Paris' rep Elliot Mintz told Page Six, "To the best of my knowledge, Paris has never had any kind of cosmetic surgery and has not mentioned any medical procedures having to do with her eyes."
Wow, and I just thought she was born that way. There goes my only reason to ever feel sorry for Paris.
Hilton is currently filming the crappy new film The Hottie and the Nottie with Christine Lakin. She has been praised for her work ethic on set, and was seen filming for 10 hours on Wednesday.
Header image is from March, 2006.
Update: Here are some pictures of Paris on set, thanks to FlyNet Online.