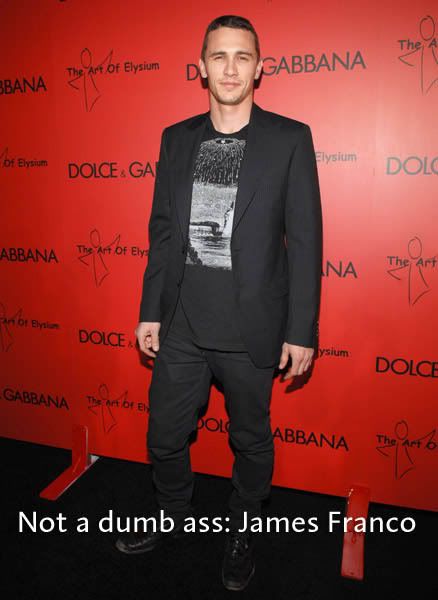 Could unrequited love have sent Lindsay Lohan over the edge and into country club rehab? That's what the New York Daily News claims. They say Lindsay has been distraught for months over the fact that she failed to bag Spiderman hottie James Franco, and that running into him on Golden Globes night got her all upset and weepy like a junior high girl with a crush on the student teacher.
You know if she actually slept with him she would get over it in a week, but the guy is too smart for that. Franco believes in monogamy and sanity, and has stayed far away from the perilous firecrotch:
The handsome "Spider-Man" star rebuffed her at Prince's Golden Globes after-party at the Beverly Wilshire Hotel Monday night, reducing Lohan to tears, a fellow guest tells us.

"She came with her manager, Jason Weinberg, and a girlfriend, but she was mostly solo for the whole night," says our source. "Most people were in a good mood — except for her. She seemed lost. She was trying to get James' attention, and he wouldn't give her anything. She was smoking a lot, not drinking in front of him, and then she went into a bedroom. From there, she went back to trying to get James' attention again, and he was ignoring her. She ran out crying, with the girlfriend following her."

This was about 3:30 a.m.; Lohan was reportedly found passed out in a hotel hallway about 6 a.m. Lohan first met the chiseled-with-chops Franco here in June at the premiere party for "A Prairie Home Companion" at the Hudson Hotel. "She was really taken with him," says another source. "She and her friends were going on to Bungalow 8, and he went along…"

Franco, 28, who dated rocker and actress Marla Sokoloff for years and tends to be monogamous, got interested in somebody else "and is very happy in his relationship with his girlfriend," another source tells us.

Franco even refused a pricey watch Lohan tried to give him. It's now the second watch she wears, allegedly as a painful reminder of him.
Lindsay may have been all drunk and bothered because Franco didn't give her the time of day, but she ended up in rehab because producers of her new movie made her go, not because she was rebuffed and realized she needed to get her shit together.
Franco was rumored to be dating his co-star Sienna Miller last summer, but that's probably long over.
Header image from Mollygood.
Update: Here's Lohan checking into country club rehab, toting takeout and wearing a ridiculous "Lola" hat. Thanks to FlyNetOnline.