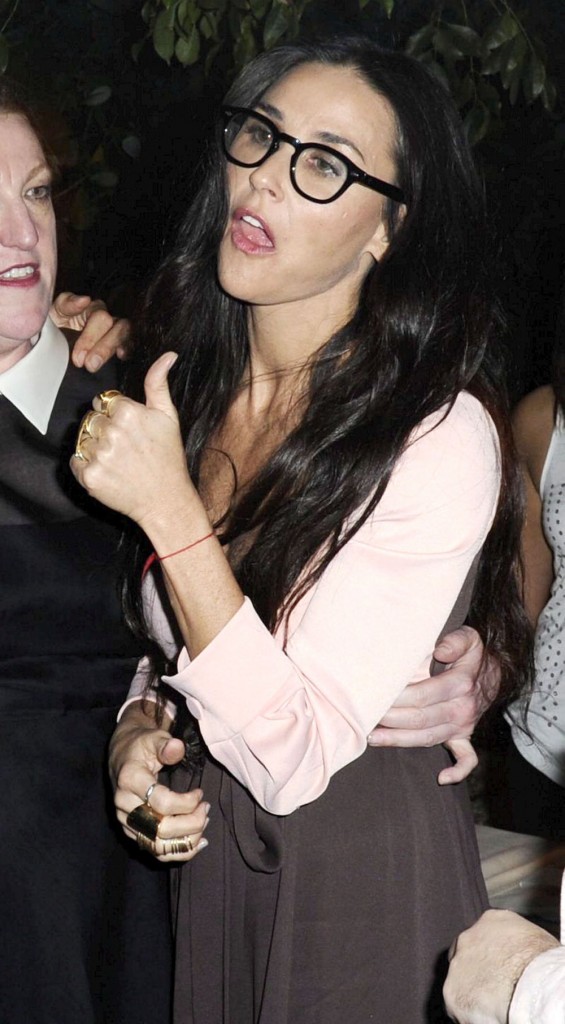 Another day, another story of some sad developments in Demi Moore's life. The last we heard, she was getting dumped by her 26 year-old hookup for bringing him too much negative attention in Miami when he was trying to do business as an art dealer at Art Basel. At a party just before Vito Schnabel called it off, Demi was photographed and seen generally acting the fool, dancing in short shorts while other people were seated.
At another party in Miami, a source tells In Touch that Demi "partied until almost 4:30 a.m. She was by far the biggest party animal, her clothes coming off, making everyone uncomfortable." Their source sums it up "For the past 15 years, Demi's been dancing on tabletops trying to hang on to her youth." Another source tells Star that "it's so sad to see one of the most beautiful and famous women in the world acting so pathetic. She is oozing desperation." Demi's young adult daughters seem to agree, and according to the NY Daily News they're still not talking to their mom. Apparently they made some tentative steps toward reconciling, but then Demi got wild again and messed things up with her girls.
Following her well-publicized off-the-wall behavior during Miami's Art Basel, the small progress Demi Moore made patching things up with her daughters, Rumer, Scout and Tallulah, has come to a halt.

Moore's daughters, whom she shares with Bruce Willis, cut off contact with their mom after her January hospitalization for inhaling nitrous oxide through whip-its, in a tough love approach to see Moore get healthy again.

They had initially stood by their 50-year-old mom after her split from 34-year-old Ashton Kutcher last year, thinking she was just "distraught." But as her behavior has grown increasingly erratic in recent months — with her major weight loss, partying and cougar lifestyle taking center stage — the three girls decided again that removing themselves from her "needy" clutch was the way to go.

"Rumer is really the one making the decision to do this as the oldest," a source close to the 24-year-old tells Confidenti@l's Marianne Garvey. As the girls started to get close to their mom again last spring, the sources say Moore got weird once more.

"Around the time Bruce's wife Emma (Heming) had the baby, it was this scary sense of, 'Demi went off her rocker again,'" says our source. In April, Willis and Heming had an baby named Mabel Ray.

"Bruce is now very much out of the spotlight and the kids were very happy about that. They started feeling that Demi needs to stay home and be more of a mother. She checked into rehab and they'd always been pushing for her to do that. (But) After Art Basel, she came out partying and dancing on tables again."

The source adds that Demi's last boy toy, 26-year-old Vito Schnabel, runs in the same circles with Rumer Willis, and she was absolutely mortified about the fling.

"The kids are old enough to band together, Rumer being the ringleader," says the insider. Our insider says Moore is also harboring animosity toward her girls because she feels they took Kutcher's side after the split. According to our insider, "The family is very much divided."
What would you do if you were 24 and your 50 year-old mom was dating some guy you knew through friends and generally acting like a teenager? You would probably hide in shame and stop talking to her. I know that I wouldn't have the maturity at 24 to think "this is my mom, I have to help her." I don't even know if that's the right approach to this. Demi is probably still an addict. If she's acting like this in public imagine how frustrating it must be for her daughters trying to deal with her. They can't help her until she's ready for it.
Demi Moore is shown with creepy photographer Terry Richardson on 12-7-12 at his book release party. Credit: WENN.com