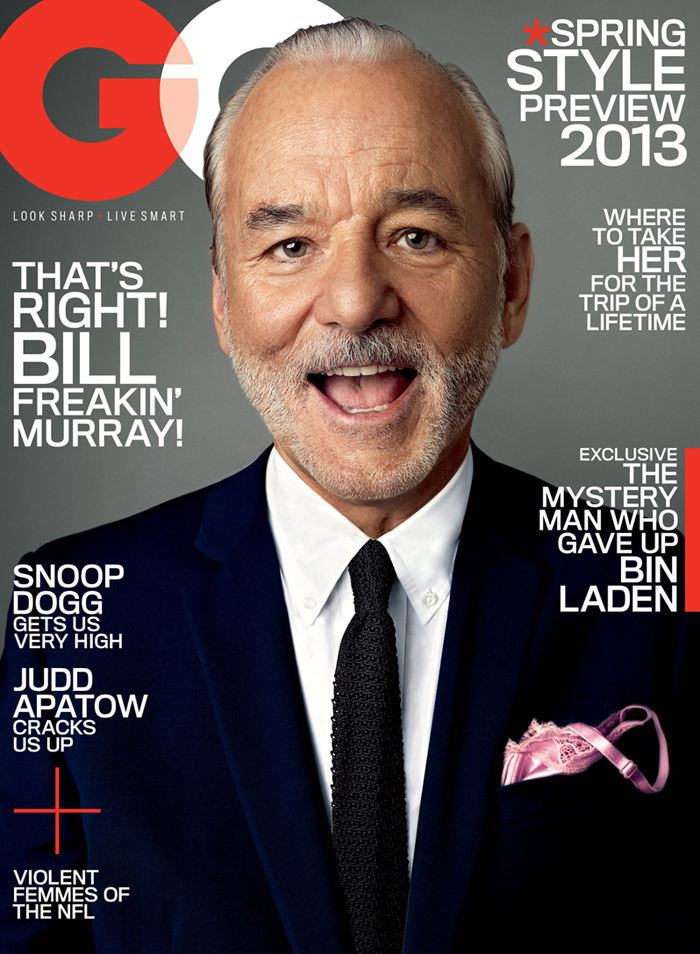 The elusive, indomitable Bill Murray covers the January issue of GQ, and how excited am I? Very excited. In my warped little mind, Murray is a demigod among men. I'd do anything to shoot the sh-t with him, and I have a hunch that it would be an even better experience over a few shots of tequila. Call me, Bill. I'll wear a pink wig, and we can start our own (perfectly awful) jazz band together. I promise, it won't be creepy at all.
At the moment, Bill is promoting his role as President Franklin D. Roosevelt in Hyde Park on Hudson. So far, the reviews are … not good, but Bill's performance has been praised, and it seems like a case of a bad script that is lacking its treatment of the subject matter. So basically, Bill is still awesome, and he talks to GQ about how he handles comedy, what he wants to do in the future (he might even ditch his infamous 800 number and pick up an actual manager, but I doubt that'll happen), and how he got all wrapped up in his Oscar run for Lost in Translation. Here are some excerpts:
On successful comedy: "It's not so much what you do, but the way in which you do it. I can slap you on the back and it can be a wonderful thing, if it's done with joy. But if I slap you on the back just as you're coming out of the elevator, and I've had too much to drink, it's a completely different thing."

On today's comedies: "I think there's something that I can bring to a comedy today, but I don't know where to bring it. I've actually thought about having a manager again. Just to clear my head and have a plan. ….Eh, it's not that attractive to have a plan. I know that if I ever feel that I need to make afunny movie, I'll figure out how to write one. I'll get it done. If I ever get some ambition, I'm gonna get some sh-t done."

He wanted the Oscar for Lost in Translation: "The one time I got a bunch of prizes, I just assumed I'd win them all. Because I'd been winning them all. …I really saw something in myself and I thought, 'Oh, my God. I really did want that thing!' Some part of me was disappointed that I got tricked into thinking it was important. I told myself, if that happens again, I don't want to do that. I've since realized that it was good I didn't win, because I wasn't ready. Guys go for five years without working because they're thinking, 'Oh, this isn't Oscar-worthy.' They become paralyzed. So. It would have fed that thing that I found in myself, without my even knowing. It would have been really malformed. Because I had it wrong."

Is Hyde Park On Hudson Oscar-worthy? "They look at this film as an award-winning film, and that road is paved with glass and razor wire, as far as I'm concerned."
[From GQ]
I left out the part of the interview where Bill's friend, Mitch Glazer, discusses how Bill prank calls him every time Roadhouse is on television because Patrick Swayze does the nasty with Mitch's wife in that movie ("Oh… He's pushing her up against the wall"). That portion of the discussion is slightly explicit but still rather hilarious.
On the topic of the Oscars, I actually do feel for Bill for being disappointed in his loss for Best Male Actor. He's never been a famewhore, so he wasn't mentally chasing the Academy for a reason. It's more of a case of Bill really wanting to make his way as a dramatic actor (and he was fantastic in Lost in Translation and the underrated Broken Flowers but admittedly dreadful in The Razor's Edge) instead of just being a funny guy. I think that, eventually, Bill will be more formally recognized for his efforts in his less frenetic endeavors. But even when people realize that Bill can successfully be less than serious, it's always a case of "no one will ever believe you."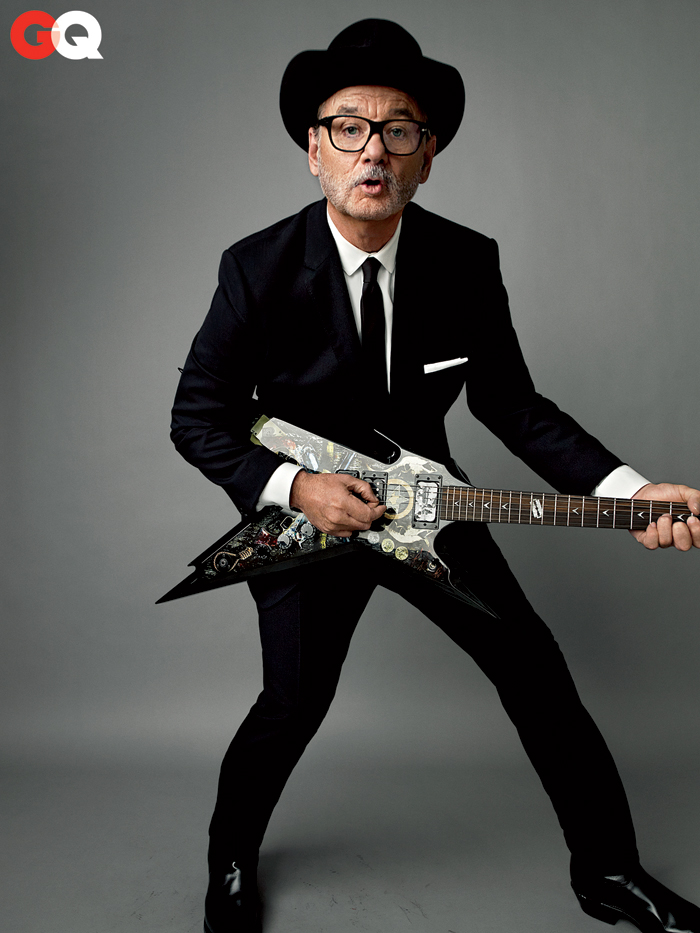 Photos courtesy of GQ