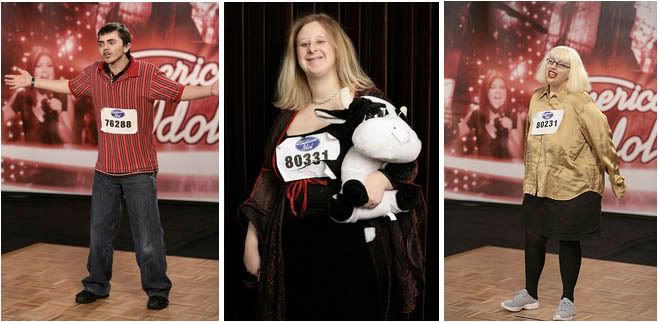 American Idol is back in full force, and the best of the worst are paraded out and ridiculed for your gawking pleasure. The clueless, attention-seekers, and people who are a little bit touched wait days for the priviledge of being mocked by Simon and slurred at with pity by Paula. Randy usually waits to hear what Paula or Simon says and then repeats it, as if he's playing the children's game of the same name but doesn't quite get the rules.
Judges are under fire for being exceptionally cruel to bad contestants this year. Simon called one kid who was a little slow a "bush baby," saying "you look like one of those creatures that live in the jungle with those massive eyes." The kid handled it really well, staying positive and telling Simon "that's your opinion, you're entitled to it." The NY Times notes that the guy the fat guy, not this guy is mentally handicapped, because his old school biography lists him as participating in the Special Olympics.
Producers say people know what they're in for because they pull this shit every season, and the viewers love it. Simon sort-of apologized in a later statement, saying ".. If he's offended, then I apologize. I might never call anyone a bush baby again."
Here's another audition by a Utah computer programmer who takes himself too seriously:

My favorite comment on this video on YouTube was by akaso405, who said "How come nobody ever knows when they suck balls???"
Rosie O'Donnell added her enlightened commentary to the American Idol controversy, (link leads to video) saying "Isn't that what America thinks is entertainment? To make fun of someone's physical apperance, and when they leave the room, laugh hysterically at them? Three millionaires, one probably intoxicated?"
"Ever since they started making fun of that guy… William Hung… If you keep serving people crap and telling them that it's a meal, they're eventually going to think that it's a meal."
She has a point that it's cruel. Joy Behar said "This is like the new freak show… there's an appetite for this." Rosie said that if they put on good singers and showed all the contestants who almost made it that people would watch it too. Maybe they're aren't enough decent singers that don't get picked in the first round, though.
While they shouldn't make fun of the way people look, it seems well within their rights to make fun of the way they sing, since it's a singing contest and all. There is such a thing as junk food entertainment. We proudly serve it, and think it's a metaphor Rosie should be able to understand.
Viewers are eating it up. This season's premiere was the most-watched show on Fox in six years, with over 37 million people tuning in.
Header picture from ONTD
Update: thanks to everyone who pointed out that it was the fat guy, not this bush baby guy, who is listed as mentally handicapped on his school bio.