So if your neighbor had a statue of Ronald McDonald outside of their house, don't you think the neighborhood association would complain?
Apparently the Grieger family had a statue of Mr. McDonald outside of their home for twenty years which was recently stolen.
State police were seeking information about the cement statue that Grieger estimated must weigh about 300 pounds.
My goodness! How the hell…? I mean, in a way, they sort of deserve that statue don't you think? I mean, 300 lbs.?! And they did it without anyone noticing, waking up, or calling the cops? I'm assuming it's a "they" considering the statue is roughly the size of a desert antelope.
I don't know, there's no way that I could have pulled off this sort of stunt. The closest I've come is stealing an Angelina Jolie Tomb Raider cut out from the grocery store. That took a lot of balls on my behalf. Sure it only weighed like 10 lbs. but it was larger than life… or at least, larger than me. Plus when I was running, I didn't have enough strength to manually open the automated entrance so I had to wait for them to slide open.
Anyway, me thinks this gentleman is the culprit: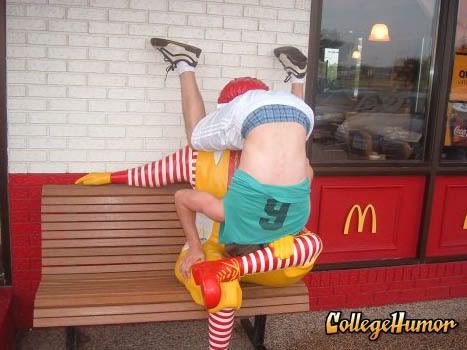 Thanks to MyWay.com and CollegeHumor.com