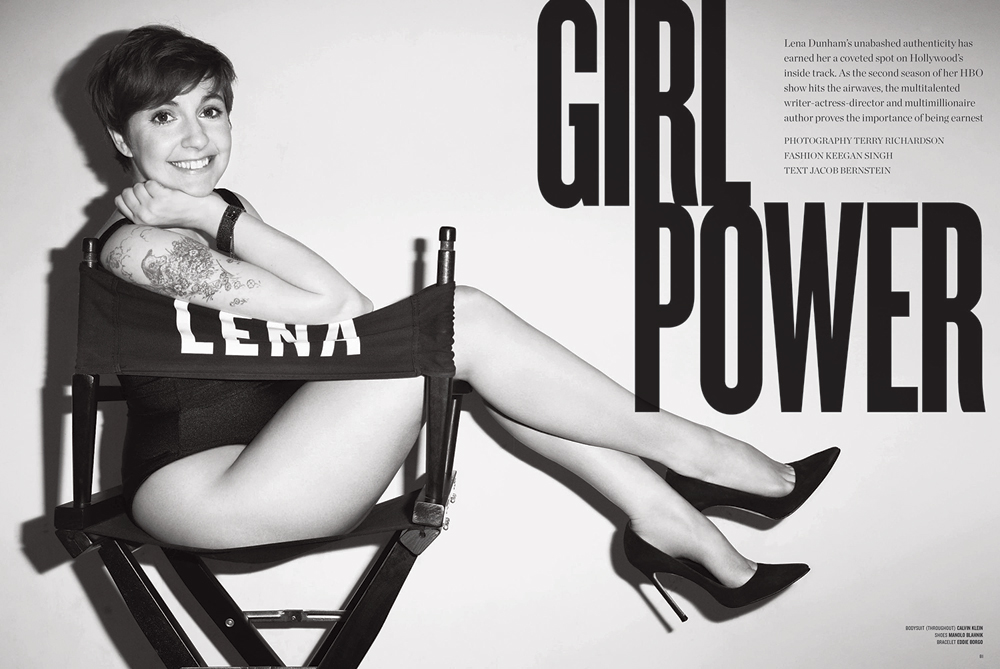 If I ever become famous, there are a few fine points upon which I'd absolutely insist in every business transaction. Oh, don't laugh at the idea — you obviously haven't read my amazing Twilight fanfictions that replace Edward and Bella with … lions and robots. Nevermind. Back to those demands, which aren't huge or anything, but they are very necessary: (1) No Marchesa dresses on the red carpet or otherwise (suck it, Harvey); (2) No Scientologists allowed on or near the premises; and (3) Absolutely no photoshoots with the revolting Terry Richardson.
With that said, Lena Dunham (writer and star of HBO's "Girls") appears in the spring issue of V magazine (the one with grubby Kristen Stewart on the cover), and the spread was shot by creepy Terry himself. Now I know that Lena has a pretty big attitude and is generally insufferable regarding her as yet unwritten $3.5 million autobiography, but she totally doesn't deserve this, right? The sad part is that Lena doesn't get it. Terry has shot her with the same pr0ny lighting and style as he's done for every wannabe model who has had the misfortune to walk into his studio. Above, Lena is wearing a Calvin Klein bodysuit and Manolo Blahnik shoes, and she clearly works overtime to project an anti-establishment vibe with her image, but it all falls apart in this interview. Basically, she's a fangirl too, and irony is for losers: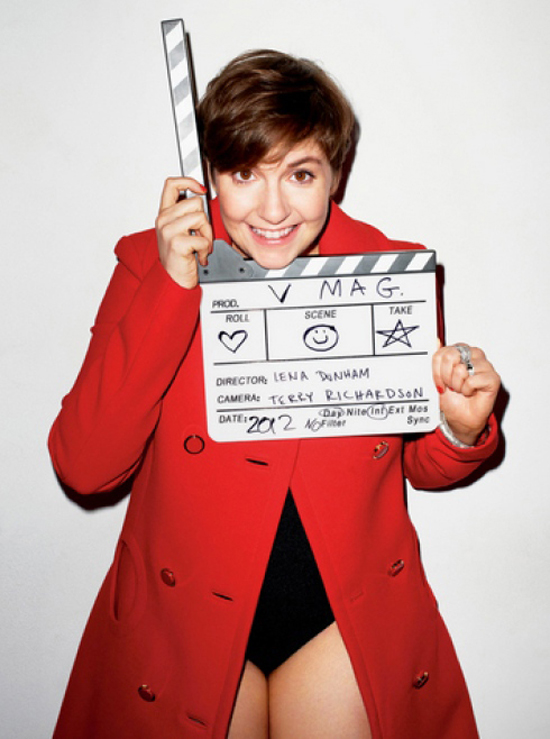 She love designer freebies: "I cannot deny it, and I cannot get over it. And they actually send them in my size. No one's being an asshole and sending them to me in a 4. They're sending me clothes, they fit, and what people should know is that I always wear them. Somehow even if I wouldn't have bought it, the fact that it was free and my grandma's depression-era mentality make me think it is the most beautiful thing I ever owned, and I wear it for several days straight."

She's friends with Taylor Swift: "We have D.M.'ed. I'm a really big fan. She started following me, and here's how you find out Taylor Swift is following you. You start hearing from all the insane Taylor Swift fans that are like 'If Taylor Swift loves you I love you.' So I sent her a message. I was like, 'I just want to let you know that your albums have gotten me through a lot of very hard times.' When I tweeted that her new album was amazing, every one of my Twitter followers was like, 'I so hope that you're joking.' But I have no interest in liking anything ironically. If I wanted to be ironic, I'd grow a mustache."

She's not much for travel: "I hated India. I know you're not allowed to hate India. But I did. I wasn't happy. And I felt crazy. I'm a hypochondriac. I saw too many puppies that I thought needed me. So my mom and I got in a big fight and I left India. Early."

Growing up rich was still isolating: "It's so trite, but I think so much of my worldview was formed by feeling isolated. If you go to school in New York, if you go to Saint Ann's or Dalton, because there aren't kids being shoved into lockers in the same way, you're expected not to have that isolating adolescence. But from kindergarten onward, I was like, I don't know what to do with people. First I was a tiny little kid and I didn't have friends, and then I was a chubby teenager and I didn't have friends. It was just this sensation that I didn't know how to connect."

She likes not being pretty: "Meeting actresses who such a big part of their job is about what they look like, I feel so lucky to be freed from that prison. I ate cake for breakfast on the day of the Emmys, I ate cake for dinner, my workout didn't require Spanx, and I still feel like I looked better than people expected me to. It was amazing. I could feel the envy of every woman in the Sunset Tower. I think we can all agree with the idea that beautiful girls that get all the boys get written about. They usually don't write."
[From V magazine]
I know that Lena is supposed to be a rather irreverent and major talent in today's industry, but I just don't see what's so remarkable about her thoughts as expressed in this interview. She likes Taylor Swift and would only be ironic if she grew a mustache? It's like she's trying so hard to be unironic because irony has been killed by the hipsters that came before her. Like, she's cooler than cool because she eats cake for breakfast and dinner. I don't know. Lena truly doesn't seem like a terrible person, but she does grate.
If you're curious about Lena's forthcoming book, Gawker has published excerpts of her book proposal, which is pretty unimpressive from a literary standpoint, and Lena promptly directed her lawyers to issue a cease and desist letter, but Gawker has refused to remove what is essentially "12 one-sentence quotes lifted from the 66-page proposal." So far, Lena's lawyers have not made good on their threats, but I think it would be hard to convince a court to award damages for copyright infringement concerning a proposal for a book that doesn't even exist.
Oh, and this toothpaste picture is really gross. Terry should be ashamed of himself.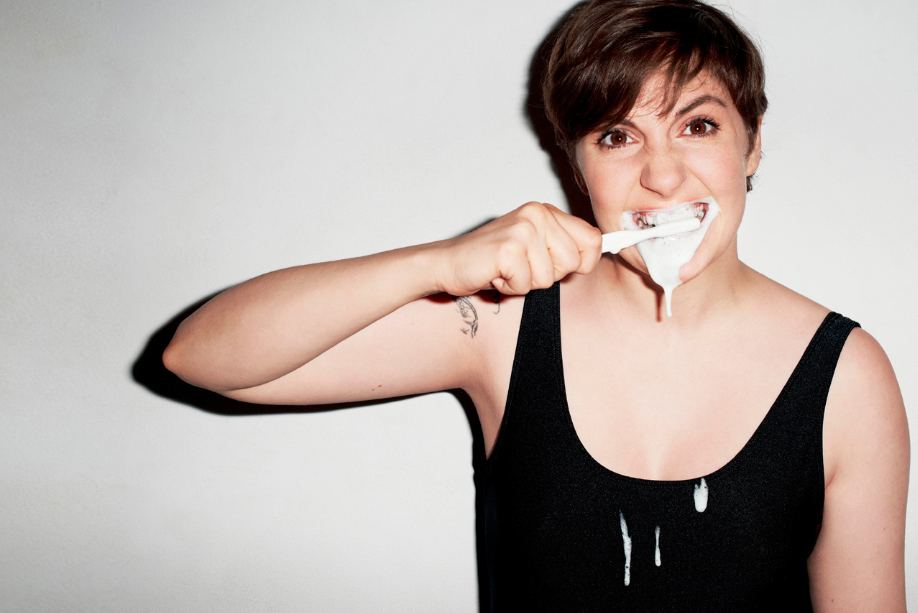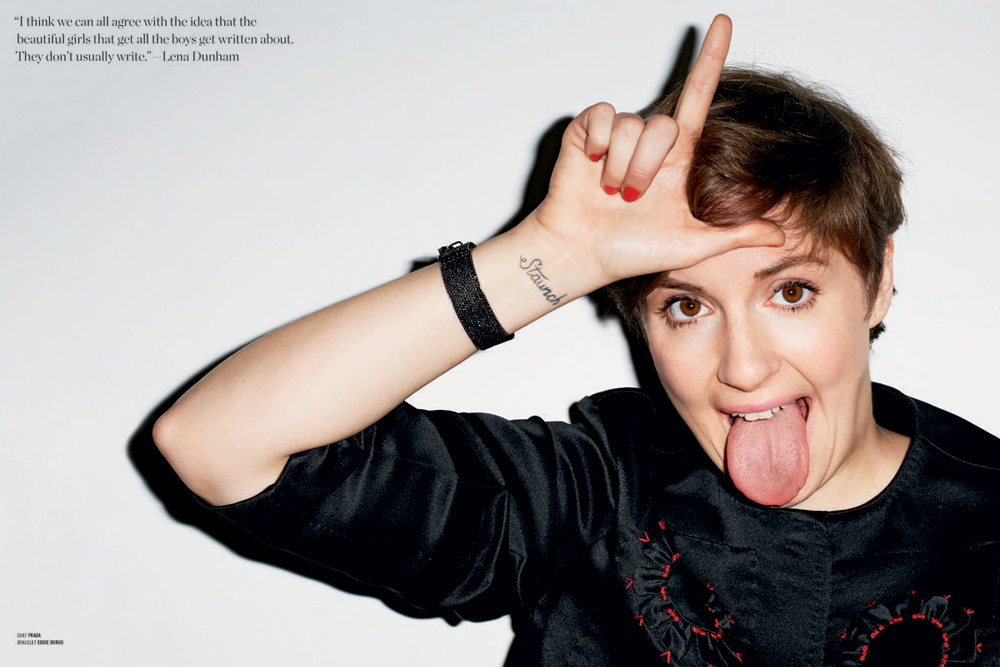 Photos courtesy of V magazine