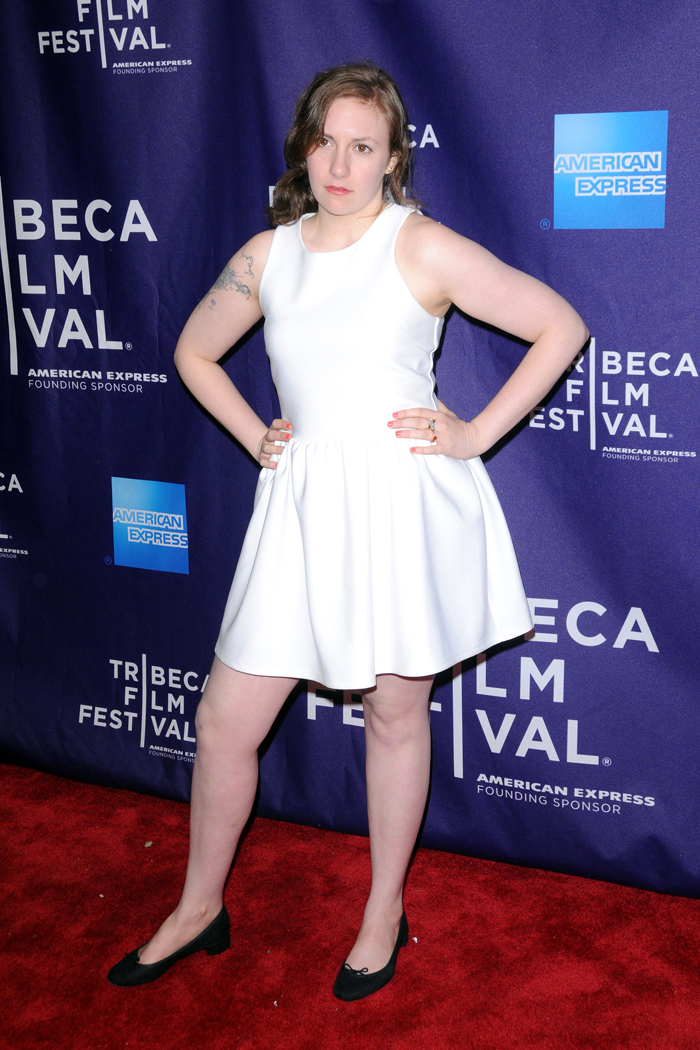 I'll be perfectly honest here in that I don't know too terribly much about Lena Dunham. She's one of those ironic hipsters who not only pens but also annoyingly acts within HBO's "Girls" series, and she recently scored a $3.5 million payday for her very first (as yet unwritten) book. She is also now part of Judd Apatow's crew because she published an essay for This is 40, and she is described by the Hollywood Reporter as Apatow's new "prized pupil." Once you're part of Apatow's club, you are seldom thrown to the wayside (just ask Paul Rudd or Apatow's own wife, Leslie Mann) unless (like Katherine Heigl) you dare to speak against the master. So Lena Dunham had best be careful how she operates in the future and stay on Apatow's good side, but she's making an odd start in this essay by turning her nose up to writers who dare to get paid for their services. She's not really trying to make friends outside her little group, is she?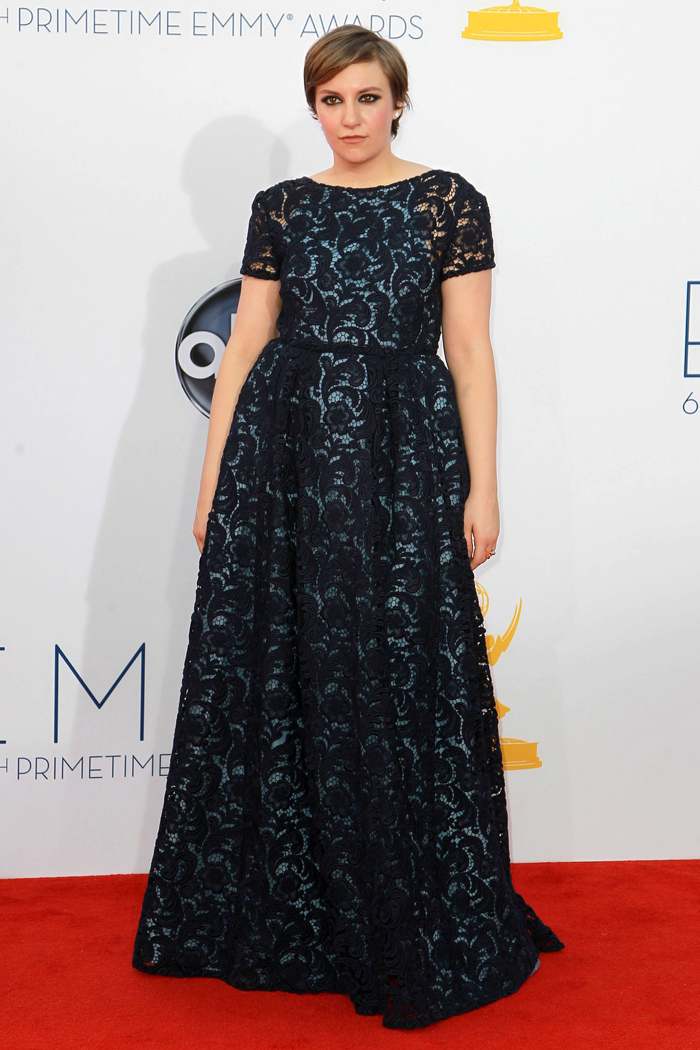 Lena Dunham Doesn't Write For Money And Doesn't Think You Should Either

This statement comes at the beginning of an essay she penned for the published screenplay for Judd Apatow's This is 40, where Dunham ponders the "many reasons" people write which include "glory" and the ability to use the keyboard to "figure things out."

As for filthy lucre? That's deemed "a weird plan."

On one hand, this statement makes complete sense. Most writers barely make a dime from writing, something a cursory look at the Who Pays Tumblr can demonstrate. Going into the field to make a few shekels is about an effective a strategy as moving to Casablanca for the waters, despite the fact that, once upon a time, Charles Dickens not only wrote for money, he was pilloried by critics for doing just that.

On the other hand, people do need to pay the rent, and it isn't exactly nice to discover that someone who is earning $3.5 million for her musings is so clueless about the things the rest of the world often needs to take on to get by like, say, corporate writing gigs or staff positions on television programs on that can kindly be described as less profound than "Girls." It gives ammunition to all of those critics, formerly thought of as humorless, who pointed out the absurdity of presenting Dunham's Girls as a generational statement as if all Millennials come from a privileged, artistic background. They just need space, time and an understanding boss so they can find their way in the world after their well-off parents pull the financial plug.

Let me be clear: Dunham's Hannah, the autobiographical character she created for "Girls," does not suffer from a permanent shortage of funds. She could be better described as having a cash-flow problem, which is not the same thing at all. This is the sort of situation that gives one the freedom to say writing for money is "weird."

Here's hoping the next season of "Girls" takes this issue on.
[From Forbes]
I speak from the perspective of someone who has never watched "Girls," but CB has watched the show and confirmed that Lena's character does have a "a cash-flow problem"; and even though she comes from an upper-middle-class family, her parents have cut her off, so she's very "cash poor" and subsists by the good grace of her friends and crappy jobs. I honestly don't see why Lena's zeroing in on people who write for money, and if Lena's character is truly autobiographical, it makes even less sense that she'd pick on a profession that's very hard to break into and even harder to make a living while doing. Unless, that is, Lena's trying to convince the world that her own unexpected financial success (seriously, $3.5 mill in a time when many publishers are struggling to hold their doors open?) was an unintended side effect of her hipster cred. Like hipster karma or something.
Incidentally, Lena has also just also posed for Entertainment Weekly in a new Twiggy-inspired pictorial. Accordingly, she was ironically observed to have been "obsessed with her final transformation" and was spotted taking photos of herself in the mirror after the shoot. Naturally.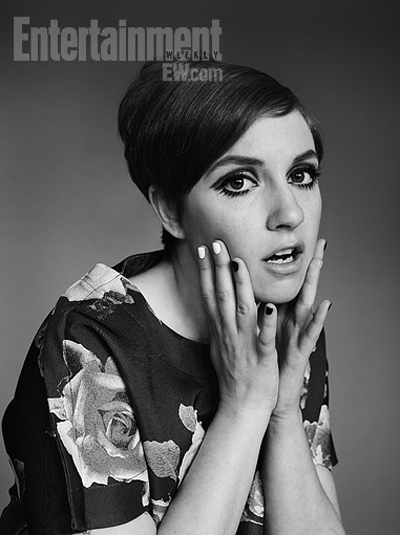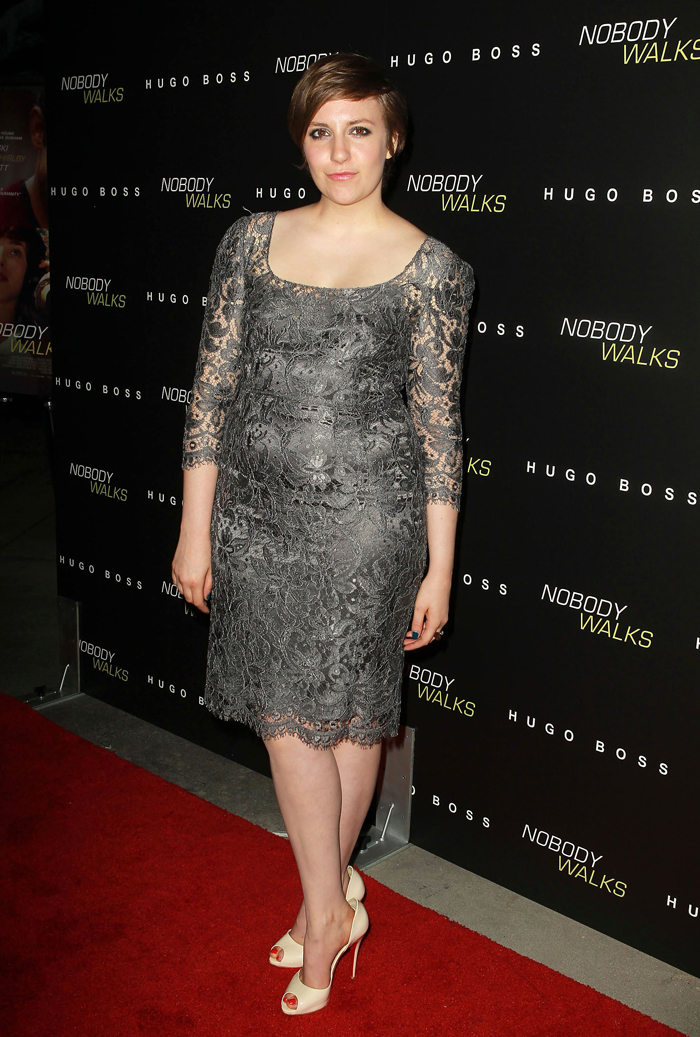 Photos courtesy of EW.com and WENN