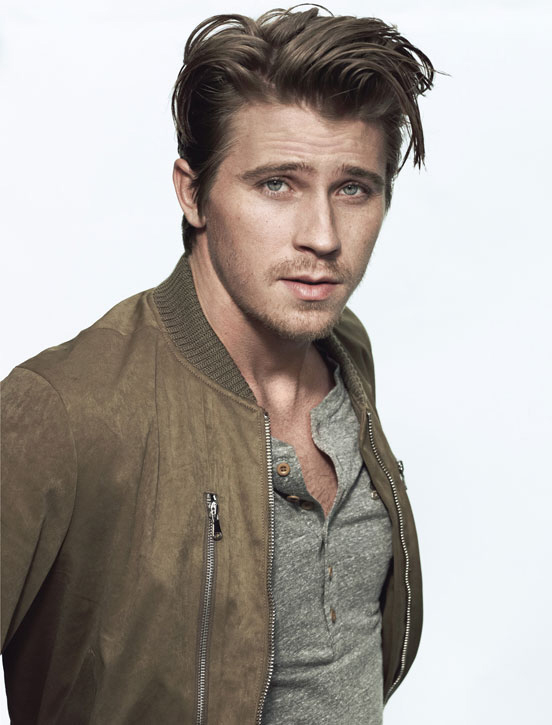 I don't know much about Garrett Hedlund. I know he's cute in a dirt-lipped artiste way, like a young Ethan Hawke (circa 1994). I know Gwyneth Paltrow compared him to Brad Pitt. I know he rebooted his fragile career with his performance in On the Road, which has gotten him widespread critical acclaim (but few award nominations). I know he's dating Kiki Dunst. And now that I've read his Details interview (he's the February cover boy), I know that he's kind of a sweetheart, and he's also sort of a throwback to the goatee'd, Patchouli-wearing proto-hipsters of the mid to late 1990s. Like, I sent this interview to CB and Bedhead and we started reminiscing immediately about the dudes we knew, loved and hated in the '90s. Some highlights from the Details piece:
GH's drink: "Grey Goose and water."

How he grew up: "It's funny… The school I went to was a little farm school in Wannaska, student body 61 or something." This was in northern Minnesota, about 25 miles from the Canadian border, where Hedlund lived with his father, a wrestling coach and farmer, after his parents divorced when he was a toddler. "There was a kid, the only black kid in our county, Dustin Byfuglien. He won the Stanley Cup a couple years back with the Blackhawks. Out of a class of 21 kids, he and I always had to be on opposite teams on everything because we were the most athletic. We could never be on the same f–king team. But it's just . . . funny. Two kids from an elementary school in Wannaska, Minnesota. Now he's won the Stanley Cup and I'm in New York getting interviewed for On the Road."

How he stood out at the age of 17 while he was auditioning: "I decided to try to be smarter than everyone else."

After he read On the Road, he started writing: He funneled all that residual On the Road energy into what became a lifelong writing habit, in freewheeling Kerouac fashion. "I spill it out as fast as I can," he says. "I don't really edit." Just about everything that's happened to him as an adult, from the "uninteresting" to the "wonderful," has found its way onto paper—in stories, in poems, in journal entries. "In Brazil, recently, I wrote 70 pages," he ticks off. "In London, 80 pages."

He got the part when he dropped his pants: In the script, as in the novel and as Neal Cassady was in real life, Dean Moriarty is frequently nude (Kerouac wrote of Moriarty, "He came to the door stark naked and it might have been the President knocking for all he cared. He received the world in the raw"). For a scene in which Sal Paradise tells Moriarty that he's heading south to Mexico and Moriarty responds slyly, "Hey, Sal, you know, I habla español as well," the idea occurred to Hedlund: "Maybe I should just whip it out of the pants and say, 'You know, I habla español as well.'" He went with it, dropping trou on stage during the audition. Afterward, according to Salles, Hedlund read some pages he'd written about "his journey from Minnesota to California—gas stations, strip bars, the solitude of the road. The text was at the same time sharp and personal and had the same jazz-infused quality that you find in Neal Cassady's letters. He got the character's essence. The writing was impressive, more so than dropping the pants, although the girls in the room may have argued otherwise."

He refers to Kirsten Dunst as "my gal" and: They met on the set of On the Road, in which Dunst plays one of Moriarty's wives, and sometime later struck up a romance after Hedlund took her out on a 3 A.M. canoe ride. "It was not a stable canoe," he says. "We fell out and had to swim back in mucky, sh–ty water, like golf-pond water."

GH recites some of his own poetry for Details: "Everything you ever knew seems to slowly be forgotten," he quotes from a poem of his, an assault against the resignation of maturity that he wrote years ago in Mexico. "All the good nights are just nights, all the good mornings are just mornings, all the dots in the sky are the same dots you've been looking at all your life . . ."

Kristen Stewart's Garrett story: Separating the Beat character from the Beat-inspired actor wasn't always easy. "Every time I'd see him," Stewart says of the years-long interim between casting and filming, when financing stalled production, "I'd be like, 'Are you already doing it?' He just never let up." That "free spirit" cited by Salles manifested itself after filming, when Hedlund would "just take off walking," Stewart says. Once, after Stewart let him lead her on an aimless 4 a.m. exploration of Montreal, she finally protested, "Dude, you don't know where you're going!" "But he just kept on walking," she recalls.
Basically, the point of the story is that no one knows where Garrett Hedlund ends and Dean Moriarty begins. Is that because Garrett is so very Method, or is it because Garrett has adopted his free spirit attitude for his life nowadays? I think he's a free spirit in real life, but I also think it's probably a phase. A lot of dudes (and ladies) go through that phase. It's called being young. It's called your late teens and early 20s. Garrett is 28, which is kind of old for this kind of stuff, but he has a baby face, so maybe he's pulling it off. As for his poetry… he's not a total Franco, but it might happen. More likely, he's more like Ethan Hawke, who is a published novelist, remember?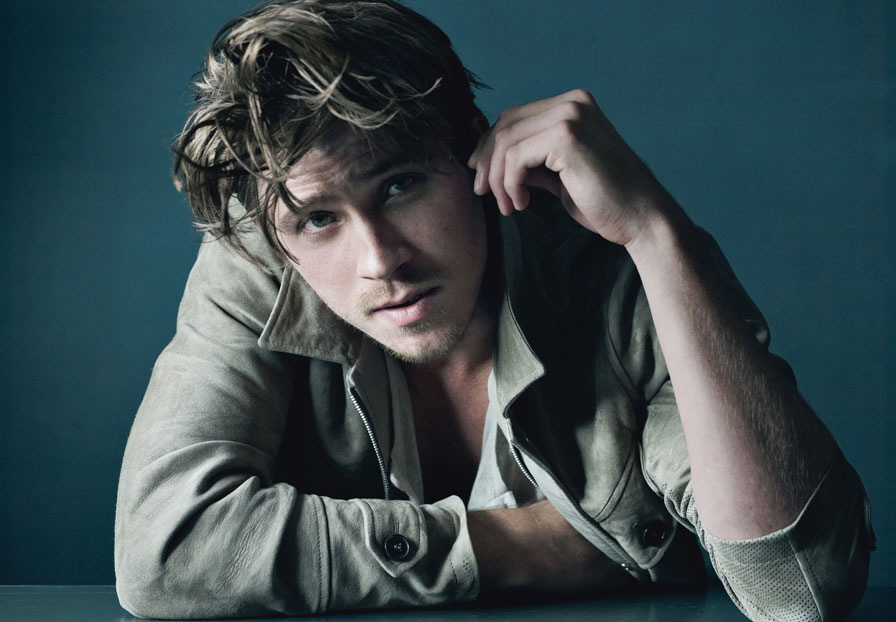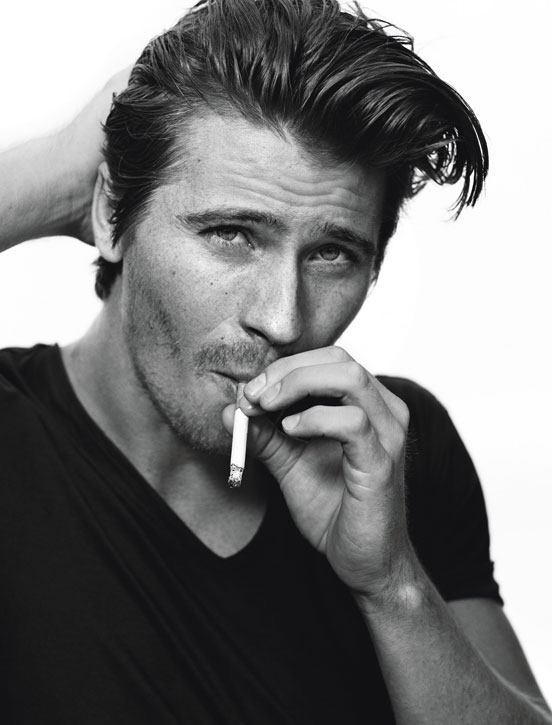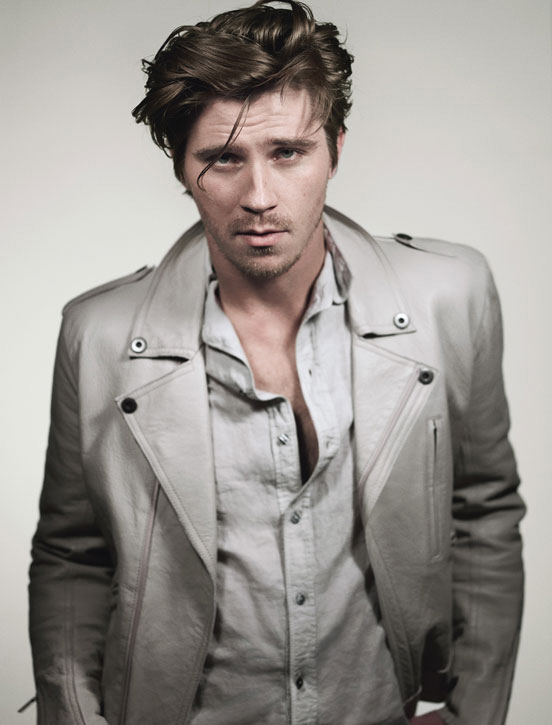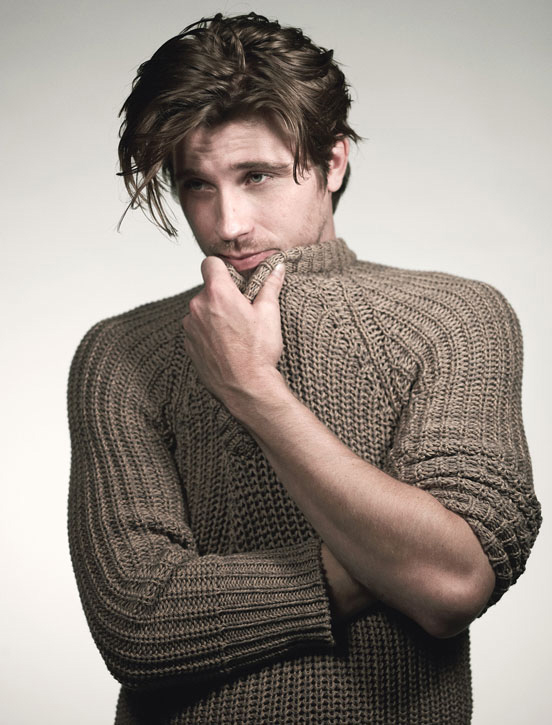 Photos courtesy of Details.