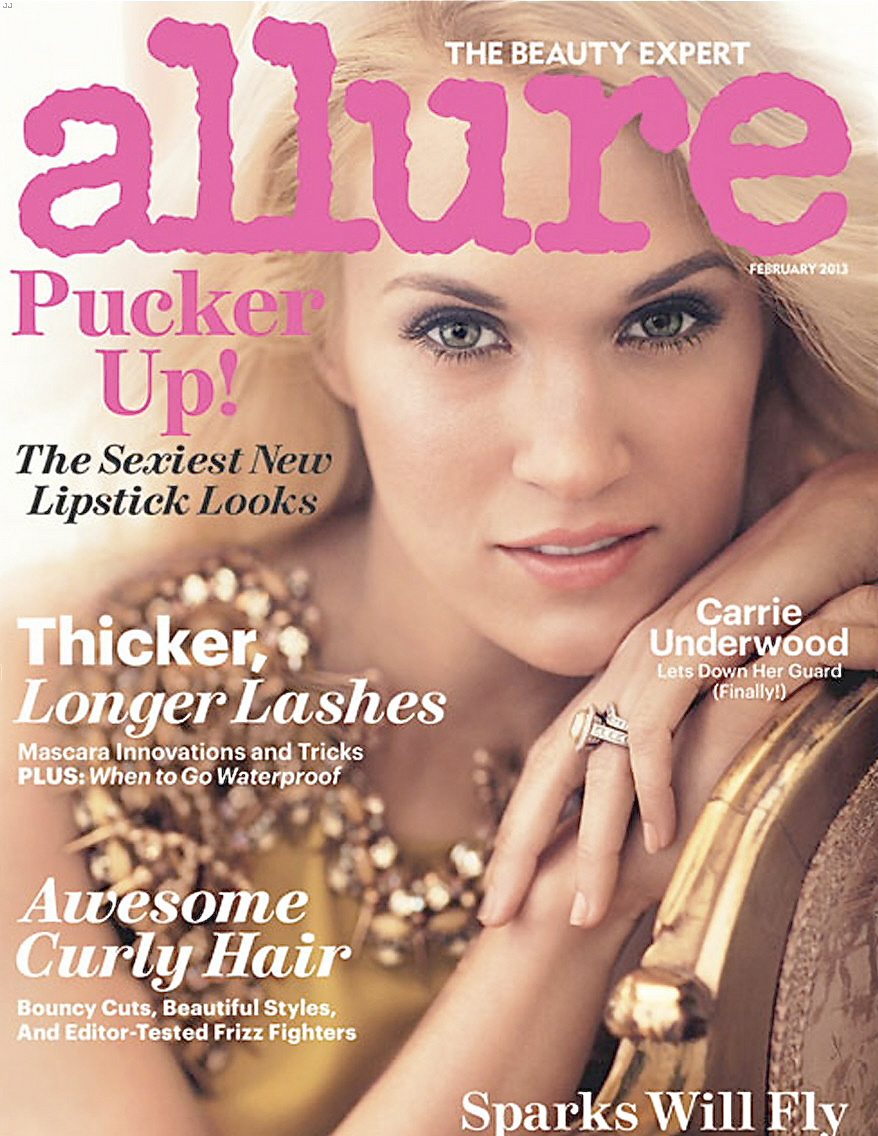 Carrie Underwood's Allure cover profile in the February issue of Allure is pretty good. I'm saying that as someone who has a someone who doesn't have much of an opinion on Carrie – I think she seems like a Mean Girl and a diva, but I've also heard that she's professional, a hard worker and she's very no-nonsense. It could be that she's just a blunt, no-BS person, in which case… good for her. Anyway, in the Allure story, Carrie talks about her love of the Lord and how she supports gay marriage, and how she's kind of pissed that Hayden Panettiere claimed that she used Carrie as an inspiration for her role in Nashville. Some highlights:
Carrie says Hayden Panettiere's character on Nashville isn't her: "I'm not like that at all. It's juicy, but I hope not everybody thinks that everything goes down like that in Nashville, and we're evil."

Carie says the real Nashville scene has less drama: "To be honest. I've been fortunate enough to work with other types of music — and we're the least drama-rific people."

Carrie on gay marriage: "I'm in favor of acceptance. And I am a Christian person, and I do love the Lord, and I feel no matter who you are, what you believe, how you live your life, it's not my place to judge. I don't have that power. I don't want that power. It's my place to love and to show God's love to other people, even if they don't live a life like I live. So that's where I'm coming from."

Having a career and a husband: "My mom had a job, and she also took care of us, and she also took care of Dad—I always saw her pulling triple duty, doing more than I ever felt like she needed to. I made a promise to myself that it would be more of a team effort in my family someday," she explained. "And because of that, I became more independent. But it was tough figuring out what kind of guy would work with what I did. Because you have your problems with both."

Finding Prince Charming: "We want that person to be everything we've always wanted. If they're not Prince Charming, we try to make them Prince Charming. But Prince Charming does exist! I found one."

Being married to a professional athlete: "We've seen a lot of celebrities, professional athletes, not exactly always being on their best behavior away from girlfriends, wives, families," she says. But she's not concerned about her husband, Mike Fisher. "People would say, 'Do you ever worry that—you know—he's an athlete, he's young, he's good-looking?' And I've never had to worry about him," she continues, "because I've never trusted anybody so completely. Or I didn't know the true meaning of trust. He just…he just wouldn't do that."
Carrie's speech about acceptance is what it is – she used different language back in June of last year and she was slammed by a lot of her Christian (I was going to put that in passive-aggressive quotes, but I stopped myself) fans who didn't like that Carrie's faith was a faith of inclusion, tolerance and love. I think Carrie sounds kind of defensive here, but it's good to remember how many country fans were all "OMG I HATE HER NOW" after her she publicly supported gay marriage.
Also: Carrie has a lot of confidence in her husband and her marriage, right? I mean… that's a good thing, I guess. She trusts him. And he's never given her a reason to NOT trust him, right? Still… I'm always wary when someone is like "He would never do that, I trust him so much" etc.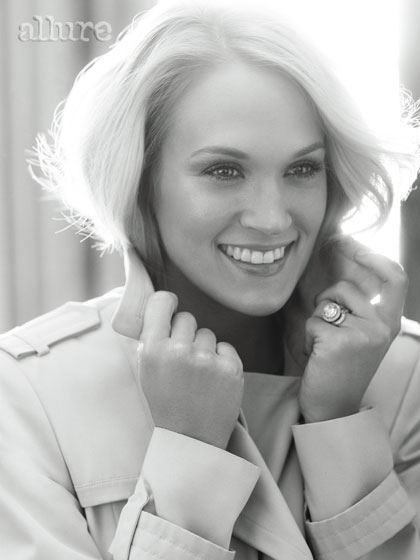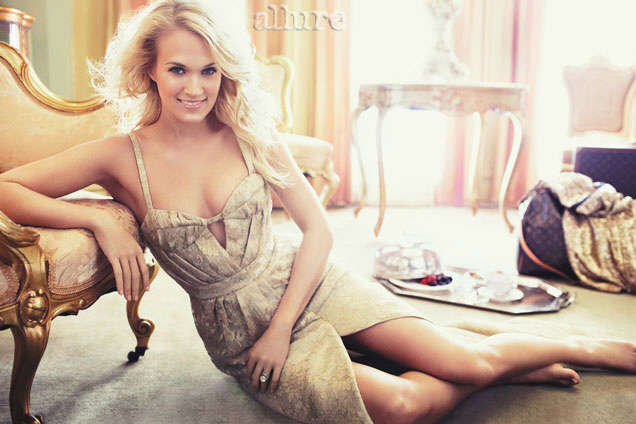 Photos courtesy of Allure.