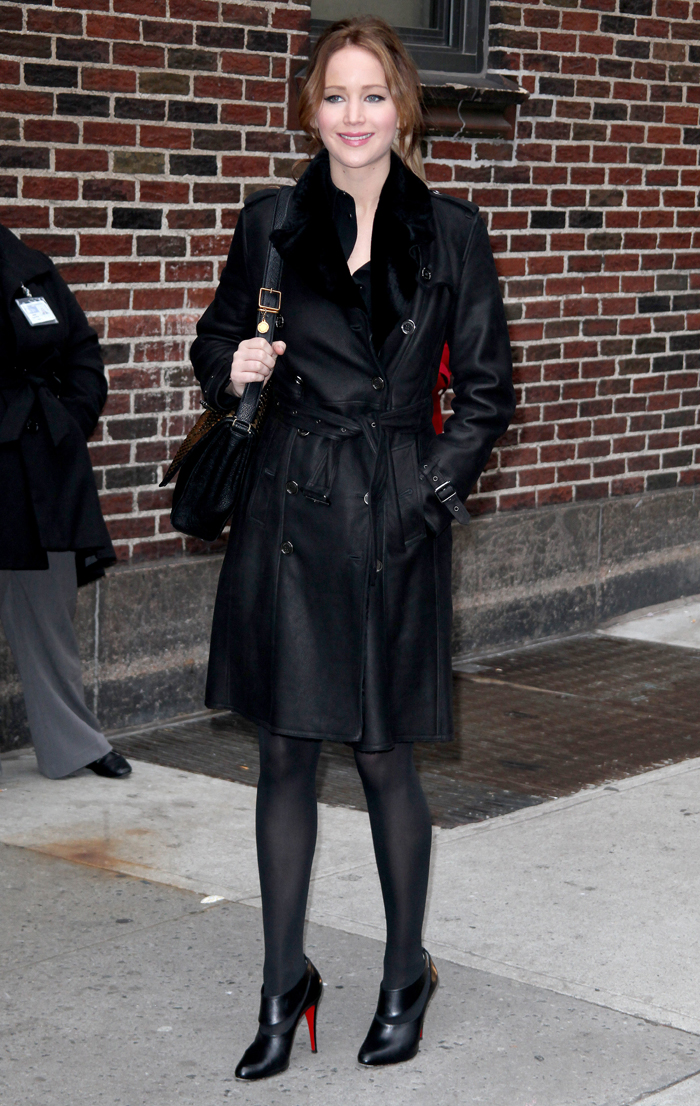 Here are some photos of Jennifer Lawrence outside the Ed Sullivan show for last night's episode of "The Late Show with David Letterman." I really love her coat, and I'll discuss Jennifer's appearance at the bottom of this post.
In the meantime, Jennifer Lawrence is completely obsessed with farts. I guess since she grew up with brothers, talking about the subject doesn't phase her at all, but she's really hung up on them. As in, she made fart jokes to Michael Fassbender while they were filming X-Men: First Class. Who makes fart jokes with Fassy? He obviously doesn't fart, and if he does, I don't want to know about it. In the same regard, EW.com has been slowly releasing bits and pieces of the cover stories from their recent Catching Fire issue with the big reveal of Sam Claflin as Finnick, and now Jennifer claims to have spread the fart magic to Sam and Josh Hutcherson. Something about "cupped farts" that really doesn't promote the way I like to think about Finnick and Peeta.
During JLaw's interview, she also talks about being invited to appear on "Inside the Actor's Studio." Interestingly enough, JLaw's current co-star, Bradley Cooper, has talked about his own "method" on an episode of the show. You know, I like Bradley in a weird, serial-killer-appreciating way, but he's kind of a one-note, milquetoast actor. He was better than usual in Silver Linings Playbook, but don't tell me he used a "method" to get there. As for Jennifer, she freely expresses her own lack of a "method." Further, she realizes that it's way too soon for her to appear on such a program. Also, she'd probably talk about farts. Here are some excerpts: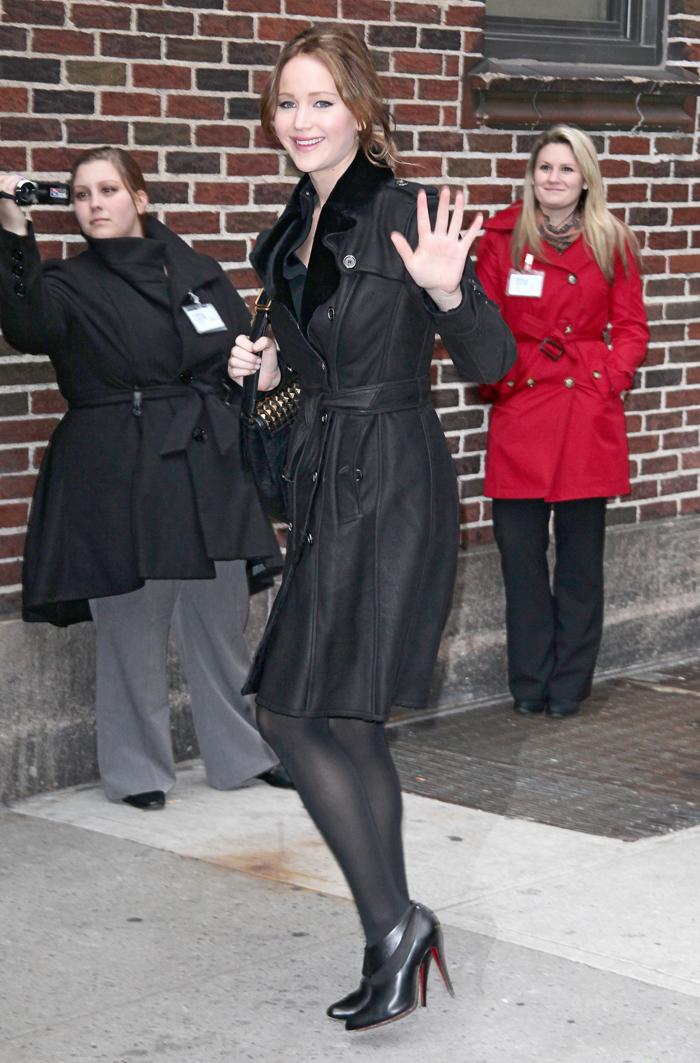 On saying "no" to "Inside the Actor's Studio": "Do you know how much that guy would hate me?" she said with her goofy chuckle about professorial host James Lipton. 'Tell me about your method?' There is no method! I never know my lines! He would be horrified." Besides, said Lawrence, surely that hot seat is meant for folks with a longer resume to show for themselves than hers. "I love that show but I'm not old enough. I'm not at a place yet where I can look back and think 'Oh this how I…' I'm not ready. And, please, I'm an animal."

Her response to a bad smell: At a certain point during the interview a noxious smell wafted through the Trump Waikiki balcony lounge bar. "I assume you think it was me but I swear it wasn't," she said. She paused for a second and looked at me with a serious expression while she slowly lifted her leg up from the banquette and pretended to fart. "I know, I'm terrible. Oh, this is something my brothers did growing up that now the boys at work [her Catching Fire co-stars Josh Hutcherson and Sam Claflin] have picked up and are obsessed with. You cup [your fart] and then you throw it in someone's face and say 'Take a bite out of that cheeseburger.'"

Catching Fire producer Nina Jacobson on JLaw: "She's a goofball. She's fun and she's funny. She is the least demanding leading lady ever. Jen's like 'Yeah I'll take half a trailer, whatever, I'll never be in there anyway.' She's not spoiled, she's not precious, she's not needy and it sets a tone for everybody because if your leading lady isn't going to be a diva then there really isn't room for anybody to be a diva."

On award shows: "I never know what's going to come out of my mouth and that's what always gets me in trouble. The first thing I do when I get off a carpet is take my heels off, rub my makeup everywhere, and basically pick up a garbage can and go 'Rawwrrrrr!' and dump it all over my head."
[From EW.com]
That last point illustrates one of the main differences between JLaw and Kristen Stewart (other than the obvious fact that the former can act, and the latter specializes in grimaces and eye rolls). Neither one of them relish the basic experience of the red carpet, but Kristen sees no value in appearing nonetheless grateful for her position, and JLaw knows how to suck it up and be professional when the moment demands it.
Jennifer's appearance on Letterman was eventful as well. During one portion, JLaw claimed that a recent bikini photo of herself was photoshopped with "a 90-year-old butt." Bitch, please. That's totally Jennifer's butt in bad lighting and at a bad angle. It happens. No big deal, but I still think it's funny that she said, "It's not my butt and I will not take responsibility for it." Here's the clip where JLaw talks about why she made the "I beat Meryl" comment during her Golden Globes speech:
I'm amazed Jennifer even gave lip service to Lindsay Lohan's outrage over what was clearly a good-natured joke. Ignore, ignore, ignore.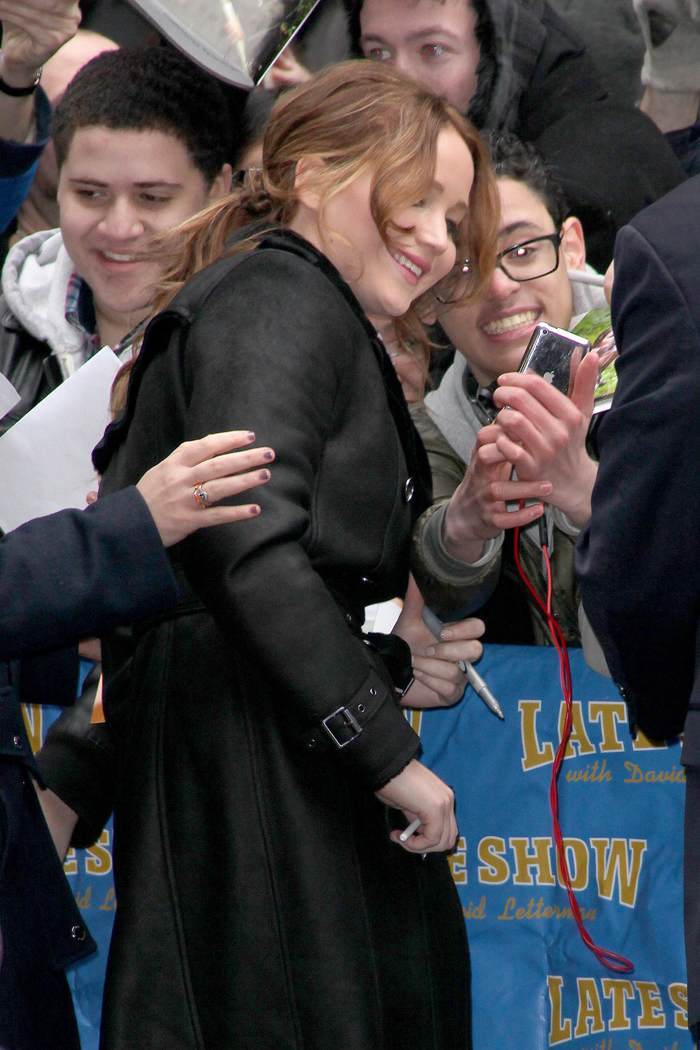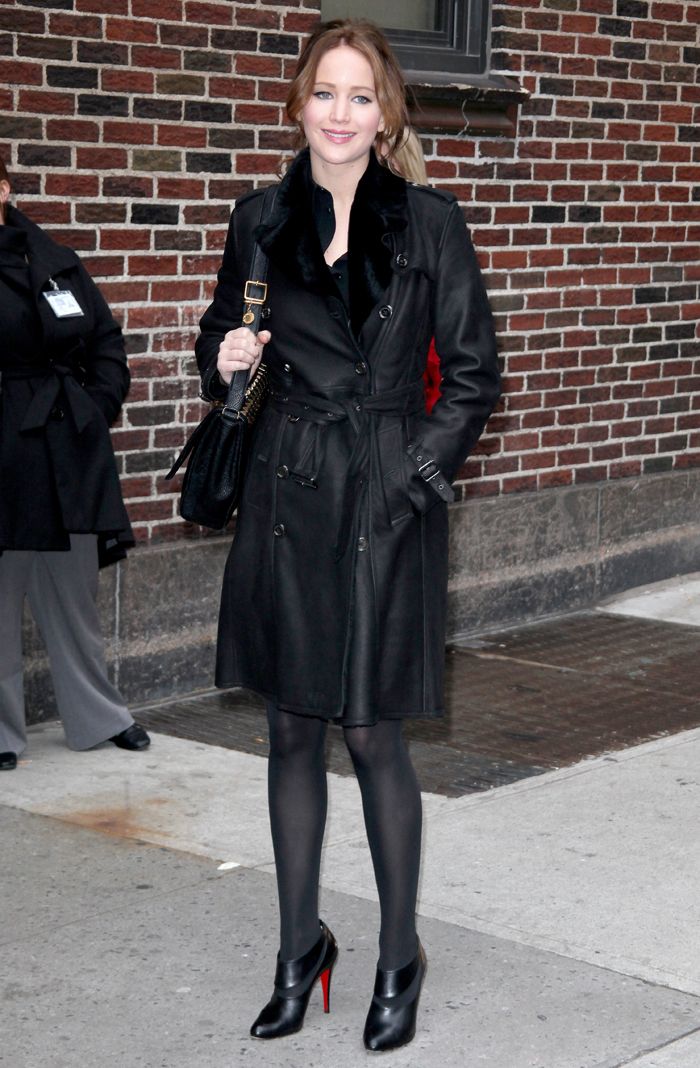 Photos courtesy of WENN