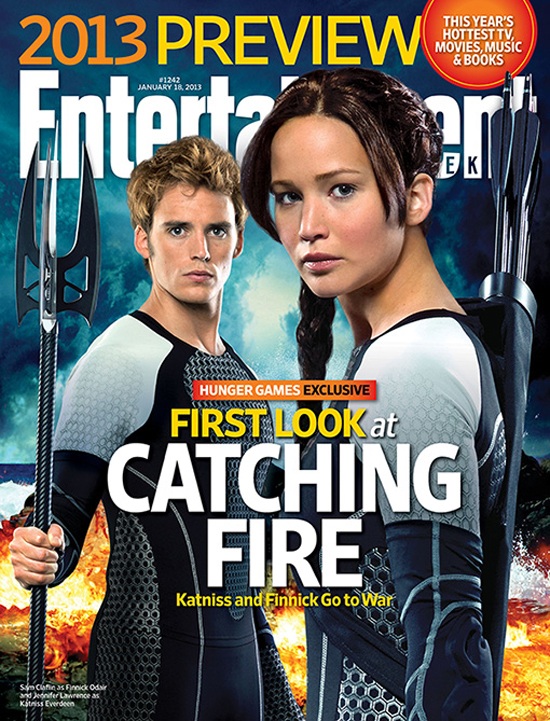 Here's a first look at Sam Claflin as the charming, damaged tribute Finnick Odair from Catching Fire. When this casting was announced several months ago, there was a mild amount of controversy in the comments section (but not nearly as much as the collective indignation when Jena Malone was announced as Johanna Mason). I think Sam mostly looks the part on this Entertainment Weekly cover, although it's hard to tell from just a photo (nice trident, dude) if he can pull off the seductive nature of the role. Notice that I am not worried at all about Jennifer Lawrence reprising the Katniss role when she already delivered like crazy in the first movie. As for Sam, I'll give him a chance even if (as Kaiser has noted), the boy has a serious pants problem that is no joke in real life. Luckily, he won't be wearing pants while dressed in a fishing net and sucking on a sugar cube, right?
Here's another photo (from EW's Facebook page) of Jennifer and Sam in character and some excerpts from their mutual interview. Naturally, Jennifer does most of the talking. Girl loves to talk, and she says it's becoming a real problem with her team, I guess: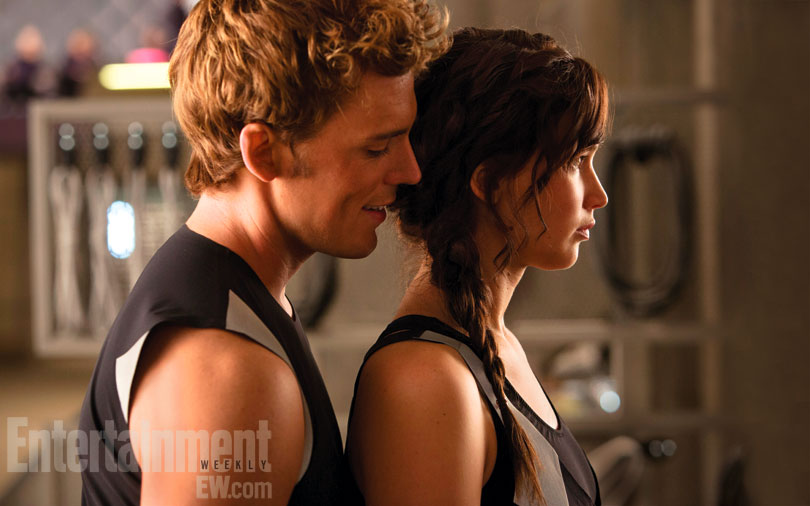 Jennifer's big mouth in interviews: "It's almost like I subconsciously don't want to work anymore so I'm trying to ruin my career. I'm pregnant!" she joked. "I'm so aware of all the b.s. that surrounds Hollywood, and how everyone gets on this high horse and thinks that they're curing cancer and it makes me so uncomfortable every time I see it. So I go in the exact opposite direction and end up saying something like 'I'm pregnant!' when I'm in two franchises."

Her first meeting with director Francis Lawrence: "I spit egg inside his mouth when I was talking. Into his mouth."

She hosted a party for cast & crew: "When Sam walked in I was chasing Woody and we'd flipped over my couch and Woody had a sock all the way down my throat…"

Sam is feeling the pressure: He described filming the infamous sugar cube scene, in which Finnick teases Katniss while wearing nothing beyond some strategically placed netting, as "the scariest moment of my life. I'm on Twitter and so many people have been like 'Don't mess this up, or we will kill you.'"
[From EW.com]
Wild parties, huh? Even though Jennifer was recently seen wearing fur at the Chateau Marmont, I don't see her as a "party" kind of girl. As in, I doubt that Jennifer drinks much at all, and I can't see her doing drugs either. She's in such good physical condition and has to perform so many stunts on her movies, so she needs to be fit, and it's very difficult to be fit while doing drugs or boozing hard. Or so I assume.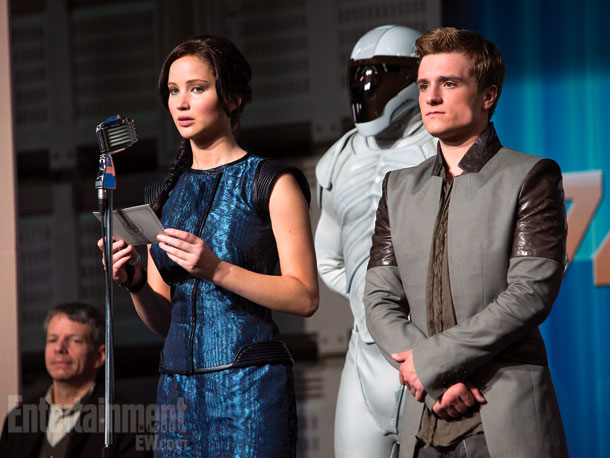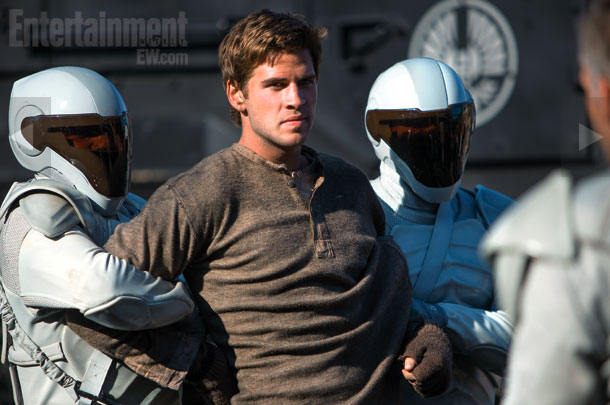 Here are some photos from the set of Catching Fire. I know this fish is just a prop and isn't really a raw fish, but it still grosses me out beyond belief. Hey, I'm a vegetarian.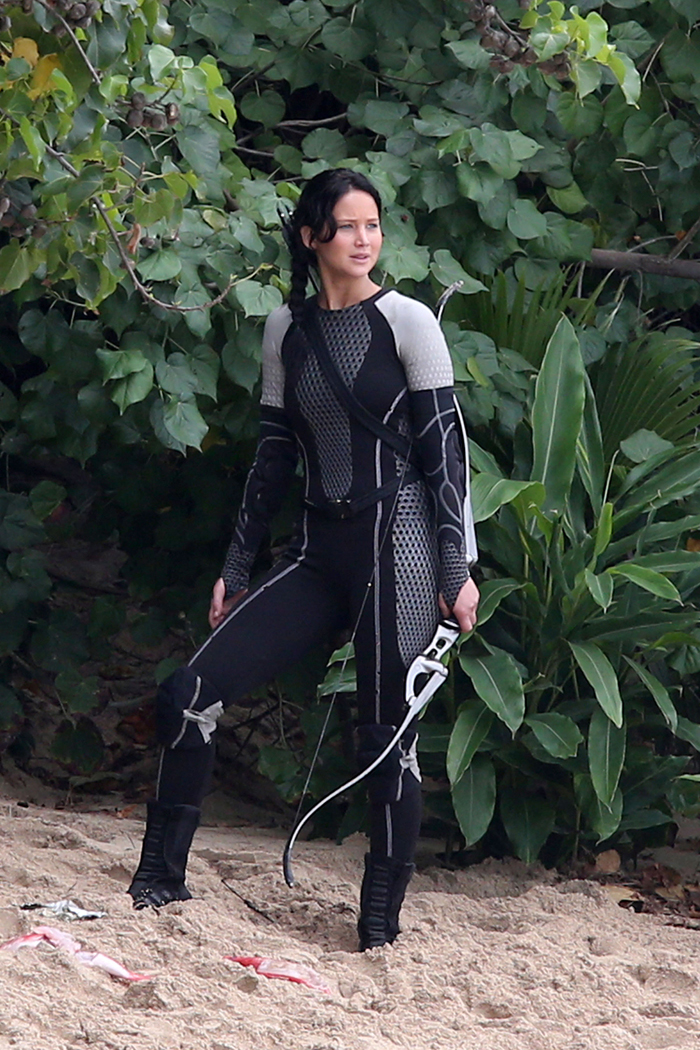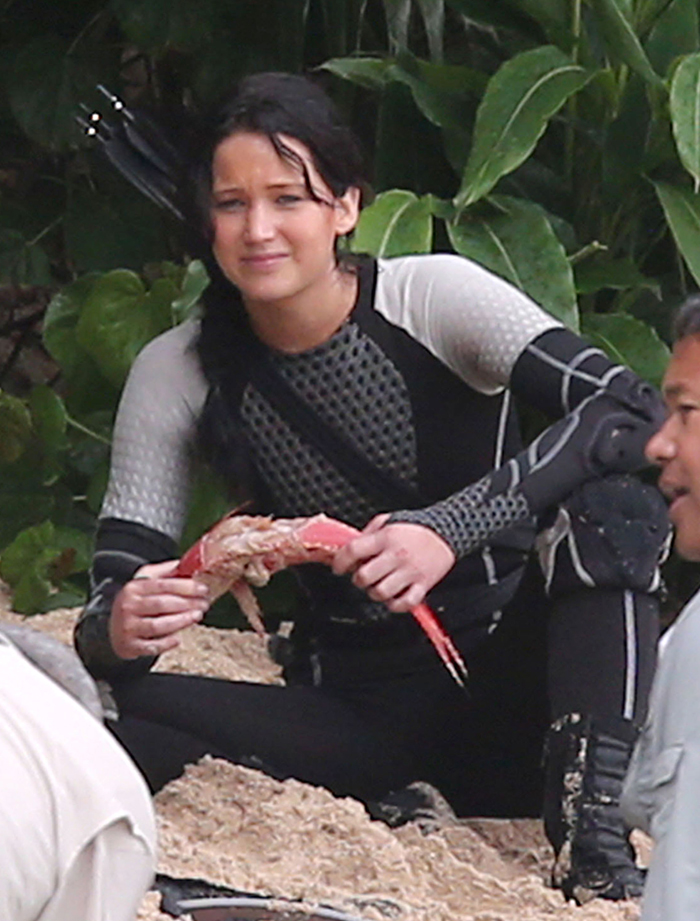 Photos courtesy of Fame/Flynet and EW.com