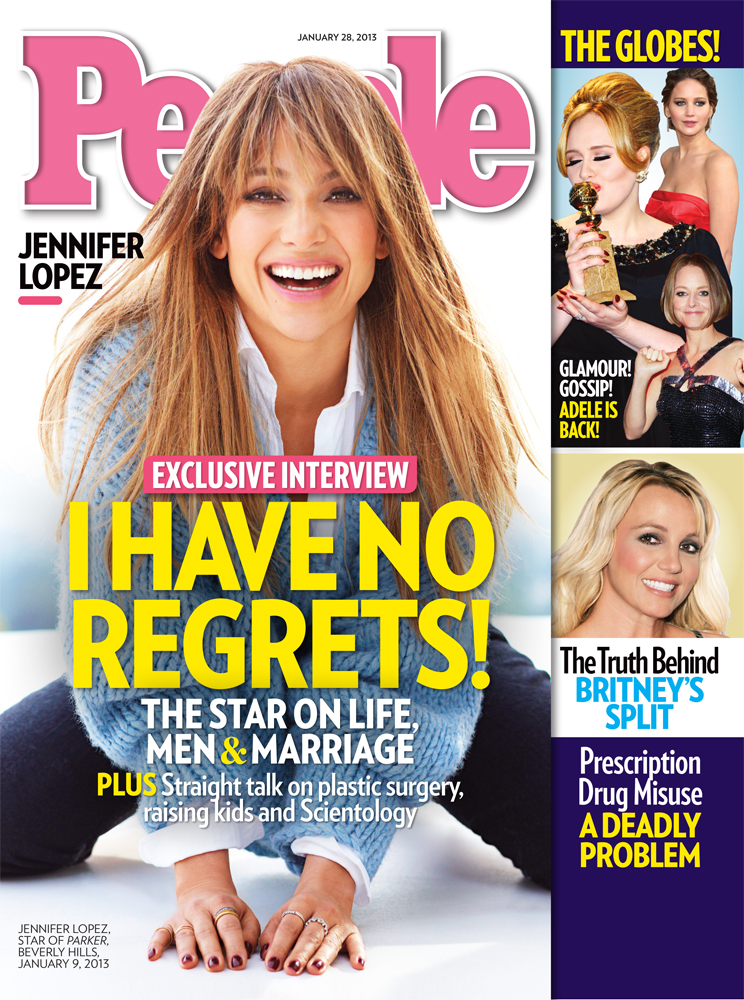 For some reason, Jennifer Lopez is on the cover of People Magazine this week. She must be promoting her new action movie Parker, co-starring Jason Statham, which is out next Friday, January 25. (Here's a link to the trailer, which looks like a lot of other Jason Statham action movies.) In terms of the cover photo, I'm struck by what an awkward pose she's making and how fried and shaggy her hair looks. They could have put some product in it to smooth some of those flyaways.
It seems funny that Lopez is on the cover of People the same week that her old show, American Idol, premieres with a brand new panel of judges. We just had The Globes too, they could have been front and center instead of on a side panel. It just speaks to Lopez's vast capacity for self promotion and reinvention, which I grudgingly give her credit for. In a video interview posted on People's website, Lopez frames her decision to leave Idol as an artistic career choice, not a money decision, which runs counter to stories that she wanted a whopping $17 million to return for a third season and was turned down.
In People's preview of the interview, Lopez talks about her romance with 25 year-old Casper Smart, and credits him with helping her recover from a tough divorce. She also says that she's surprised he stays with her and doesn't get a younger girlfriend. Here's more, from People:
When Jennifer Lopez and Marc Anthony split in 2011 after seven years of marriage and two children together, the singer says it felt like "her whole world fell apart."

But Lopez, 43, credits her boyfriend, choreographer and dancer Casper Smart, 25, with helping her heal after divorce.

"I just got out of a big, heavy, devastating thing, and he's helped me heal," she says in this week's issue of PEOPLE. "He's been there for me."

But the singer is well aware that the 18-year age difference between the two draws speculation.

"I ask him, 'Why don't you go find a young girlfriend and get out of here? What do you want with me?' And you think, 'How long is this gone be?' You think, 'Okay, in 10 years I'm going to be like this and you're going to be like that' and … men at that age are … I think all different things. The truth is we don't know what's going to happen. We're loving this moment right now. We make each other happy."

Even after several larger-than-life romances that played out in the public eye, Lopez regrets nothing.

"I don't regret those things – that's who I am," she says. "But at least now I'm at a point where I have to recognize that these choices and things that happen are partly because of me and my decisions and I have to be more careful. So I am being more careful."
I love how Lopez has a 25 year-old boyfriend whom she employs and bankrolls and then wonders why he doesn't get a younger girlfriend. She also says she's "being more careful" about her romances, even though she's dating this kid who is so clearly beneath her. Oh well, he helped her heal and she's making artistic, not money decisions when she asks for $2 million more a year, gets turned down, and then decides to do something else. I get the sense that Lopez believes her own hype, though, and that she's not fibbing to the public so much as breathing her own rarefied air.
There's another new interview with Lopez, on Access Hollywood. She was asked about the recent career success of her ex, Ben Affleck, who just took home Best Director and Best Picture at The Globes for Argo. She had nice things to say about him, which hasn't always been reciprocated when it comes to Affleck talking about Lopez. She said "I'm always rooting for him" and "We went through a rough time at a certain point and it was like we couldn't get a break and now to see him be successful and getting what he deserves for what he did made me feel really good." Note how she said we "went through a rough time," not he. She seems like she still has feelings for him. Just my take! Also, Lainey pointed out how many of Lopez's exes were at the Globes. There was Affleck, Diddy, and Bradley Cooper. (I almost forgot that she "dated" him.)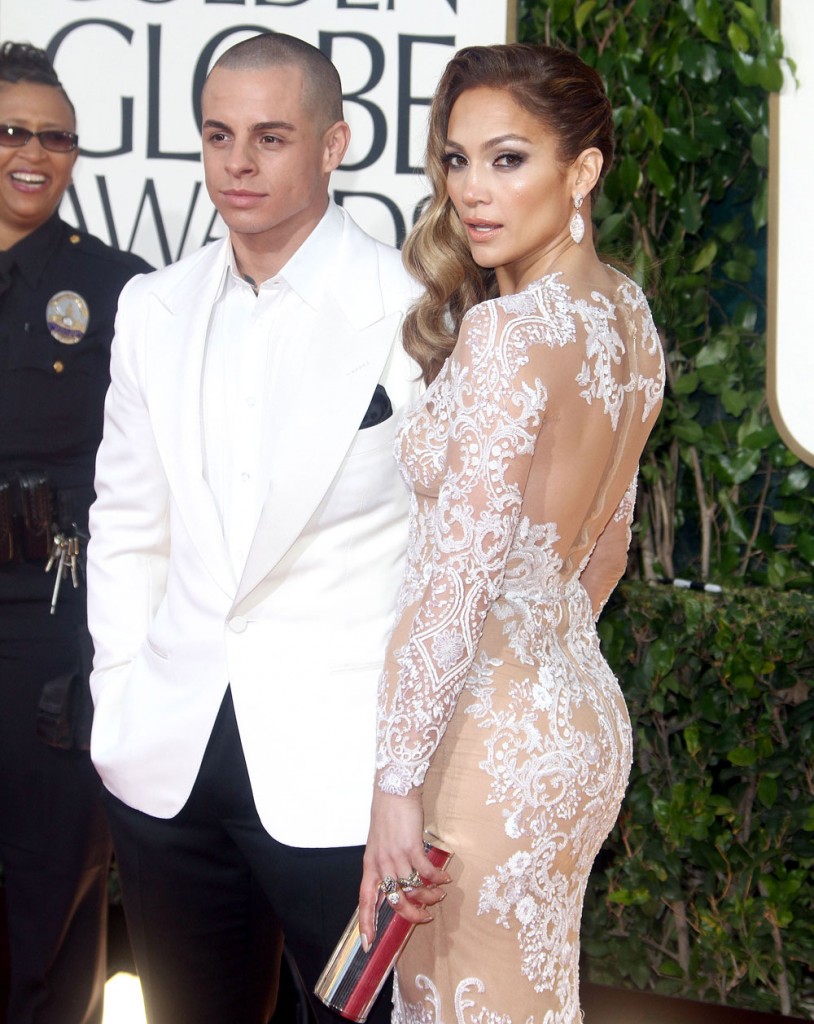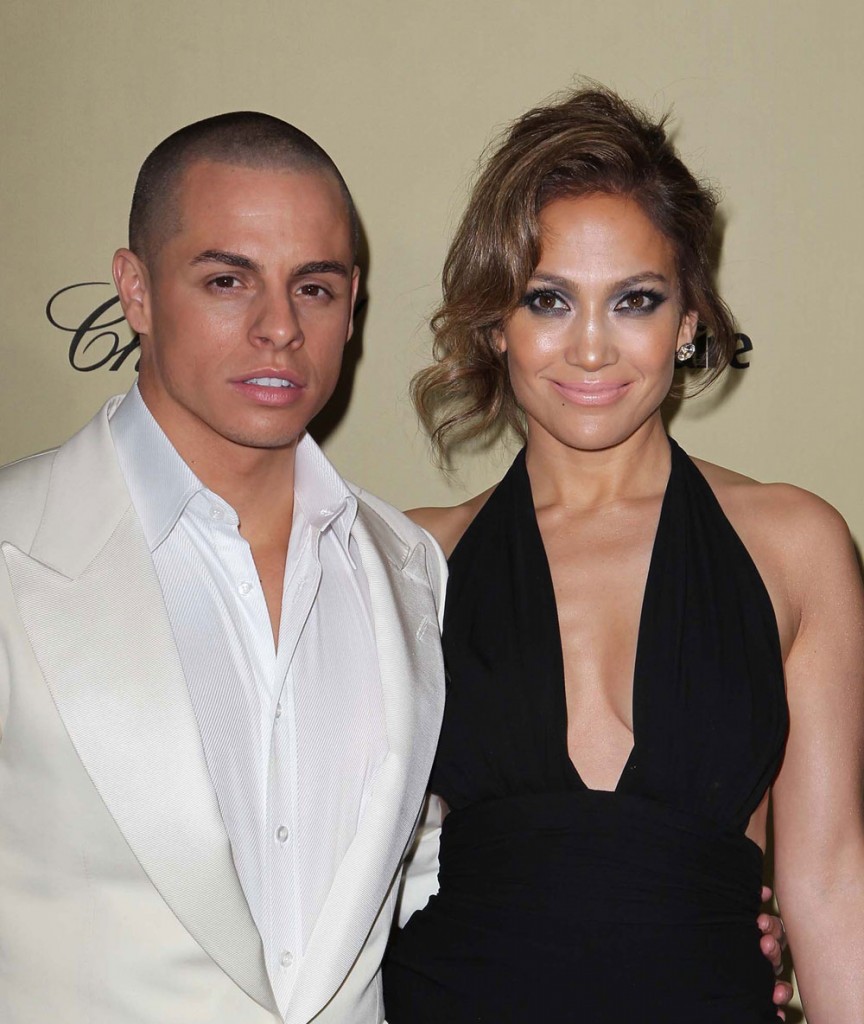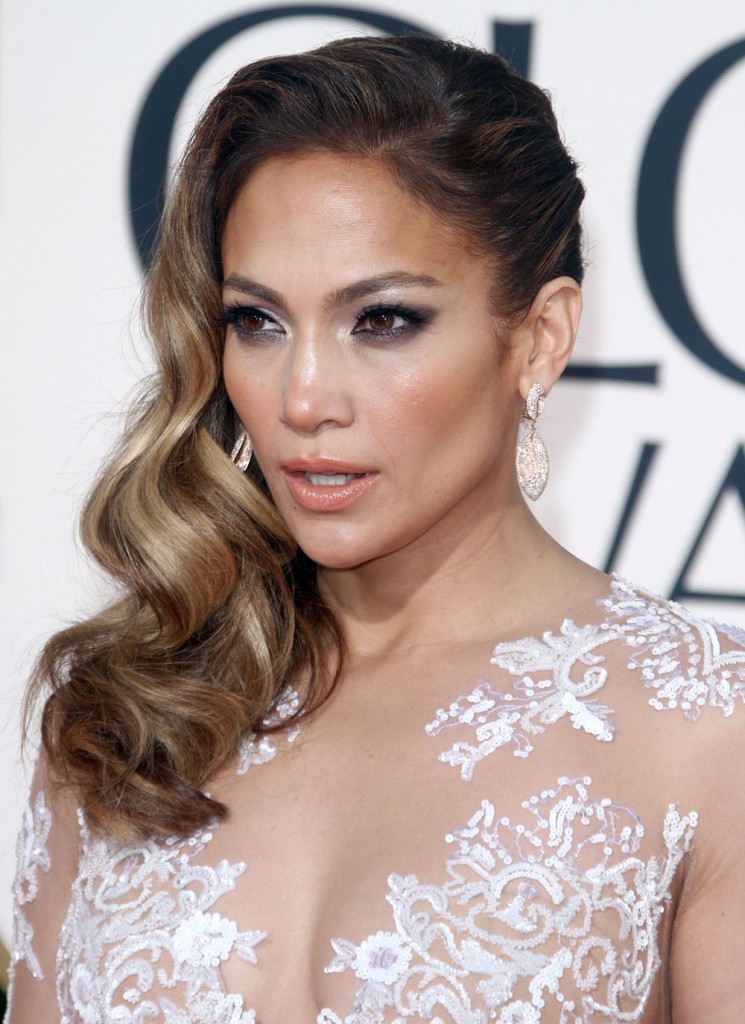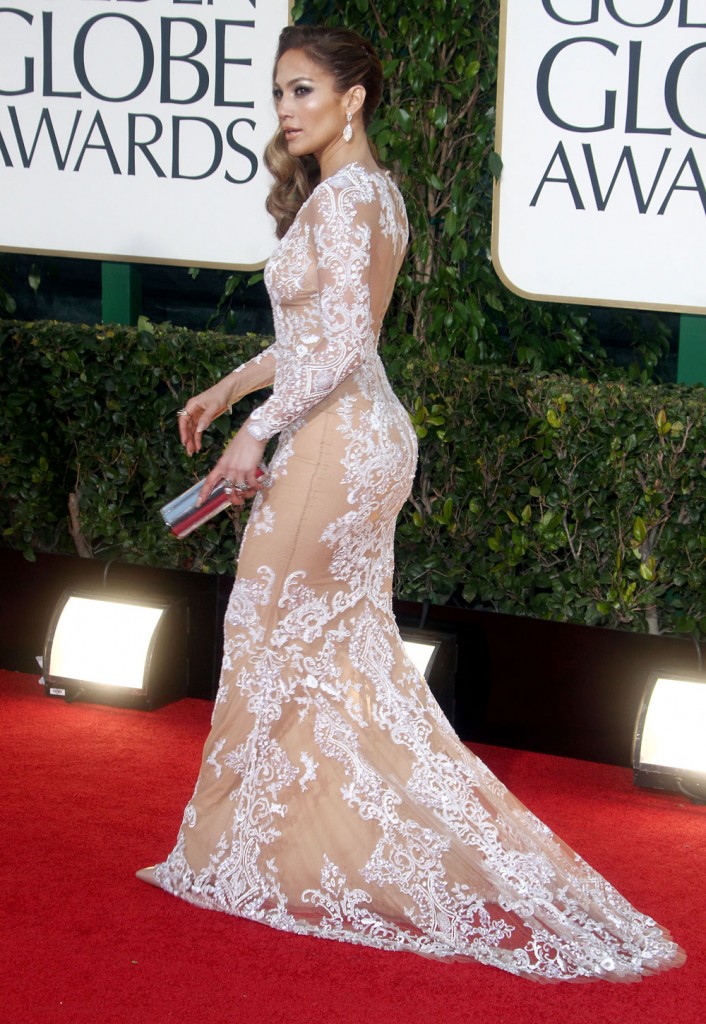 Lopez and Smart at shown at the Globes on 1-13-12, credit: FameFlynet and at The Weinstein Company's after party, credit: Fayesvision/WENN.com