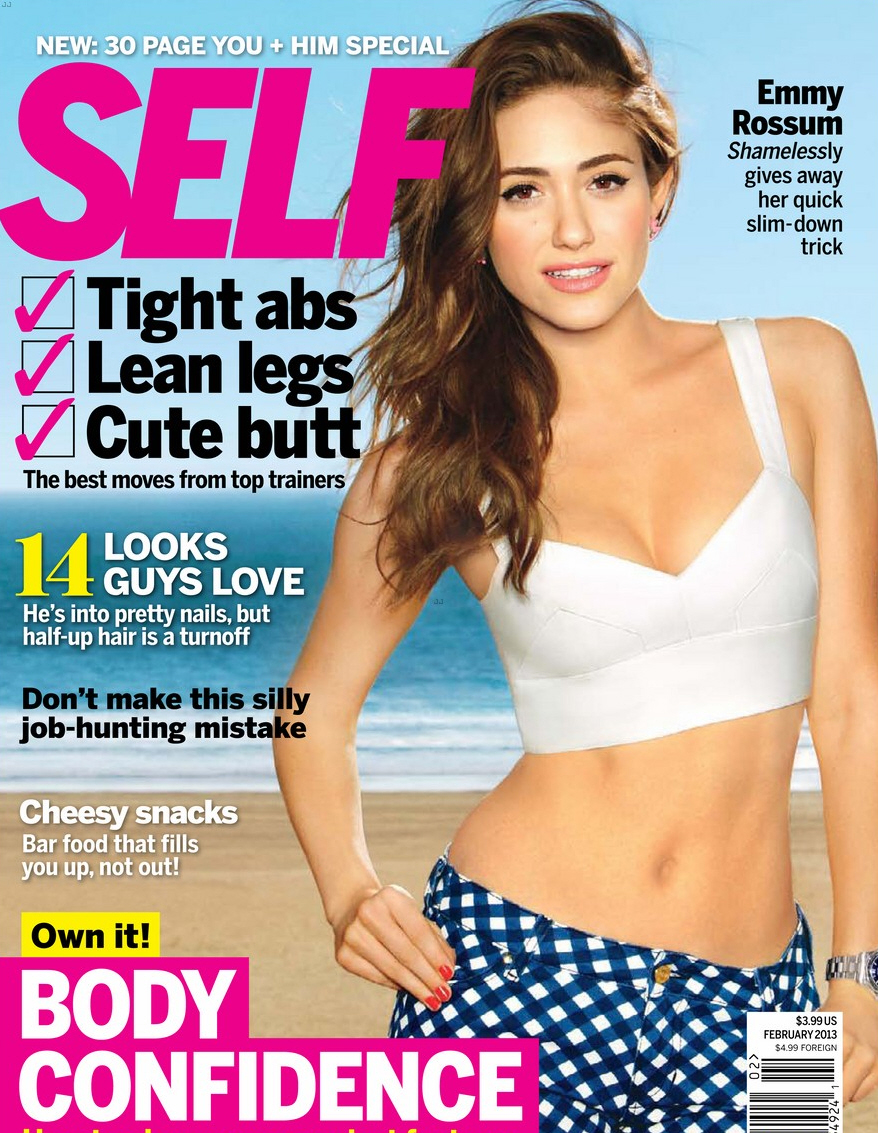 I don't really have an opinion of Emmy Rossum. She seems saccharine but harmless, and while I would never have considered her a "good" actress, she's getting better-than-average reviews on Shameless, and she's built a decent career for herself. So that was how I came into Emmy's Self Magazine cover interview – I thought she was sweet and harmless and somewhat "normal". But I was sort of taken aback by Emmy's dieting and workout discussion. I mean, it's Self so of course their cover star is going to be talking about diet and exercise, but I don't really get Emmy's system…?
Her favorite workouts: "I like Physique 57, Burn 60 and SoulCycle or Flywheel, because I get positive energy from the people around me. You just can't be the slacker. And I raise my hand like an idiot whenever the instructor asks if anyone is new to the class. I'm, like, 'Yep, I'm the loser who hasn't been here before.' At least I'm not going to screw myself up by doing it wrong!"

Her quickie weight-loss workout: "When I want to drop weight quickly, I cut back on my cardio and do a lot of weights instead. It's counterintuitive, because you would think, I should stay on the treadmill for five hours. I also cut out all fruit and eat a lot of protein and vegetables. My go-to moves are walking lunges, leg raises and my favorite: four sets of 15 ballet pliés, holding 8-pound weights."

She exercises every day: "If I've had a meh workout the day before, and I'm still not feeling it, then I'll do another meh one that day, too. I think you should just do something every day."

Her longterm goal: "I don't want to do the Ironman or run 10 miles, but I do want to go up into space one day. It costs [hundreds of thousands] right now, but I hope eventually it will be $500. And I want to make sure my heart is fit enough to handle the trip when I'm 50."

Her version of "chaos": "I don't always make my bed. If my life is in a state of chaos, then I have to make it. But if I'm happy in my life, then I'm OK leaving a little chaos in my house."

She has cheat days on her diet: "When I was filming Beautiful Creatures, I ate 1,500 calories a day—nutritionist Carrie Wiatt sent me meals from L.A. But I also gave myself two cheat days a week. I'd eat a steak and fries, an ice cream sundae and then go to Pinkberry. Of course, then I'd wake up the next morning and go, 'Oh, great, I'm eating one poached egg and a green apple. Shoot me in the face.' But it was totally worth it. Now I can gain back those 6 pounds that I had lost to do the movie."

She was raised on a macrobiotic diet: "I was raised on a macrobiotic diet, so I was more interested in eating the junk food that other kids were eating, although I'd have to make sure my mom didn't know. My mom has never owned a saltshaker. Now I have to sneak these contraband little salt packets from take-out restaurants into her house so that I can salt my food."

Know your limits: "I'm not going to wake up like Gisele tomorrow. That's just not going to happen. She's a genetic freak—and stunning. I'm a human being. I'm fit because I make it a priority and it's part of my job. I also try to stay confident, so 5 pounds up or down doesn't affect my brain."

Must love animals: "I don't like a guy if he doesn't like my animals. I have a dog, Cinnamon, and a cat."

She likes where she is right now: "Right now I'm probably in the best shape that I've ever been in, although I don't consider 'best shape' to necessarily mean the skinniest. I've been fatter and I've been skinnier than I am right now, but I'm more at peace than ever."
Does anyone else think Emmy might benefit from hiring a trainer who actually knows what they're doing? It seems like Emmy's system is half-okay – she's mixing it up, she's doing different things, she's working out different ways and different parts of her body, which is great. But I was always taught that it's important to let your body have a proper rest, and the idea should be to NOT work out every day. And the best way to be fit and strong is to weight train AND do cardio, and it's weird that she would lose weight just by weight training. Also – I think that being raised on a macrobiotic diet has really messed up her relationship with food as an adult, which is what I always say about Gwyneth Paltrow's kids too. Gwyneth is basically pushing her severe food issues onto her children and it will affect their relationship to food into adulthood. Apple Martin will become like Emmy Rossum.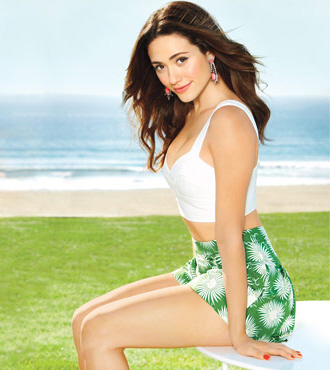 Photos courtesy of SELF.