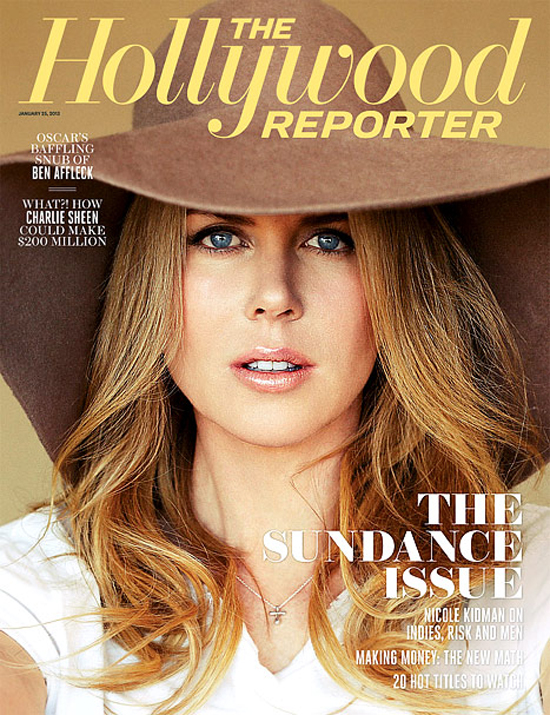 Nicole Kidman appears in the latest (Jan 23) print edtion of The Hollywood Reporter to promote Stoker and its upcoming Sundance premiere. This interview is actually kind of juicy and dovetails with the release of NYT writer Lawrence Wright's Scientology exposé, Going Clear, which arrives in stores … tomorrow! If you're interested in a preview, the Daily Beast is running 15 (mostly new) revelations from the book.
Nicole's relevance to Wright's book, of course, has to do with her 12-year-old divorce from Tom Cruise. According to well-documented sources, Celebrity Centre boss Tommy Davis (who has recently blown the cult, btw), held weekly, post-divorce sessions with Tom and Isabella Cruise. In these audits/information dumps/brainwashing sessions, Davis labelled Nicole a Suppressive Person and reportedly informed Nicole and Tom's children that their mother was a sociopath who was not to be trusted. In this piece, Nicole finally says something about her estranged state with her eldest two children, and you can easily tell that she doesn't blame them at all because she knows the drill. So sad. On a lighter note, she also discusses peeing on Zac Efron. Here are some excerpts: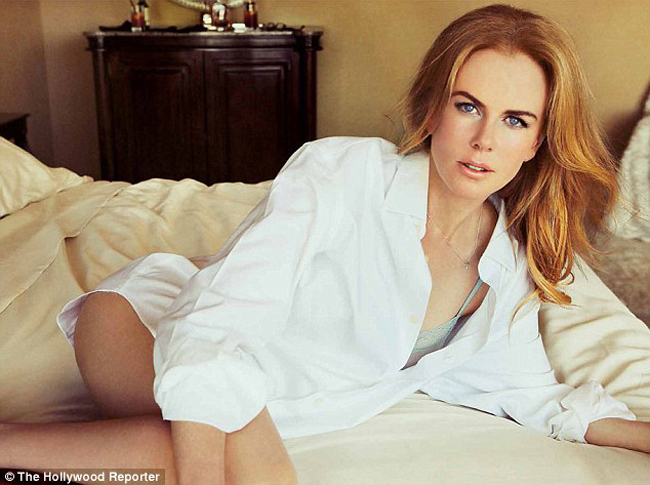 Peeing on Zac Efron in The Paperboy: "I just don't find urination shocking," Kidman declares matter-of-factly. "I think I peed in the beginning of Eyes Wide Shut, too. But then, I don't find a lot of things shocking! Violence is a lot more shocking than sex — sex is primal. Lee [Daniels, director of The Paperboy] had an obsession about shooting me from behind — he was obsessed with my ass! To me, that was so funny. He's hilarious, I love him. I'm drawn to Lee for his wild nature. I felt shy singing in Moulin Rouge! But peeing — no, not shy."

Journo mentions that her Cruise divorce happened because of CO$: "I'll bet it is. My eye is going to a dress here — that's how interested I am in this." When pressed, she'll say only: "I've chosen not to speak publicly about Scientology. I have two children [adopted with Cruise] who are Scientologists — Connor and Isabella — and I utterly respect their beliefs."

On her recent career decisions: "I try to go places I'm terrified of," she says. "It makes you more compassionate. The journey of life is hard; you're always waiting for the cannonball to come and hit you. I do develop very powerful relationships with most of my directors," admits Kidman. "Gus Van Sant changed my career with To Die For. I'll definitely work with Lars von Trier again. And [The Hours director] Stephen Daldry is like a soulmate. He was so kind to me when I was pregnant, even when I couldn't do The Reader. It's not the size of the role I care about, it's the subject matter here: torture and the human soul."

She's a traditional gal: "I'm just a nice Southern girl. It's such an easy lifestyle. And it's more diverse than you'd expect. There's so much great music. The Black Keys go jogging past the restaurant Keith and I go to. We'll hang out with Jack White in the studio. And there's music in our house all the time — Keith plays harmonica, drums, banjo, piano and bass guitar. He has a strong will about his career, and so do I. We want each other to thrive and do what we love, and we never interfere in the other's career choices."

On the future: "I really want to do Chekhov in Russian. I know my choices are erratic and unpredictable, and there's no rhyme or reason. I want to be spontaneous. I love subtext. Subtext is what's interesting — in Ibsen, in Chekhov, in all the great literature. The sound of Russian gives it such gravitas. It's a very difficult language. It's always been my dream to perform Chekhov in Russian. And don't be surprised when I do it."

She wants to be an indie queen: "My heart is independent. I come from Australia, I was trained in indie movies. It's an unconscious decision — it's who I am. As an actor, you live and die by your choices. I don't associate with mainstream films anymore. I don't do so well in them, either. I guess I have a foot in both worlds. I've been offered some studio films this year and turned them down. They just didn't align with who I am. I actually don't even know what a movie star is now — what is a movie star? When the best female part of the year is Claire Danes in 'Homeland,' you know the game's changed. Maybe in the '50s, there was a far more particular idea for a movie star. But now that's all blurry — everything's more fluid."
[From Hollywood Reporter]
Oh, Nicole. I feel so much for her in regard to Isabella and Connor's unfortunate rejection of her "suppressive person" self. Although the timing is strange with the reporter pushing for Nic's response in regard to Scientology's involvement in her divorce from Tom Cruise. It's been over a decade since Tom tore up her contract, and certainly, her publicists have been very conscientious about shutting down potential inquiries until now. So what gives? I am assuming that the journalist was informed that he could ask questions about the CO$, but that Nicole might be dicey in response. I guess this is progress from her former radio silence, right? At least we now have concrete evidence (from her answers) that she feels quite abrasive about the cult despite paying positive lipservice to her estranged children.
Also, I can't help but wonder if Nicole's fresh embrace of indie movies might have something to do with her blockbuster-centered ex, Tom Cruise? He'd rather die than go indie. Then again, Nicole has had some really big recent studio failures, including The Golden Compass and The Invasion, the latter of which only brought in $15 million against a $80 million budget. Ouch.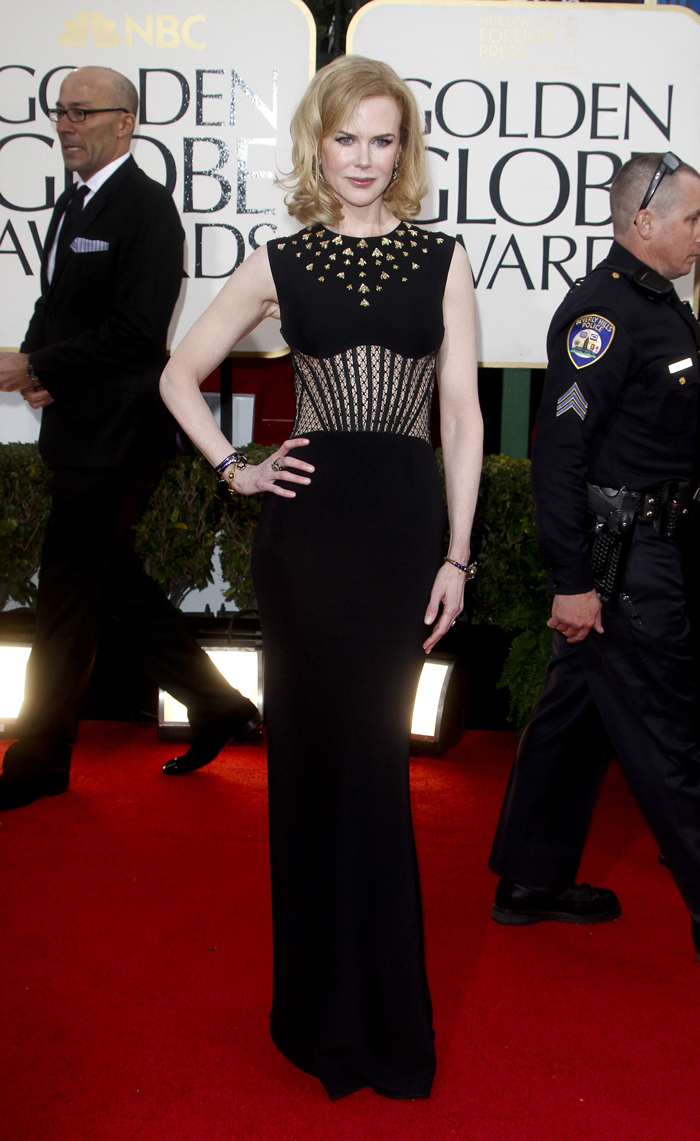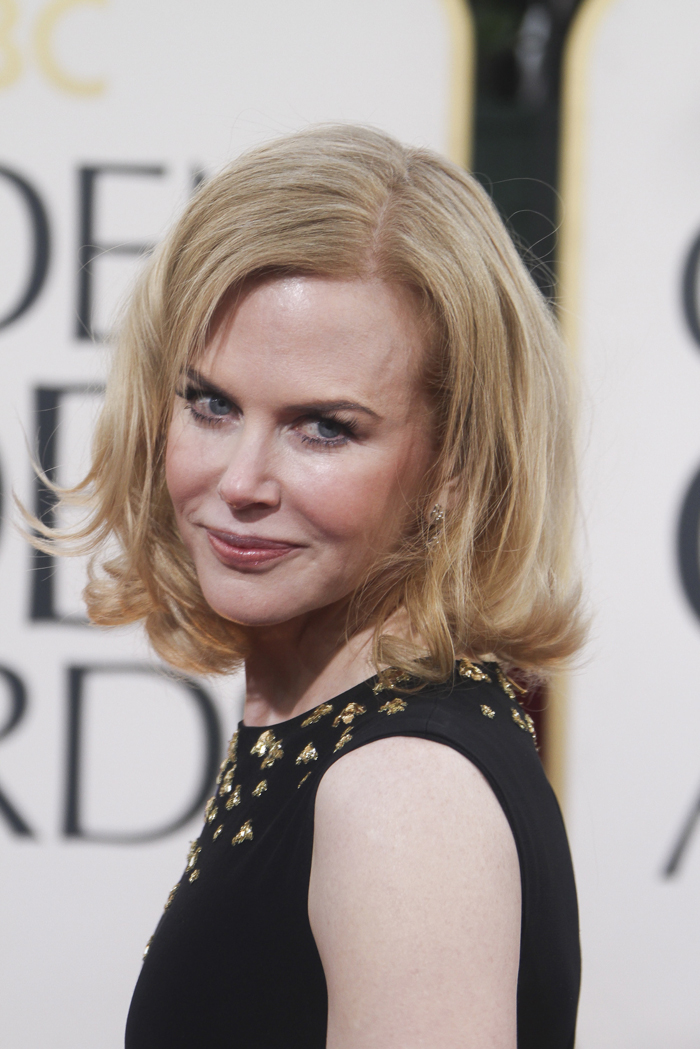 Photos courtesy of Hollywood Reporter and WENN