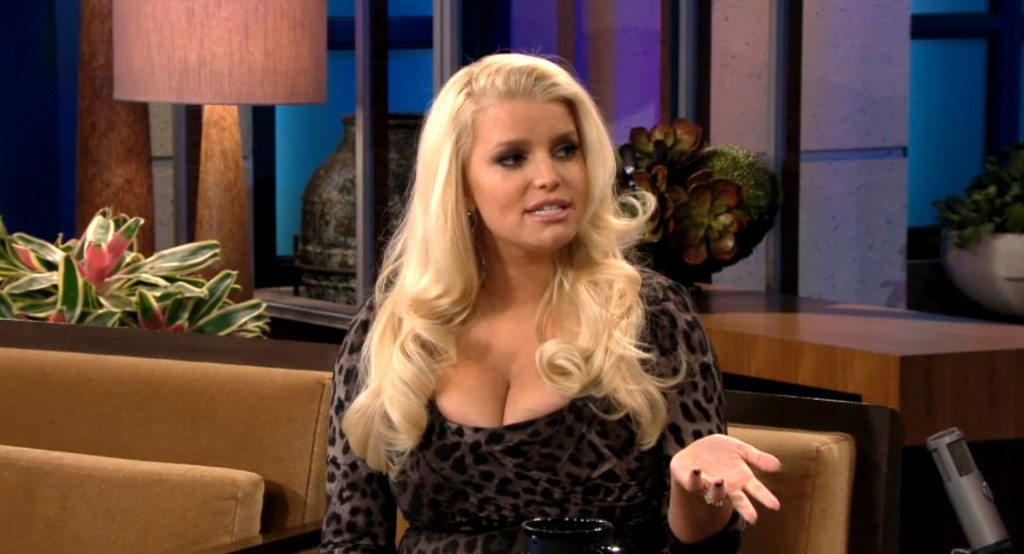 Yesterday Kaiser reported that Jessica Simpson had inexplicably signed a deal to star in a sitcom based on her life, on NBC of course, in which she would play herself and actors would play the parts of her husband fiance and family. It sounded like a terrible premise and a dumb twist on her reality show, in which we learned that she's not the brightest bulb and that she shares way too much information about her bodily processes. (That was honestly the first time I'd ever heard the "dropping kids off at the pool" expression. Eww.) Jessica was on The Tonight Show this week to promote Fashion Star and she of course gave TMI about how her second, unexpected pregnancy came about. She did have some funny self-deprecating things to say about how much weight she gained in her first pregnancy, adding that she "had fun" at the time and realized later "that it wasn't all water weight." Anyway here's some of what Jessica said. She also confirmed that she's due "in the summer." It's going to be a summer of babies! Duchess Kate and Kim K are also due around that time.
On her last pregnancy
The last time I ate everything in sight. I was really happy to be pregnant and I just didn't even step on the scale. I was the person who turned around and said, 'Just don't tell me, I'm having fun.'

I guess I just didn't realize you could gain that much weight that quickly. I had fun doing it but once I had Maxwell I realized that it all wasn't water weight and I had to really work hard. In four months I lost over 50 pounds.

On her favorite food
Everything. I didn't really make any healthy good decisions.

On how Weight Watchers responded to her pregnancy
I think that they were as shocked as I was, because it was so soon and I was hitting all these goals and everybody was celebrating and it was like 'ah, there she goes again' But they were really supportive I mean, what can you do? I just said 'Next time around, I'll promise I'll be healthier throughout this pregnancy.'

On how this pregnancy is going
I've been puking. I've been really, really sick so I can't wait to actually be able to crave something like I did in my first pregnancy. I'm due in the summer so I still have a ways to go — hopefully I start feeling better.

On if she'll get married soon
We've had two different wedding dates, but he keeps knocking me up. I'm doing it very backwards, I know! I'll just keep my legs crossed this time.

On how she got pregnant again
I was extremely shocked. I was shocked because I was going through a lot of hormonal changes, trying to get back to the old, vibrant Jessica. And, you know, it was kind of like a one-night stand. And it happened, all over again!
[Quotes via NBC video, Extra and Access Hollywood]
Classic Jessica. The audience audibly groaned when she said "I've been puking." It's not a "one night stand" when it's your husband or boyfriend and the guy lives with you, even if you haven't had sex in a while. Semantics aside, this wasn't a bad interview with Jessica and she came across as funny, albeit unable to censor herself. I just want to say – holy chi chis! (Credit: Michael K) Her boobs are huge and they're pushed up into a shelf like Christina Hendricks' rack. Here's another screenshot I took. Also, her hair looks very wig-like.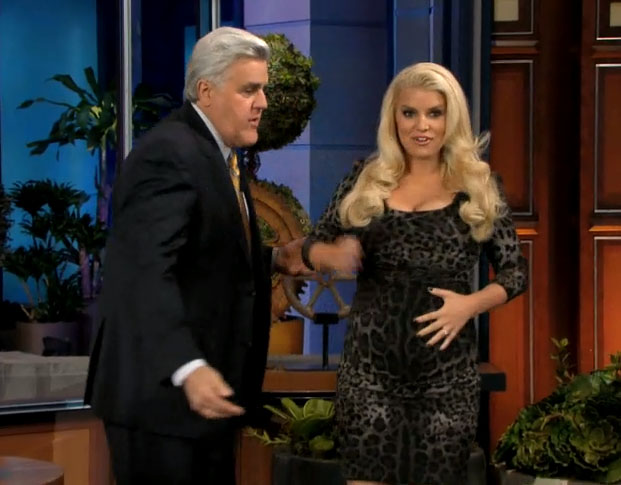 As an aside, I just want to say NBC sucks for the way they treat their shows. They can hire Jessica Simpson for what will surely be a mediocre comedy but they can't even be bothered to air the already-completed episodes of the amazing, critically acclaimed cult hit Community. NBC is excellent at getting quality shows, but they always screw it up somehow. I'm just waiting for the axe to fall on Parenthood, I love that show.
Jessica Simpson on her wedding plans: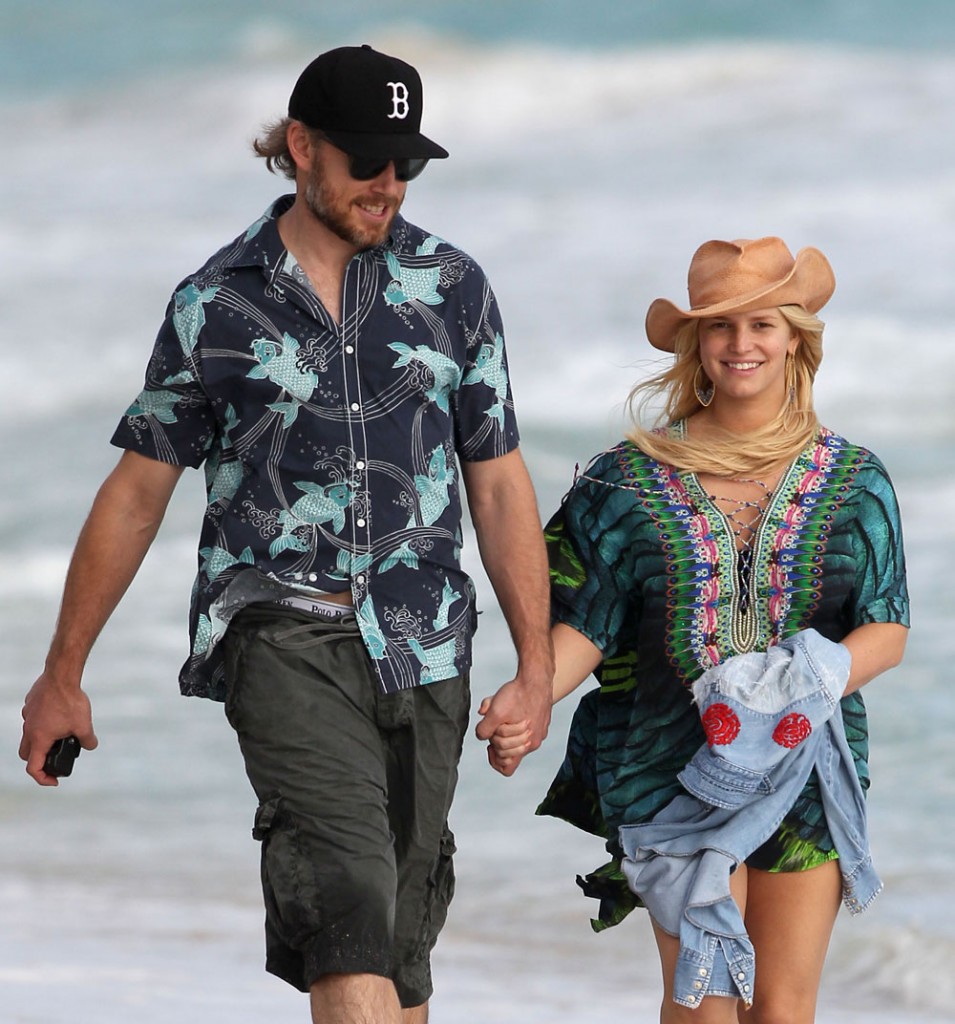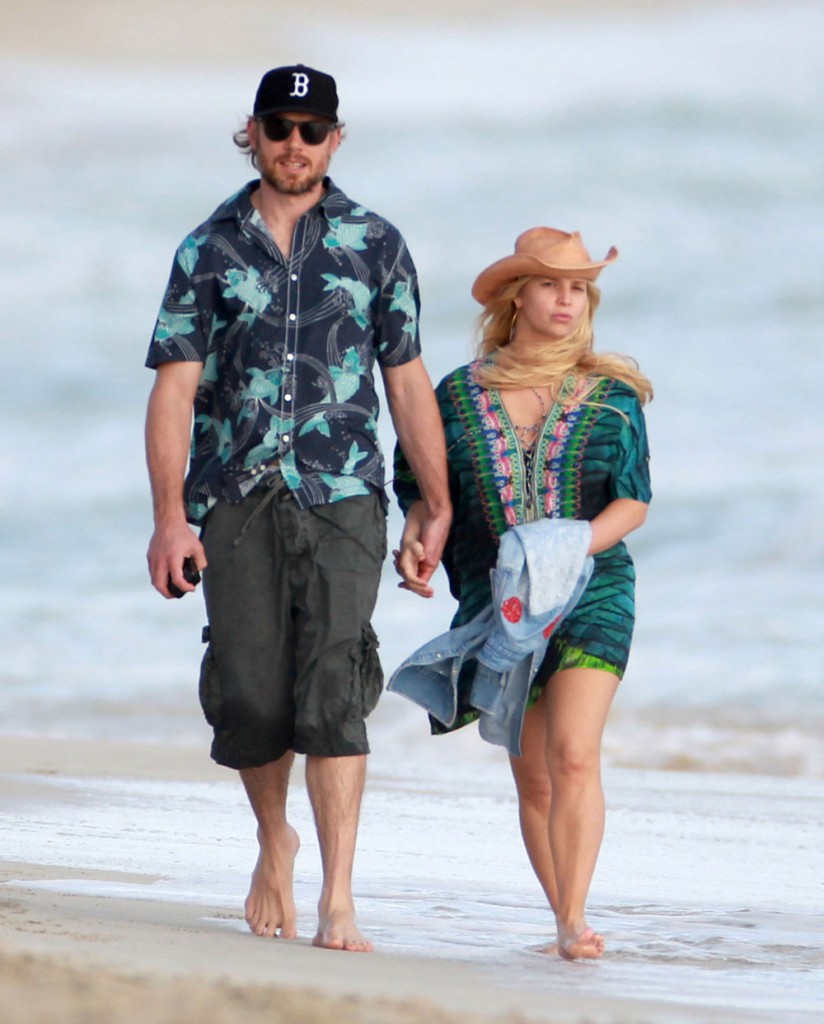 Two photos above credit: FameFlynet