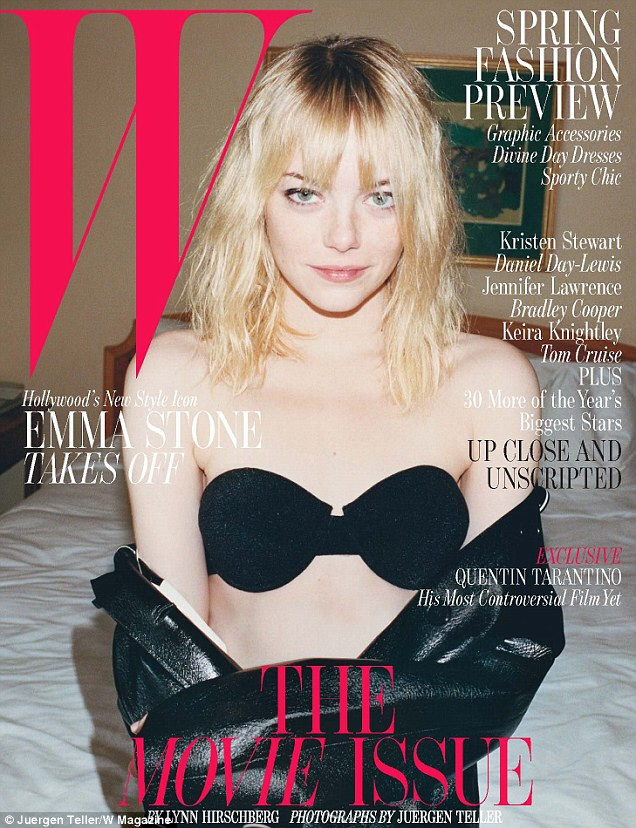 Surprisingly enough, this W Magazine photo shoot was not done by Terry Richardson. Shocking, right? No, Emma Stone was photographed by Juergen Teller for the February issue. Teller is best known (to me) for those minimalist Celine and Marc Jacobs ads that seem sort of anti-glam. So he brought his anti-glam sensibilities to Emma Stone, and here is the result. She looks washed out, tired and drawn, and the styling in a WRECK. I guess this is "high fashion" or a very editorial look. I hate it. You can read Emma's W piece here, and here are some highlights from her interview:
Her Gangster Squad character: "Grace Faraday, who moved to Hollywood in the '40s to become a star and ended up falling in with Mickey Cohen, a very well-known gangster, and his brood. Grace is also having an affair with Jerry Wooters, portrayed by Ryan Gosling. He's one of the cops investigating Mickey Cohen. Grace is playing with fire—she's constantly torn, caught in that classic conundrum between good and evil."

Dramas versus comedies: "In real life, sometimes it's uncomfortable for me not to go for the joke. I've been looking at that in myself lately. Often, joking for me is a way of diffusing the awkwardness of a situation, so it's kind of exhilarating to be a part of projects where there's nothing funny or lighthearted."

Presenting with Ben Stiller at last year's Oscars: "It was for best visual effects, so Ben and I had all these funny ideas. Planet of the Apes was nominated, so we thought we would bring a chimp onstage and I'd say, "Oh—it looks so real." And Ben would be like, "It's a real chimp." And I'd be insisting, "Oh, my God—the work they do now is so staggering." And he'd repeat, "It's a real chimp." But apparently, you can't make the Oscar presentation about a particular movie or else the audience thinks you're swaying the vote toward that movie. So instead, we pretended that Ben had been to the Oscars many times and I was this really overly enthusiastic Oscar presenter. I was very excited, and he was not…. Though a lot of people thought it was something else: When I came offstage, they were saying, "You were so drunk!" And I wasn't. Not until after…"

Going to her first Oscars: "At first, when you go to premieres and award shows, you're thinking, How the hell am I here? All these people I've never met are here, and it's so cool! And then, as time goes on, it's a little bit like, Ah…it's more like work. There are only a couple of events where I've truly felt, That was an awesome night—and the Oscars was one of them."

The movie that makes her cry: "The end of City Lights makes me cry every time I see it—when Charlie Chaplin walks by the shop window and the once blind girl brings him a flower and pins it to his lapel. She's always thought that he was a millionaire, but he was really a tramp. She feels his hand and says, "You?" And he nods. He says, "You can see now?" And she says, "Yes, I can see now." They cut back to his face, and he lights up like you've never seen. That last line—"Yes, I can see now"—has so many meanings. It's echoed in every great romantic movie since then and in every great moment of life."
God, I almost cried just reading her describe the Chaplin film! But I'm PMSing, so maybe that's it. On Wednesday, I burst into tears during Pres. Obama's gun control speech too. As soon as he started talking about the 7-year-old girl named Grace who died at Sandy Hook and he said, "She loved pink… she loved the beach… she wanted to be a painter…" I had to stop eating my lunch to have a good cry. Ah, PMS. Does anyone else cry during the news these days?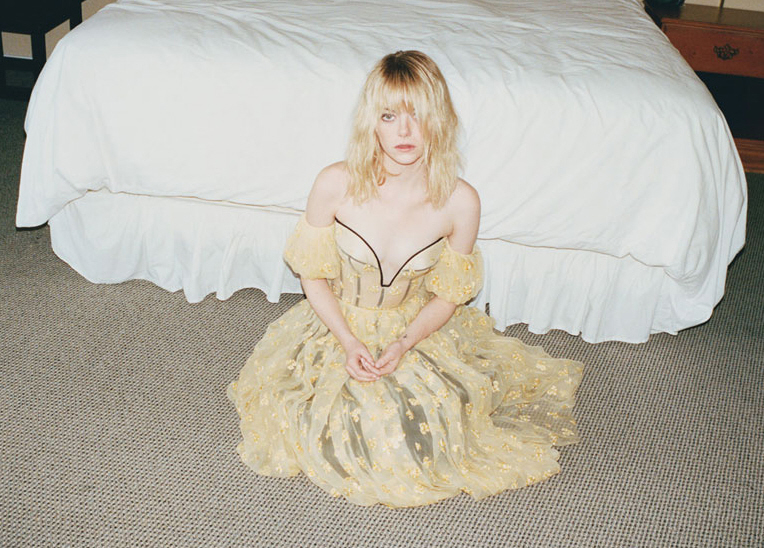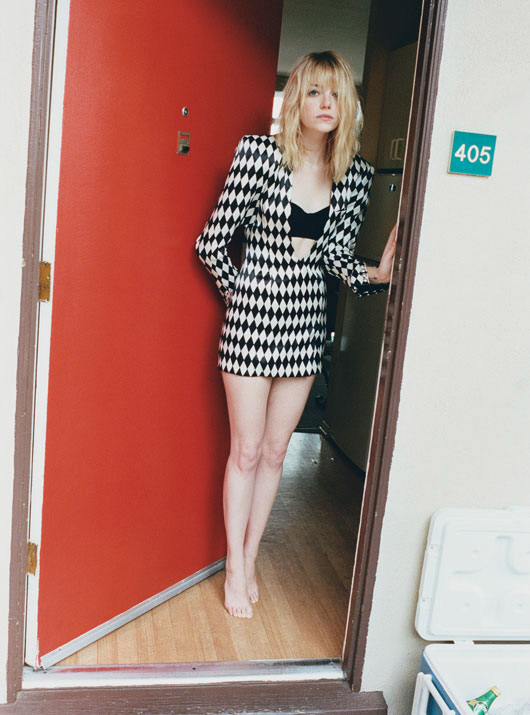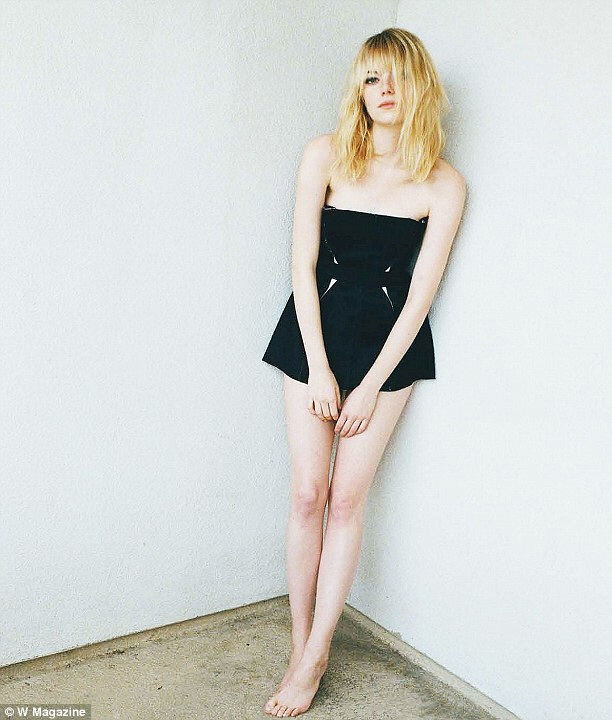 Photos courtesy of Juergen Teller/W Magazine.