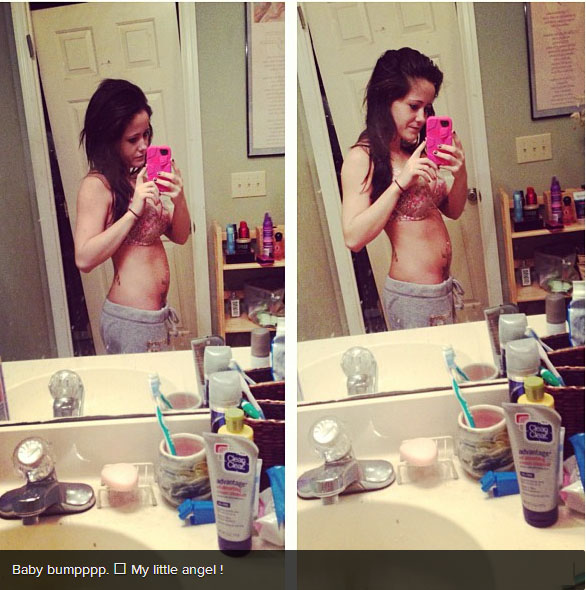 The current most-popular story, on both E! and US Magazine, is this bra and sweatpants Instagram self portrait from Teen Mom 2′s Jenelle Evans, confirming her second pregnancy. Jenelle, 21, is about seven weeks along. Jenelle's husband of six weeks first made the announcement to Star Magazine, which many people were skeptical of. Unfortunately it's true, and she's tweeted sonograms as well. (Who gets a sonogram that early? The OB-GYN wouldn't even give me an exam until I was 12 weeks along.) This photo would be amusing as a pregnancy announcement even if the subject weren't a pseudo-famous trainwreck. Look at what a mess her bathroom is, and how she didn't even bother putting her products off to the side before she took this picture. It didn't even occur to her to clean up before she took this photo, and she has nearly 600,000 followers on Twitter.
Jenelle started dating her current husband, a convicted felon, in September, and she's been off heroin allegedly for a whole two months. She's been arrested multiple times on various charges including breaking and entering, drug possession, assault, harassment and probation violations. Jenelle has been on and off with various boyfriends, including her husband, with whom she broke up and got back together with in the last month, all chronicled on Twitter. Jenelle of course has another child, Jace, 3, who is thankfully under her mother's care. Jenelle believes that if she's able to have another baby and stay sober long enough to raise the poor child that she'll earn back custody of Jace. It's such an awful plan that affects a couple of innocent kids, but luckily the world is watching and this person will be under much more scrutiny that she otherwise would.
This begs the question: if Jenelle weren't infamous, would she even get pregnant again this early? Look at how much fame and attention she's getting from this.
I don't want to have think about this much longer, but I do want to share this gem from Star Magazine, about how Jenelle and her husband, Courtland Rogers, found out she was pregnant. They insist they didn't have a shotgun wedding, but the way they found out is priceless.
Courtland has insisted that neither of them knew about her condition when they married in a North Carolina courthouse on Dec 4, 201… Courtland claims that they learned about Jenelle's condition much more recently, after "she went to her psychiatrist to get on a new medicine for her bipolar problem." While examining Jenelle, the doctor suggested she take a pregnancy test; when it came out positive, she texted Courtland a picture. He says "I thought it was a drug test, and I freaked out."
[From Star Magazine, print edition, January 28, 2012]
That paragraph kind of speaks for itself, doesn't it? In that article, Courtland goes on to insist that Jenelle has been sober since she found out she was pregnant, and that she even went off her bipolar medication. Oh joy.