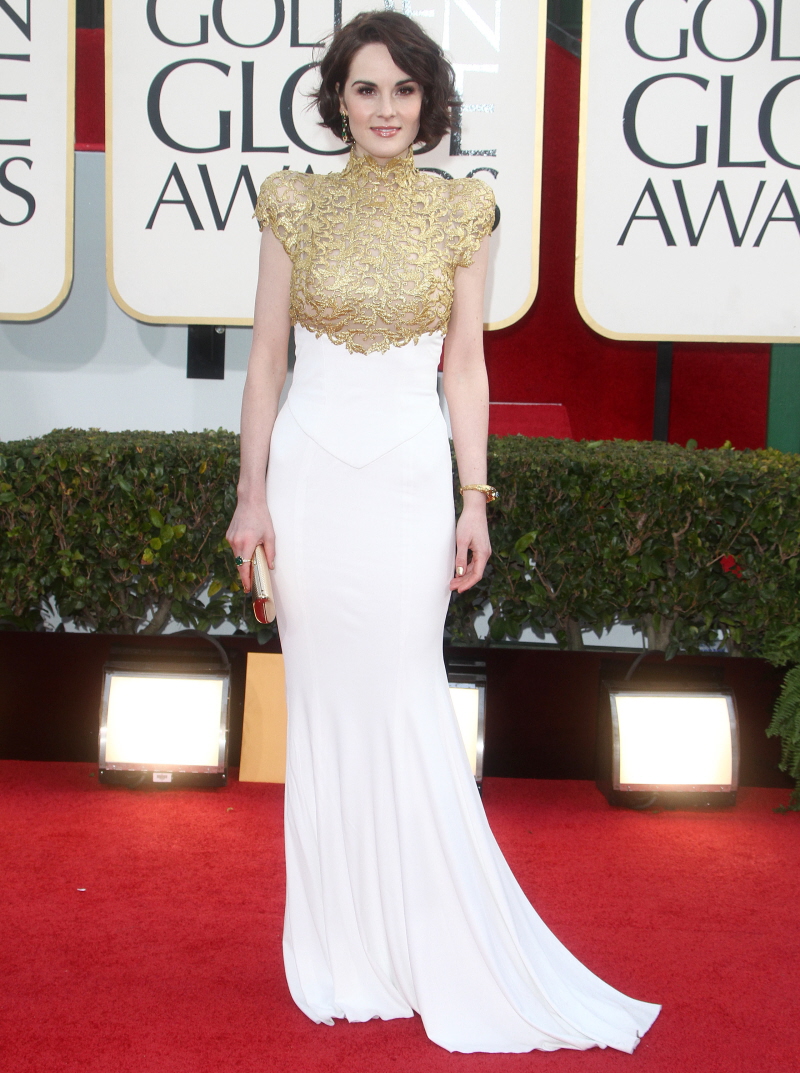 I feel like I'm the only sticking with Downton Abbey these days, although I know that's not true. Downton Abbey's Season 3 airing on PBS is scoring huge numbers, although there's still so much criticism about the series. Oddly enough, I'm about to compare Downton to Lena Dunham's Girls: if you don't like it, don't watch it, but just try to accept the show for what it is. Downton is a soap opera with some ridiculous plot lines and fabulous costumes and Edwardian lust. It is what it is. Anyway, following Dan Stevens' (SPOILER!) exit from the series at the end of Season 3, many fans are worried that Michelle Dockery (Lady Mary) is going to be leaving soon too. The Mail has a new, exhaustive piece about Michelle's efforts to make the leap across the pond. Some highlights from the piece:
Her gleaming emeralds were Bulgari, her spectacular dress was designed by Alexandre Vauthier and she had a team of Hollywood's finest working on every aspect of her style. It's a long way from Downton Abbey — and, indeed, from her childhood hometown of Romford — but as Michelle Dockery worked the red carpet at this week's Golden Globes, she looked ready to leave her character of Lady Mary Crawley far behind.

So who was behind her transformation and why did Dockery make such a big deal of her nomination for a Globe? She didn't win — indeed, she was always unlikely to against Homeland's Claire Danes. The answer is that this is Dockery's big moment to make the leap from domestic television star to Hollywood player. Much time and effort is being invested by some of the industry's biggest players into turning her into a bona fide Hollywood glamour girl. Team Dockery is, by all accounts, becoming a rather formidable machine.

And although she is committed to appearing in the fourth series of Downton — which will be filmed from February to July this year — you would have to be a brave punter to bet on her hanging around after that. For it turns out that, just like her former co-star Dan Stevens before her, Dockery, 31, has started to pave the way for an exit. And her new super-groomed look is just the beginning of her grand plan.

First, that dress. Worth nearly £4,000, it secured her a place on the prestigious Harper's Bazaar Top Ten best-dressed list and was secured for her by her new stylist, Micaela Erlanger, who is based in New York. Erlanger is a big acquisition for Dockery. One of the most influential stylists around, she doesn't come cheap — her services for an event like this are said to cost about £10,000. In this instance, Erlanger notified the designer a fortnight before the event what Dockery wanted, and then secured the loan of the dress, plus the hire of the suite of jewellery (worth £300,000) to go with it.

Dockery's soft, wavy hair-do was done by Mara Roszak, and her dewy make-up by Jordan Bree Long, both well-regarded professionals. In all, given the costs of hiring such a team, plus their expenses, the final figure for her big night make-over is likely to have crested £25,000. Erlanger was overheard crowing that she had wanted to 'kick it up a notch' for her client, which she certainly did.

As well as this glossy posse, Dockery has hired some serious backroom wheeler-dealers. She acquired the services of Sandra Chang, a well-known talent agent in Hollywood, who is looking after her interests out there. Ms Chang also polishes the prospects of Jennifer Lawrence of The Hunger Games, and Sam Worthington of Avatar — two of the hottest young talents in town. It's said that Chang's firm, Anonymous Content, footed the bill for Dockery's Globes' makeover. Under Chang's patronage, Dockery has started to put out feelers for a new acting career in films, which would make even her global success as Lady Mary — Downton is watched as far afield as Hungary, Argentina and New Zealand — look like small fry. When asked if she is leaving Downton, her PR handler at Milk Publicity, Jessica Morris, will only say: 'We do not comment on or discuss individual artist's contracts.'

But it's clear the momentum is heading in one way only. Dockery has just finished filming a movie with Liam Neeson called Non-Stop. It's a big budget commercial blockbuster, with a budget of £31 million, and she is the second lead after Tinseltown stalwart Julianne Moore. The producer is Joel Silver, of The Matrix, Lethal Weapon and Die Hard fame.

Leo Barraclough of the screen bible Variety tells me: 'Non-Stop is a good big-budget action film and Liam Neeson has a history of doing these things very well and then they turn into franchises like Taken, which would be fantastic for Michelle Dockery without a doubt. It's a very good movie for her. It looks as if she is on the brink of making the cross-over. This is no surprise because Downton is a big deal in America and is especially influential in Hollywood. This means that the cast, like Michelle, are becoming desirable to casting directors. The fact that she has been nominated for both a Screen Actors Guild award and a Golden Globe is significant. People take notice of it and it very much matters.'

I'm told that in recent weeks Dockery has auditioned for several high-profile films, among them one titled Foxcatcher, which she lost out on to Sienna Miller. She is also said to have auditioned for an adaptation of the Sondheim musical Into The Woods, which James Corden is pencilled in to star in. She was narrowly pipped to the role of Cinderella by actress Anna Kendrick, best known for Up In The Air, for which she was Oscar-nominated. Such is the buzz around Dockery that she has even entered the frame as a possible contender to appear opposite Johnny Depp in the remake of the Thirties detective classic, The Thin Man.

And you can see from her media profile, which now includes a photoshoot in this month's In Style magazine, an interview in Vanity Fair and another shoot in Harper's Bazaar, that she is starting to make genuine inroads into the Hollywood showbusiness scene.
I think part of the tone here is that particularly British class thing, where they seem to make fun of middle-class (or lower-class) people for being ambitious or thinking "above than their station." I'm thrilled that Dockery is quietly plotting her exit strategy and lining up meetings and seeing what her options are. I think she sounds like a really smart, ambitious woman who is determined to make the most out of the success she's had. Of course, I feel that way because I think Michelle is actually a talented actress – I would feel differently if she was just trying to "happen" in Hollywood with just a pretty face and no talent.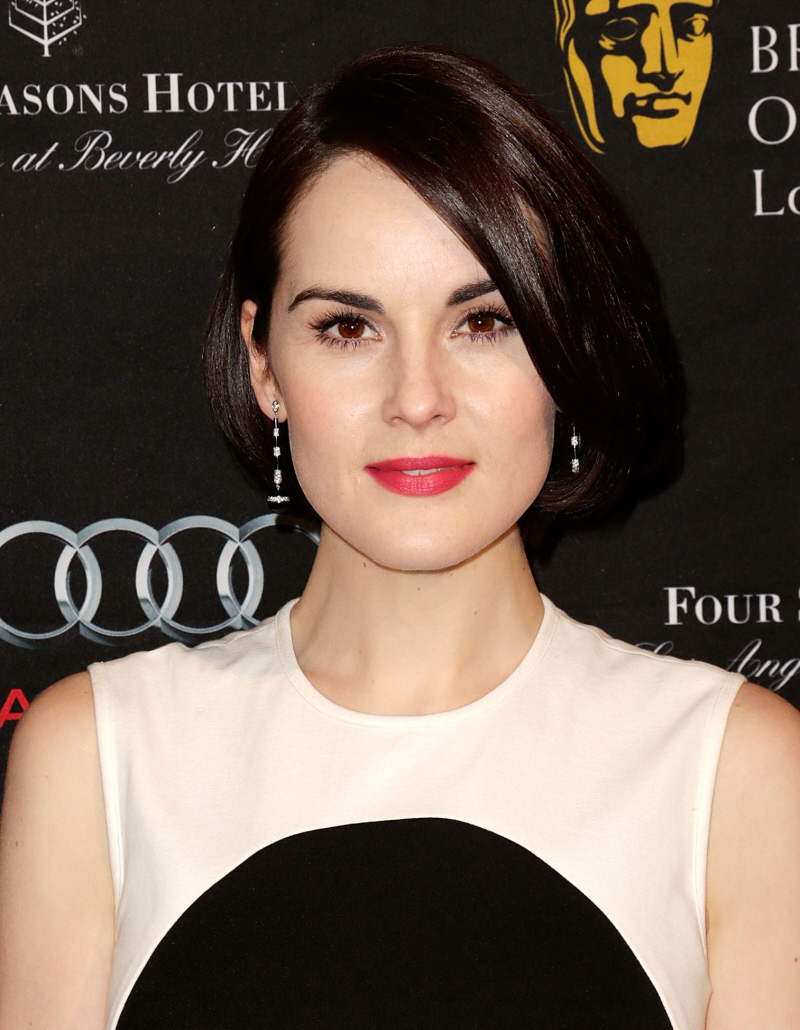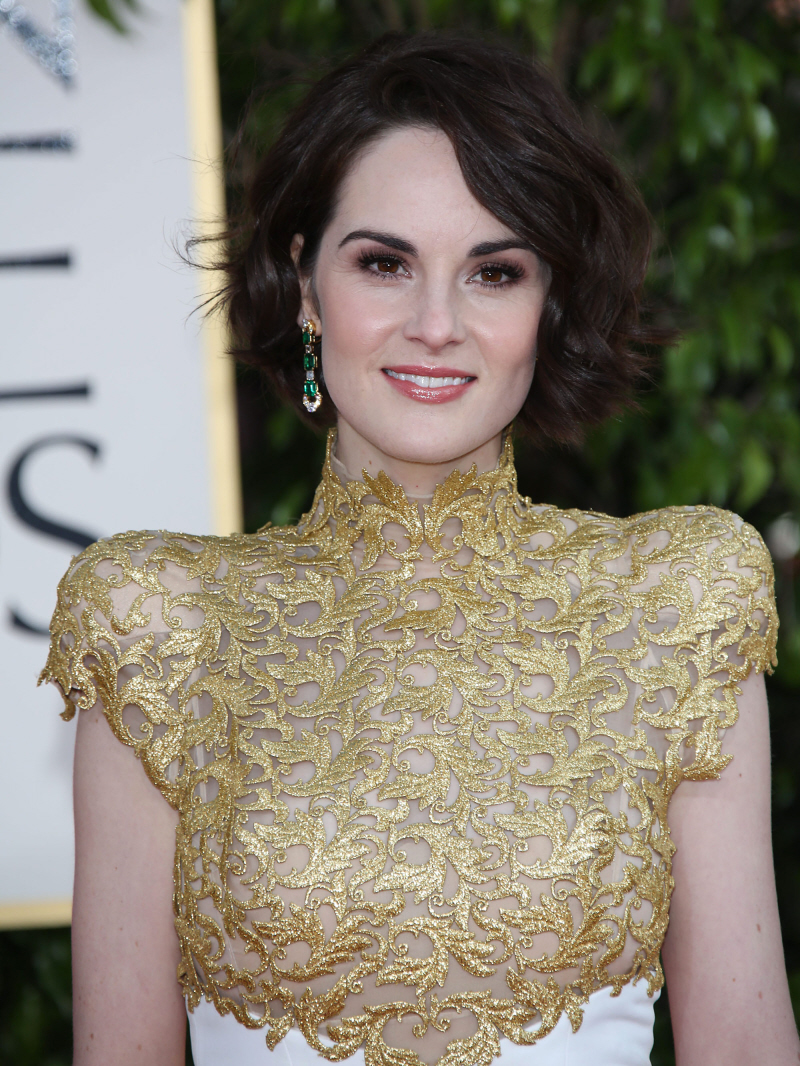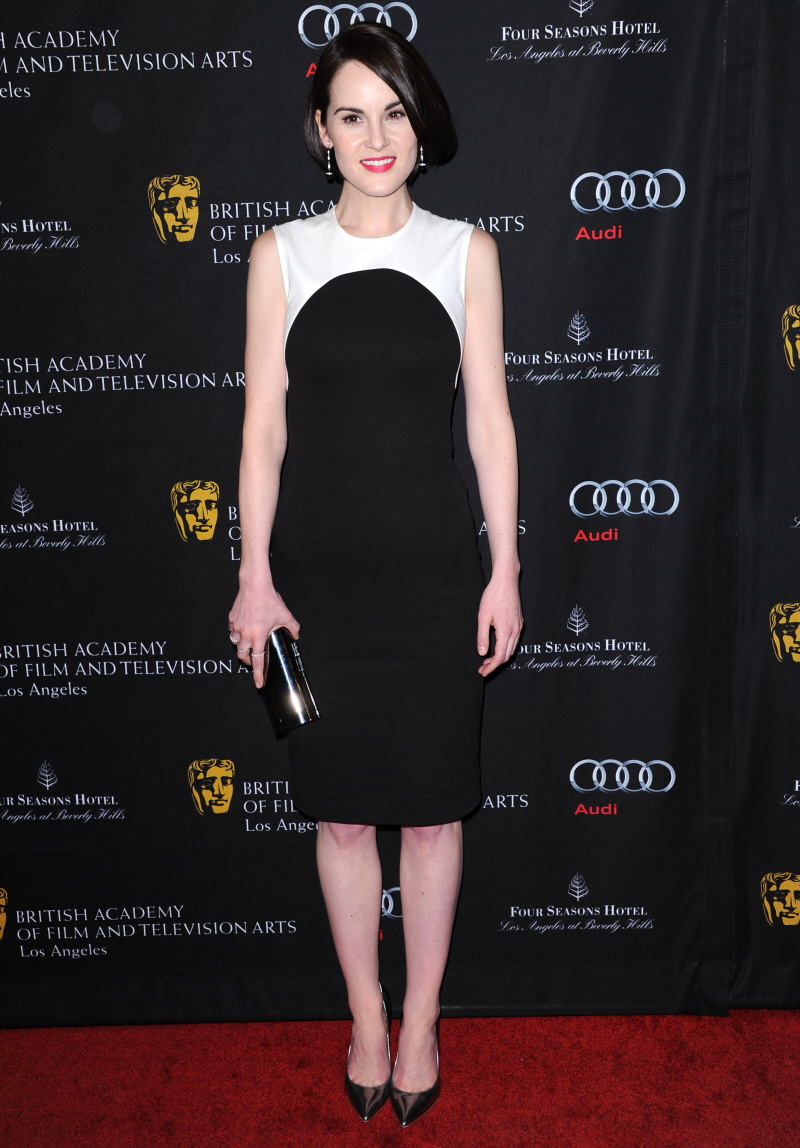 Photos courtesy of WENN.