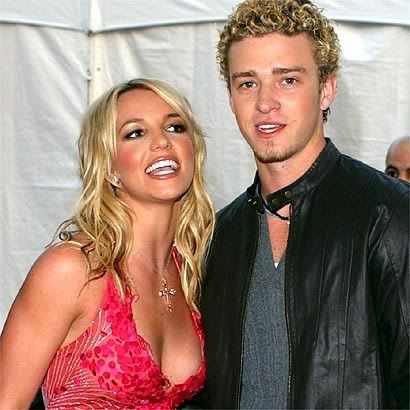 The National Enquirer is reporting that Britney Spears' dad, Jamie, called her ex boyfriend Justin Timberlake begging him to talk some sense into his drugged out party-fiend daughter:
Britney Spears' father is begging Justin Timberlake to save his troubled daughter, says a family insider.

According to a source close to [Britney's dad] Jamie, "Daddy Spears called Justin and said, 'Forgive her, win her back, save her!"

The source says Jamie, who's battled his own addictions with booze and drugs, believes Justin is the only person who was able to keep his famous daughte ron the straight and narrow.

"I don't think that Justin has ever really gotten over the breakup with Britney," said the source. "He knows that she's a train wreck with a career that's on a downward slide. I believe that he will seriously consider coming to her rescue."

According to the source, the plan is to get Justin to convince Britney to concentrate on her music career and stay out of the spotlight before she loses more fans.

"Britney's camp knows that the best and only publicity that would be good for her would be for her to be seen with Justin," adds the source.
[From The National Enquirer print edition, January 29, 2007]
This might be true that Britney's dad called Justin, if he even still has his number, but there's no way Justin would even be seen out to dinner with Britney at this point. It would ruin his career to be associated with her, and he knows that. Plus Britney is such a pantyless bad weave-wearing mess that he'll never take her seriously.
Maybe he might call her or something to give her advice for old time's sake. You know that he doesn't give a shit about anyone except himself though, and he's not about to come to Britney's rescue if it means he'd have to be seen with her.
We haven't seen Britney for a couple of days because her aunt, Sandra Bridges Covington, her mom's sister, passed away at the age of 59. Britney attended the funeral and is now reportedly back in LA. Unfortunately this sad event may be the impetus she needs to turn her life around.
Update: PopSugar has pictures of Britney landing back in Burbank, California. She's seen with a covered up baby in a carseat, so maybe Jayden James actually exists!