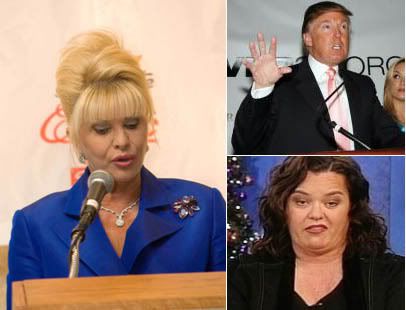 You might have thought the fire was out under the bubbling cauldron of The Donald Trump and Rosie O'Donnell feud, but according to Out magazine .. fuel is being added to the fire by freelance peace negotiator and former Mrs. Trump, Ivana
The war began weeks ago when Trump pardoned Miss USA, who had allegedly been indulging in some bad behavior, and Rosie questioned why Trump should be a moral compass for the country—it just got worse from there. Ivana says she had words for both Ro and The Donald. "I was very diplomatic and at the end of the day, I said, 'You know, guys, just take the high road, it is so ridiculous,'" Ivana told AP Television.
So where was this second Camp David held … on what hallowed go round did Ivana gather these warring factions to broker a peace that will finally hold ? Will our children have a chance grow up in a world without Ro-Do conflict ?
The Answers: Nowhere at all … and not very likely … as she gave both Ro and Do this advice via her column in The National Enquirer. And she not only has advice … she has analysis
"Donald and Rosie, they're getting fantastic ratings, they're getting publicity, they're really using it as a marketing tool, not because they are enemies, and I understand that only too well."
Although it strikes me that if the analysis is true … then the advice was rubbish … Ivana you gotta pick a gear and drive in it … its either the high road or fantastic ratings. Wonder which side she'll come down on.