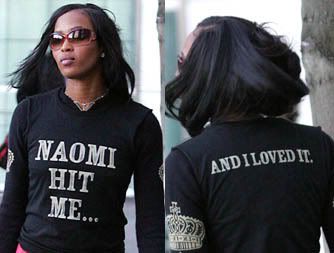 In related news Oxygen No Longer Free … Bush wins Nobel Peace Prize … Paris Hilton births new Jesus … Up officially moved to Down.
But seriously folks … in some truly hilarious although theologically and historically ignorant reporting the folks over at handbag write:
Naomi Campbell has dismissed rumours that she is planning to join a Brazilian religious group with links to witchcraft

The supermodel was linked to the Candomble faith, which was traditionally practised by African slaves in Brazil.
As if Naomi Campbell would need a religious justification for her blatantly evident witch-ness — Religions usually require faith … Campbell's witch status is largely in the realm of scientific proof … like gravity … which she also uses for her own evil purposes when chucking bejeweled cell phone missiles at her cowering minions.
However, she has now said that just because she knows people who are involved with Candomble, that doesn't make her a follower.
Demonstrably true as she also know several people who don't beat their employees bloody and has shown no signs of following their example.
She told the New York Daily News: 'I'm Church of England, Protestant. I was christened that."
As if the Church of England didn't have enough problems … what with Charles and Camilla and the questionable parentage of the less important ginger Prince …
Naomi, 36, did admit she uses prayer to try and calm her famous fiery temper.
She said: "I work on myself daily. I work on my programme of meditation and prayer and try to stick to it. It's important to me.
(via Female First)
That's pretty much the nail in the coffin on discussions about the efficacy of prayer … good we finally got that one settled.