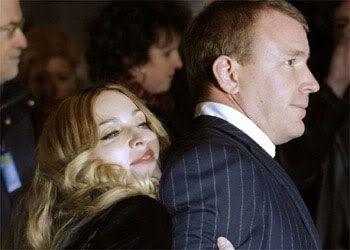 Mad About the Guy

The evil 3am Girls over at the Mirror report some atypically happily married news about Madonna and Guy Ritchie
MADONNA proved there's only one Guy for her – as she cuddled up to her husband at last night's premiere of her new movie.

The pop queen made the film, Arthur and the Invisibles, real family viewing by taking along her clan.
Madge, 48, showed she was truly, madly, deeply hooked on Guy, 38, as she clutched his arm as they held hands outside the West End gala.

Daughter Lourdes, 10, and son Rocco, six, grabbed hold of Dad's other arm. But adopted 15-month-old David Banda was left snoozing at home. When we inquired about him, Madge gushed: "He's great, wonderful. Thank you so much for asking."
They must have been really beaming that solid couple vibe because the actual evidence is rather flimsy … a bit of hand holding and a bit of cuddling on the red (actually green) carpet at a premiere. Surely the weather outside in January in London would induce cuddling in all but the most hostile of couples. As anyone can see although Madonna's had all the kids Guy's put on all the weight – you know what they say — big boys keep you warm in the winter and give you shade in the summertime.
Should make him useful at pretty much any movie premiere anywhere … well, sadly excluding premieres of his own movies. If there are going to be anymore of those …. Hmm no wonder he's packed on the pounds. Career death can make Ben & Jerry any formerly fit boys best friends … you can't cuddle up to them on the red carpet, but you can late, late at night, in your mansion, in a dark corner as you silently weep into your pint of Chunky Monkey mumbling "Swept Away … WHY … Why … why …
Pictures from Love Fashion Rock and Drowned Madonna.