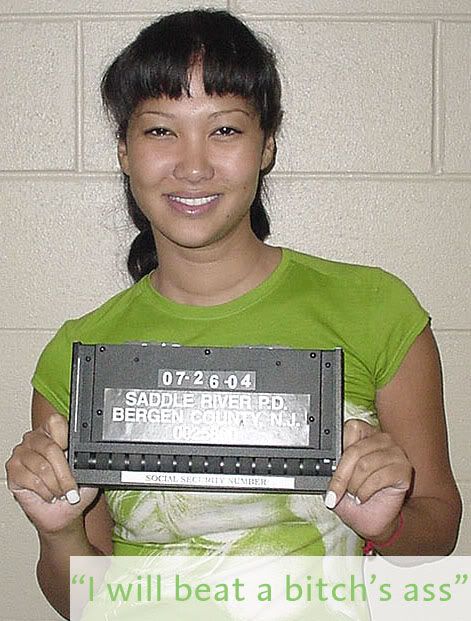 Not the traditional birthday greeting truth be told … but then Kimora Lee does love to bring 6 feet of drama to any occasion … it's really not a party unless it's all about her — even though it was in fact someone else's party — Alicia Keys birthday party in fact … who was none too pleased when the brouhaha broke out at Manhattan's Bed Lounge.
According to Rush & Molloy it went down a little something like this:
Guests wheeled around to find the designing wife of rap mogul Russell Simmons yelling at a woman in jeans and a tan vest. "Kimora said that the woman had thrown a drink at her," says one attendee. "She didn't look wet to me. But security grabbed the girl and ushered her out."

Asked by another guest what the fight was about, the woman said, "She's jealous of me!"
Could it be that Kimora coveted the mysterious tan vest … in a momentary fit of post-bling sanity did its monochrome simplicity call out to her? Had she misunderstood her status as Estranged wife of media mogul Russell and thought it was spelled with a silent 'e' ? Does she have the super power to be wet and yet appear dry … it doesn't sound like enough to get her on Heroes.
Apparently in the reporter's follow-up to the story the tan vest woman couldn't be reached (SCARY) Kimora's rep when asked to clarify the evening's events said Tan Vest was 'a disrespectful fan.'
Let's hope for Tan Vest's sake that disrespecting KLS doesnt get her a pair of cement boots to go with her already under-accessorized outfit.
Whatever the back story, Keys didn't seem to appreciate the drama. "When Kimora was leaving, Alicia totally ignored her," claimed a source.
Surely getting to ignore Kimora Lee Simmons is the best gift a girl can give herself … Many Happy Returns of the day Alicia … from all of us here at the drama free family of Celebitchy!
Note by Celebitchy: Kimora seems to enjoy fighting. She said several times in an Vanity Fair interview last year "I will beat a bitch's ass." I guess she will.