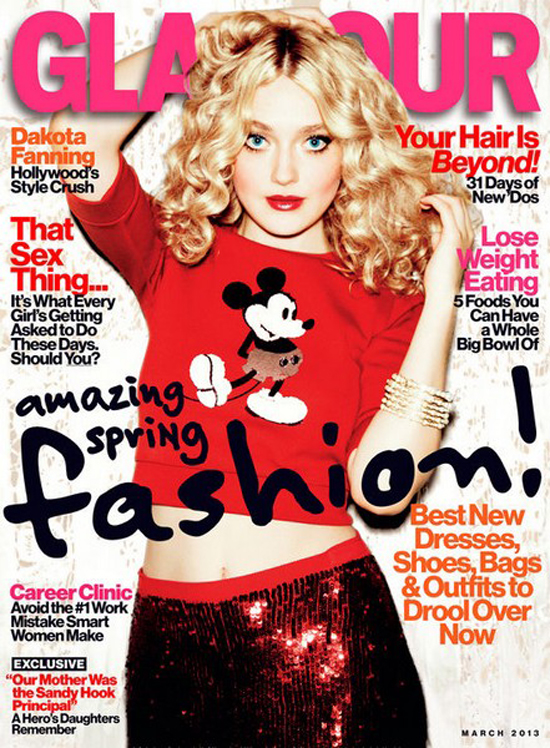 Dakota Fanning covers the March issue of Glamour, and I think we're supposed to look at this shoot and realize that she's all grown up now that Dakota will turn nineteen years old next month. Still, it seems a little bit skeevy that this cover features a belly shirt with a Mickey Mouse figure emblazoned across the chest. So the message here is sexy but still very young, right?
The rest of the shoot doesn't send as many mixed messages as the cover, but it's still difficult to see Dakota looking so mature since we haven't seen her onscreen since she was still technically a child. I don't think Breaking Dawn Part 2 counts as an adult appearance since Dakota shot her scenes well over a year ago. Don't get me wrong though — she does look lovely in this Glamour editorial, and I'm more comfortable with Dakota doing an "iffy" shoot with Glamour than when she covered Cosmo last year amidst sex-tip headlines.
In the Glamour interview, Dakota does make me scratch my head just a bit though. She talks about her Marc Jacobs "Oh, Lola!" perfume advert (the one where she held a flowery bottle between her legs) and how the United Kingdom banned the ad for being "sexually provocative." Basically, Dakota thinks there's something wrong with people's minds who went there in the first place: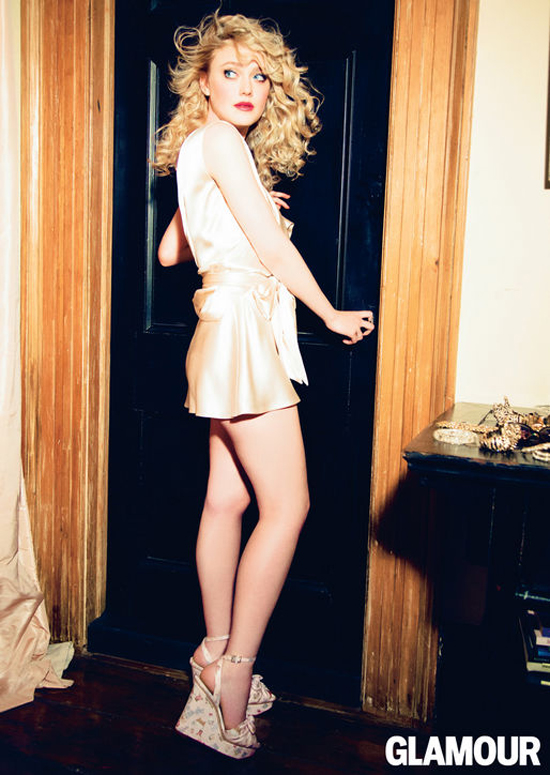 On fame & fashion: "It's really fun when you're getting dressed for something. It's not when you're in the rain with an umbrella and trying to carry a case of water. Yep, that's me, alone, coming from Duane Reade. I'm not wearing a bra. Deal with it."

Was she surprised about her banned Marc Jacobs ad? "Yeah, I was! If you want to read something into a perfume bottle, then I guess you can. But it's also like, Why are you making it about that, you creep? I love Marc and trust him, and we just laughed about it."

Could she ever be a fashion designer? "I don't think so. I mean, I won't rule it out, because then one day I'll be like, 'I said that in Glamour in 2013, and here I am now [with my own line].' But when you know designers and see the work that they put into making their collection, and how much passion they have for that–I think that's so amazing. And I don't have the passion to design clothes. It's nice to be able to grow up and know what you want to do…. I'm reminded of that every time I make a film."

On her little sister, Elle: "She's very uninhibited and will try pretty much anything. Even the way she dresses– she dresses totally for herself. She risks being made fun of…by me, which I sometimes do, because I'm an older sister! But I totally admire her and think she's very cool."
[From Glamour]
Dakota's really starting to come out of her shell, isn't she? She recently defended Kristen Stewart by telling us all that we have no "authority to judge" her friend, and I get it. One wants to defend their girlfriends, so I'll leave it at that. Now Dakota seems to lack perspective when she asserts that anyone who saw something pervy about a perfume bottle between her legs must be a "creep." I mean, I still love Dakota. She's a good girl, and she's never been spotted drunkenly stumbling out of a nightclub or flashed her hoo-ha to the paparazzi, but still. That perfume ad was so gross.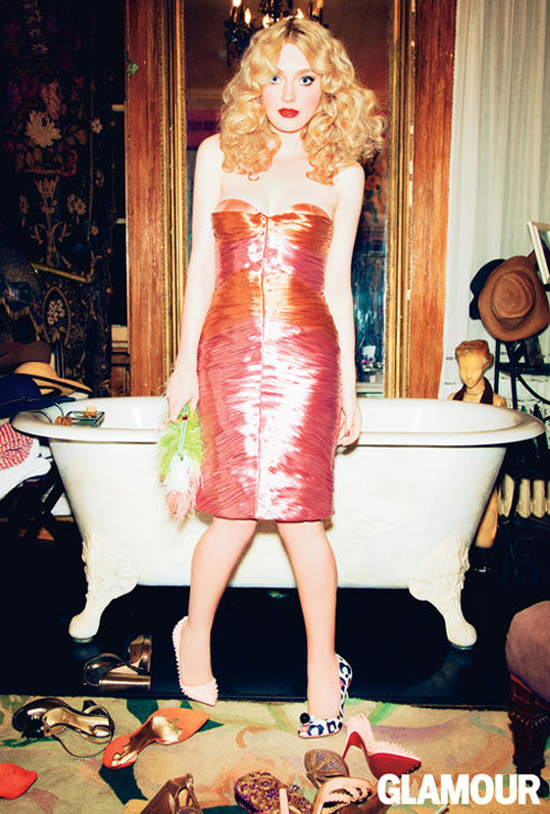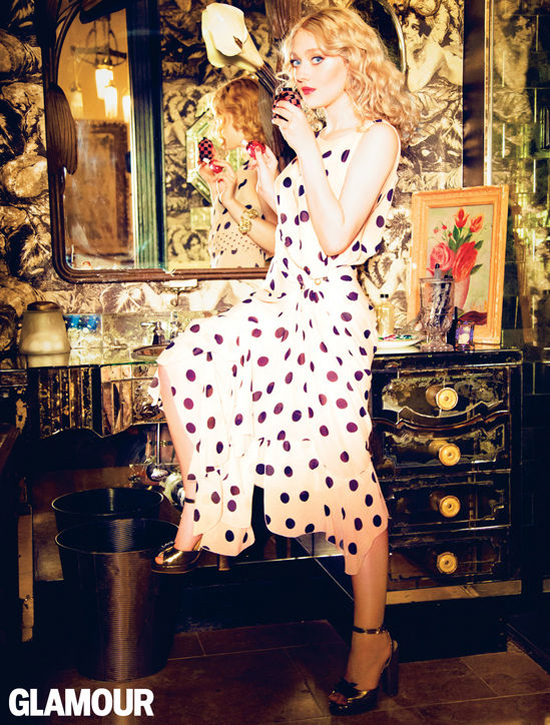 Photos courtesy of Glamour