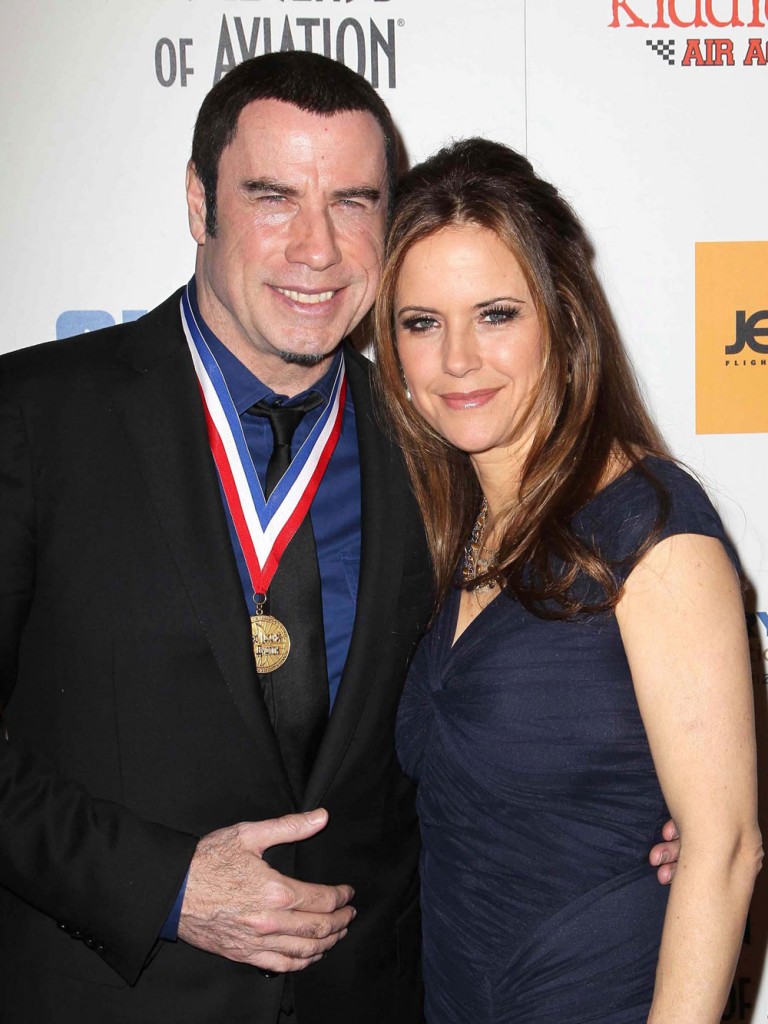 At this point, I think John Travolta's reputation as a happily married heterosexual male, or even as someone who engages in consensual sex, is pretty much shot. Given how many times the guy has been accused of sexually harassing male masseurs, spa-goers and various male underlings, it's hard to find someone who considers Travolta a victim of litigious individuals. There's only so much denying and attacking his lawyer can do, basically. So that's why I have mixed feelings about this latest ruling, because it seems like new details about Travolta's creeping won't damage his brand, since it's pretty much already shot.
This case involves a cruise ship employee who accuses Travolta of requesting a massage on board in 2009, and then accosting him for sex, basically. When the man protested, Travolta offered $12,000 for his silence, which he refused. Travolta's lawyer tried to have the case dismissed, which failed, then he tried to argue that it should go to arbitration, as per the fine print on Travolta's cruise ticket. The arbitration request was denied by the judge, meaning the case could go to trial.
A California federal judge has dismissed a petition by the 58-year-old actor's lawyer to have a lawsuit filed against him by a cruise ship masseur decided in arbitration, which would have kept a lid on some pretty graphic accusations.

Travolta was sued last June for assault and battery and infliction of emotional distress by Fabian Zanzi, who accused the Get Shorty star of disrobing while the latter was giving him a neck massage and then "forcefully embracing" him during a Royal Caribbean cruise in June 2009.

After claiming Travolta engaged in contact that was "nonconsensual, inappropriate, extreme and outrageous," the suit also charged that the thesp offered to buy Zanzi's silence for $12,000.

Travolta subsequently denied the allegations, and his pit bull attorney, Marty Singer, pointed to a clause in the fine print of his cruise ticket to argue that the legal dispute should be settled by arbitration, which would not only allow the suit to be resolved expeditiously but also in secret.

However, per The Hollywood Reporter, in a 31-page ruling on Friday U.S. District Judge Stephen Wilson smacked down that argument, noting there's no evidence that Zanzi, as a "nonsignatory," is bound by the arbitration agreement the A-lister entered into with Royal Caribbean.

Consequently, Zanzi's lawsuit, which seeks unspecified damages, now looks to be headed for trial—unless, of course, Travolta opts to settle.

Singer was unavailable for comment, but he previously told E! News in a statement that Zanzi's allegations were "ludicrous" and "completely contradicted" by what the employee told Royal Caribbean back in 2009 when he reported to superiors that "the only physical contact he claimed occurred was allegedly touching my client's neck."
So Travolta's people want us to believe he's entirely innocent of all these consistent allegations by different people, over time, who have no connection to each other. If he settles this case he'll keep some of the more sordid details out of the press, but that might be tantamount to admitting guilt. I think he should settle and just have his lawyer make some lame excuse about it, as they've been doing all along. People think he's guilty, and it will only remind everyone about Travolta and the mountain of evidence against him if a whole new round of stories comes out with details from the trial. Plus, this Zanzi guy could easily get corroborating witnesses to testify that Travolta did the same thing to them.
But look – Kelly is standing by him! Of course she is, her brain has been washed so many times it's mush.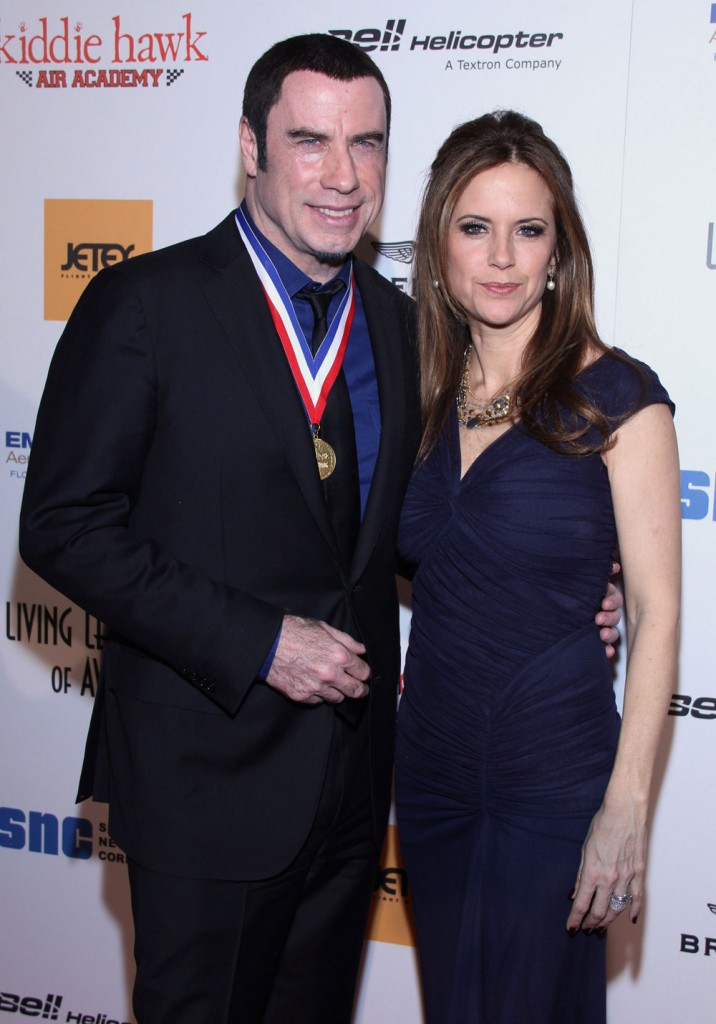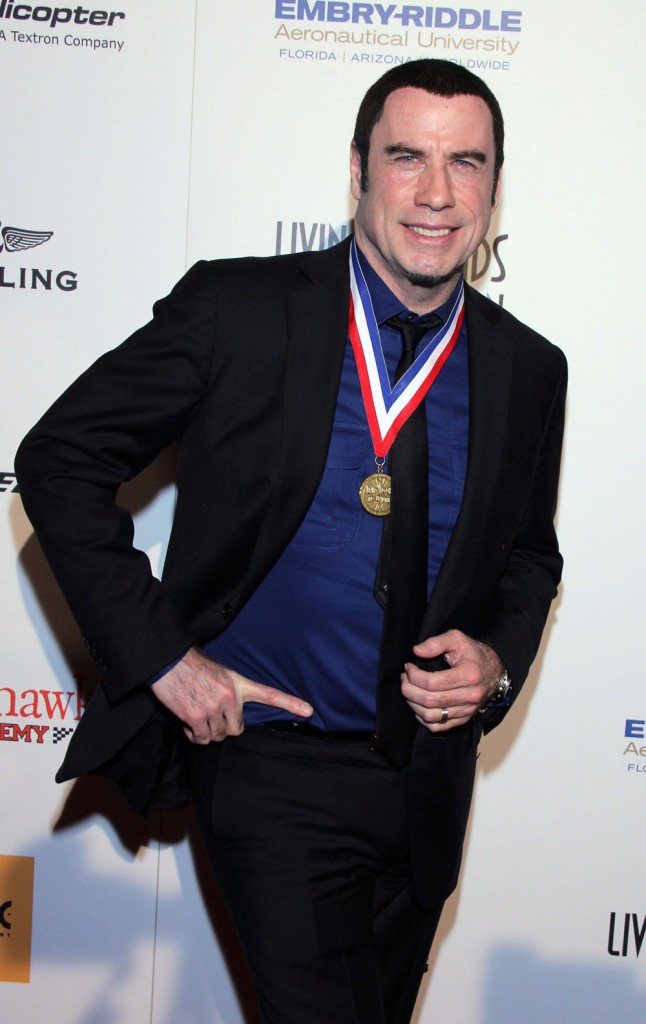 These photos are from The Annual Living Legends of Aviation Awards at The Beverly Hilton Hotel on 1-18-13. Credit: FayesVision/WENN.com